Many people don't realize the importance of choosing the right receiver when upgrading your home theater. And this is, to put it mildly, almost a basic point because the AVR is the center, the foundation of any system, and even if your other components are perfectly fine and of high quality, a mismatched receiver may not live up to your inflated expectations. For this reason, I have prepared a selection of the best Denon receivers on the market today. Of course, each of them represents different niches and therefore has different prices. But by buying one of the described models, you are guaranteed to get the sound and quality confirmed by the long history and reputation of the brand.
Our pick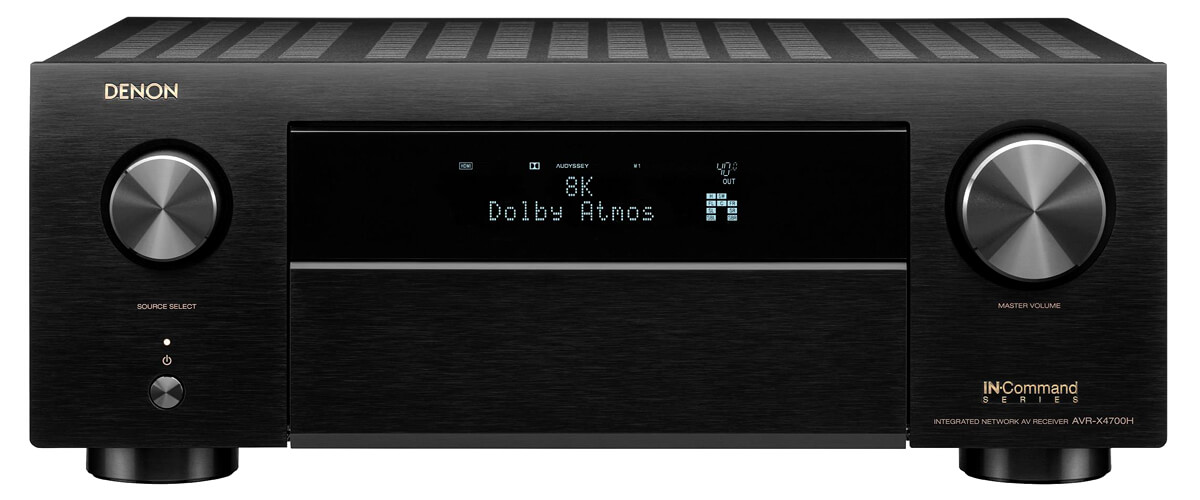 Denon AVR-X4700H
Best Denon AV receiver
The Denon AVR-X4700H, a 9.2 channel 8K AV receiver with 125W per channel, fully supports 3D audio formats like Dolby Atmos, DTS:X, IMAX Enhanced, and Auro-3D.
Read the full review
.
Denon AV receivers comparison table
Name
Channels
Power output
HDMI in/out
Bluetooth/Wi-Fi
Review
Denon AVR-X4700H

best overall

9.2
125W/8 Ohm, 165W/6 Ohm
8/3
yes/yes
Review
Denon AVR-X2800H

also great

7.2
95W/8 Ohm, 125W/6 Ohm
6/2
yes/yes
Review
Denon AVR-S570BT

budget

5.2
70W/8 Ohm, 90W/6 Ohm
4/1
yes/no
Review
Denon AVR-X6700H

premium

11.2
140W/8 Ohm, 175W/6 Ohm
8/3
yes/yes
Review
Brief history of Denon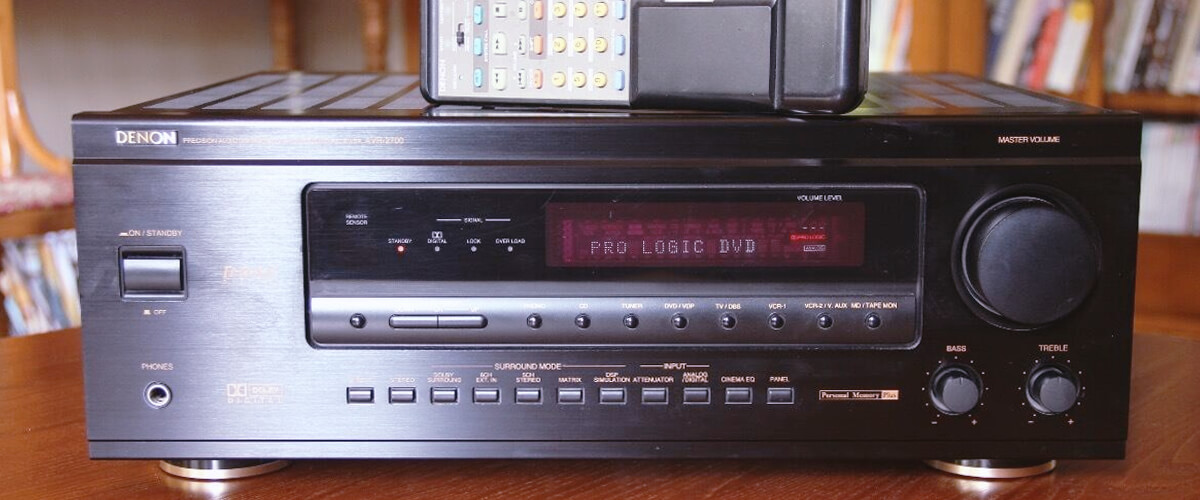 The company's history goes back to 1910 when American entrepreneur Frederick Whitney Horn joined forces with Nippon Denki Onkyo Kabushikigaisha. It is easy to guess that Denon is a merger of the two words Denki and Onkyo, which translate from Japanese as "electrical" and "sound".
In the early years, the newly formed Nippon Columbia Co. made gramophones and record players, so the company's masters knew all about sound.
And as technology evolved, it focused on producing amplifiers, tuners, and speakers. Thus, in the 1970s, Denon introduced its first PCM audio recorder, which started the Denon Professional series. In 2002, Denon and Marantz formed the company D&M Holdings.
Today the company produces receivers, headphones, speakers, multiple accessories, vinyl players, and more. Buying AV receivers from Denon today, you can be confident in the quality confirmed by time and countless fans who appreciate the brand equipment's most realistic and famous "warm" sound.
Best Denon AV receiver reviews
In this Denon AVR-X4700H review, I'll showcase the AV receiver that debuted in 2020. Positioned between the more budget-friendly AVR-X3700H and the high-end AVR-X6700H, this model has replaced the X4500H and has several enhancements, such as increased power output, an expanded number of sound channels, and an advanced video processor, capable of upscaling to 8K resolution and supporting HDR10+ for the latest movie and gaming content. Additionally, the device promises upgraded sound quality. Therefore, it's a worthy product to examine more closely, starting with its design.
Build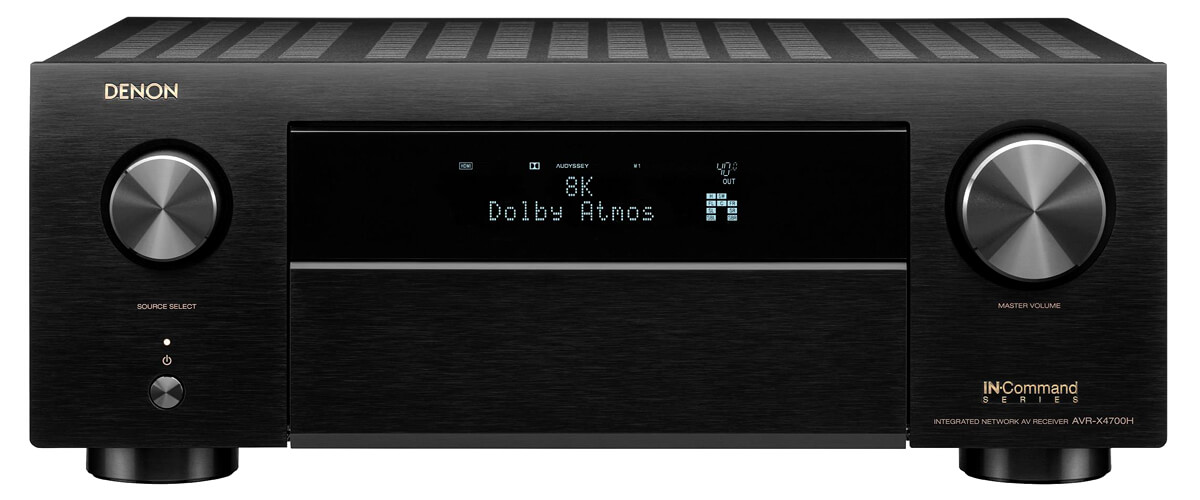 The appearance of the AVR-X4700H is reminiscent of the classic style of the company's middle and some premium models. The front panel looks stylish and solid. It has a visible minimum of controls. Most of those, excluding two big input selection and volume control knobs, are concealed behind a flap that folds down. The power button isn't big, it seems to be hiding on the front panel, and when viewed from the front, it looks like a small volume control. I like it probably because I have always been committed to minimalist designs. The flip-down panel itself looks like a continuation of a large information screen placed in the middle. The device's metallic front panel, damping feet, and attractive matte give the impression of robust build quality.
Features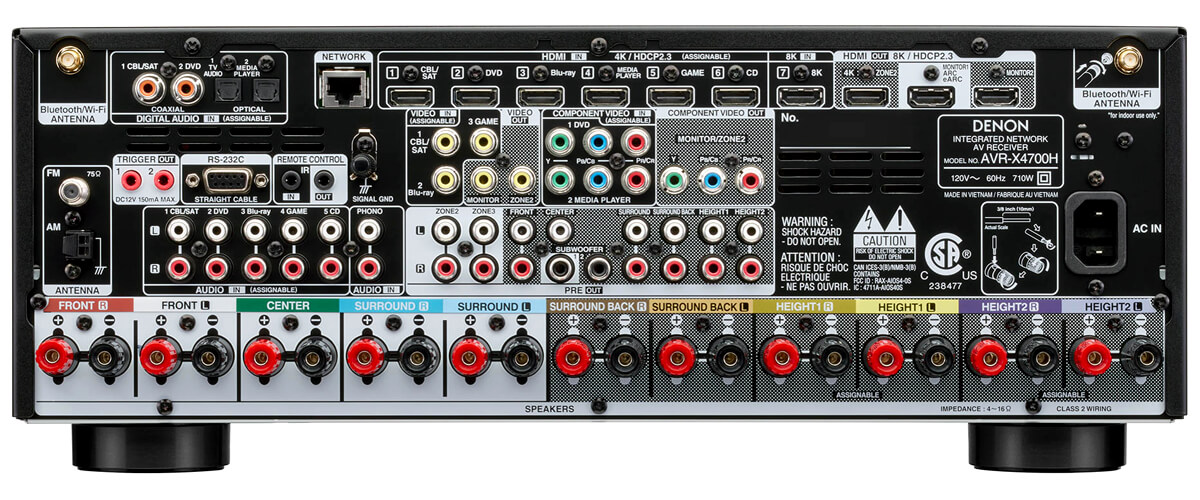 Denon AVR-X4700H has 9 built-in amplifier channels that can deliver 165 or 125 watts, depending on the impedance. It also has an 11.2-channel processor and can work with two independent subwoofers, making it a versatile model.
On the back of the unit, you'll find six HDMI 2.0 inputs and one HDMI 2.1 input. There are also three HDMI outputs: one is HDMI 2.1 with eARC, and the other two are HDMI 2.0: for the second display and Zone 2. The X4700 can transmit 4K/60, HDCP 2.3, 3D, CEC, HDR10/10+, HLG, and Dolby Vision. There is also support for QMS, QFT, VRR, and ALLM. In addition, Denon offers an extensive set of analog and digital connections.
This Denon receiver can also be used as part of a multi-room Denon HEOS system. This allows users to listen to music anywhere in their home, using HEOS wireless speakers or other devices that support this technology. The system can be controlled using the free HEOS app, available for iOS and Android.
The X4700H supports various surround sound formats, including Dolby Atmos, DTS:X, Auro-3D, and IMAX Enhanced. It can be used in various sound configurations, depending on the format, and also has virtual height channel mode for Dolby Atmos, DTS Neural:X, and DTS Virtual:X. In addition, the device has DDSC HD Digital and AL32 processors, Clock Jitter Reducer, and a Compressed Audio Restorer to enhance the sound quality of lossy formats.
The Audyssey MultEQ XT32 calibration technology analyzes each speaker's sound and optimizes the overall sound quality depending on the listening conditions. With the Audyssey MultEQ Editor app, experienced users can further customize their systems by adjusting mid-range sound, overall equalization, and MultEQ filter frequency range.
Sound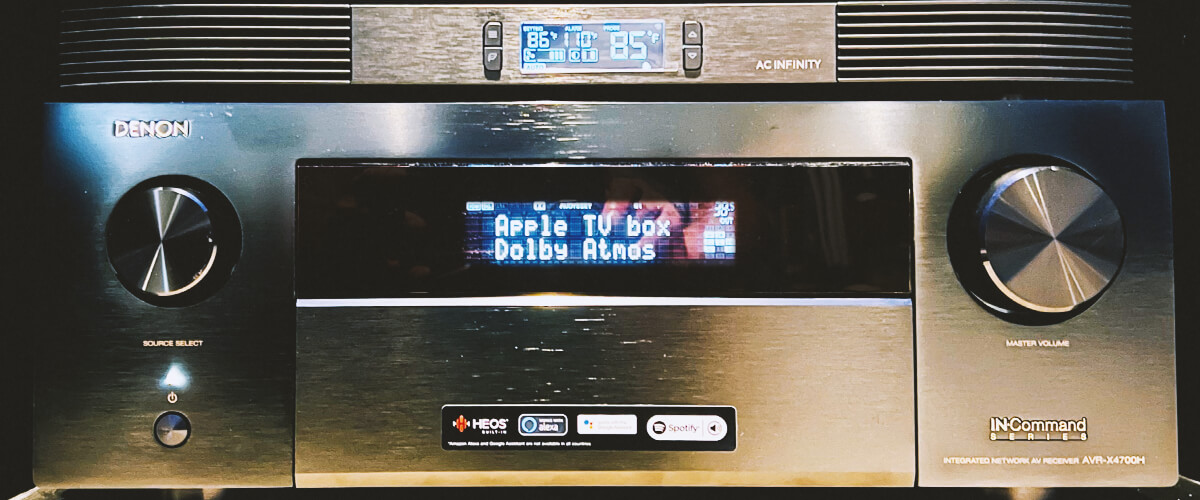 Even though the AVR-X4700H specifications are not particularly outstanding, the device copes quite well even with 150-watt speakers. When using all nine channels in a 5.2.4 or 7.2.2 configuration, the device reproduces both dynamic soundtracks and calm compositions quite well. Regardless of the level of instrumentation saturation in the compositions, the effect of presence at a live concert is not lost, thanks to the Audyssey automatic calibration system.
The same was true when playing 5.1-channel music compositions. The music is reproduced with exceptional clarity, and the instruments are positioned around you in a 360-degree sound field. The bass of percussion instruments sounds clear and distinct, which gives depth to slow compositions and more drive to techno tracks.
And finally, two important observations. The receiver, without any complications, configured the work with the 5.1.2 speakers already in "default" mode. I just set the general configuration without going into other settings, and clean, balanced, not overloaded, and not at all weakened sound from the front pair was obtained immediately after turning it on. The second observation is that any configuration with a subwoofer is surprisingly easy to set up and produces excellent results. This suggests that in the low-frequency region, the receiver's path is not muddy and not capricious - it allows you to find a good match between the acoustics and the bass machine.
Key specs
Channels: 9.2.
Power output: 125W/8 Ohm, 165W/6 Ohm.
Surround sound: DTS HD Master, DTS:X, DTS Neural:X, Dolby TrueHD, Dolby Surround, Dolby Atmos Height Virtualization, Dolby Atmos, Auro-3D.
HDMI inputs/outputs: 8/3.
Supports: HDMI ARC, HDMI eARC, HDMI CEC, HDCP2.3, HDR10, HDR10+.
Video functions: 4K/120Hz, 8K/60Hz, upscaling to 8K.
Bluetooth/Wi-Fi: yes/yes.
Streaming services: AirPlay2, Deezer, Tidal, Pandora, SiriusXM, Napster, SoundCloud, Amazon Music, Amazon Music HD, Mood mix.
This model is the best Denon AV receiver on my list because it offers incredible sound, extensive connectivity, and support for today's most advanced surround audio and 8K video formats at a nice price for a 9.2-channel receiver. An excellent choice for intelligent people.
Pros
The receiver allows for multiple bass manager settings.
Has a full-fledged multi-channel preamplifier mode.
My analysis showed that this model has the optimal price/quality ratio for all parameters.
Cons
The receiver takes up to a minute to synchronize the HDMI signal.
Denon AVR-X2800H – also great
Denon is a reputable player in the audio/video equipment market, as evidenced by the quality of each of its products. In this Denon AVR-X2800H review, I'll focus on an impressive 7.2-channel 8K AV receiver. At first glance, it may seem identical to the X2700H, with no significant differences visible. However, as you start using it, you'll discover additional features that the X2700H lacks. So, to begin, let's take a closer look at its design.
Build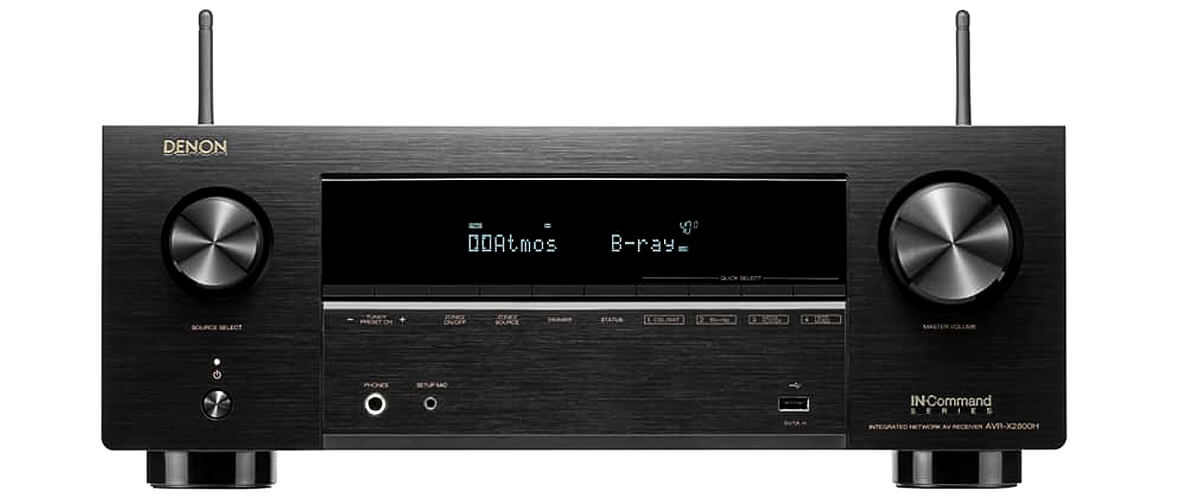 You can always recognize Denon's receiver – their design doesn't change much, but I must admit that their products look classy and stylish. The display is significant, the knobs and buttons work smoothly, and the steel cover gives the system a luxurious appearance.
The front panel has a USB port, quick select buttons, and 2 jacks – one for a mic and one for headphones. You'll find a remote control in the box with the system, but you can also control it with voice assistance. Nothing extraordinary, only the most necessary options, as usual.
Regarding the dimensions, X2800H has 17.1' x 13.4' x 6.6' and weighs 21 pounds. It's not the biggest receiver I've ever seen, and you can easily imply it to your interior.
Features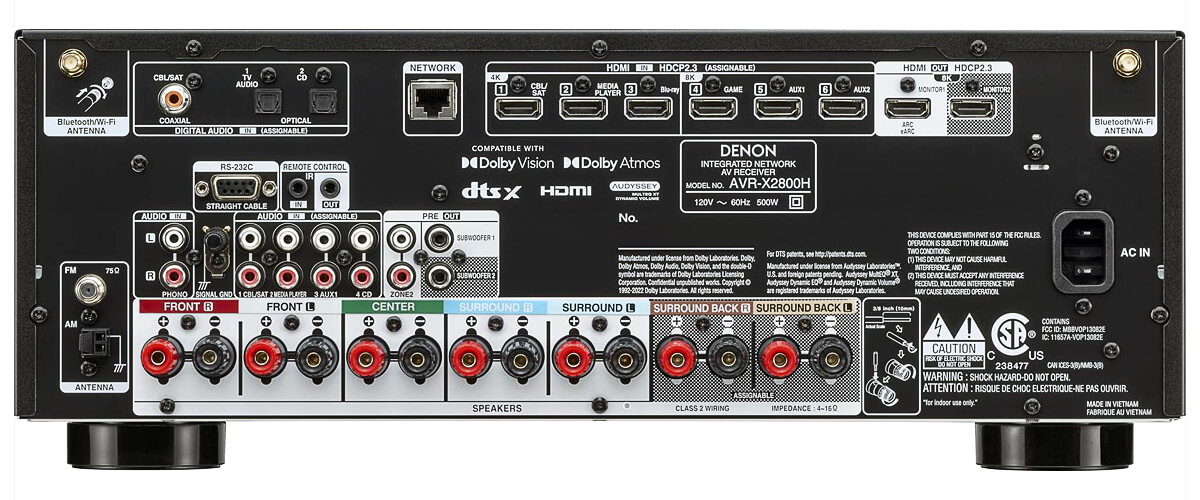 As I said in the beginning, the Denon AVR-X2800H is a 7-channel receiver with rated output power (20 Hz-20 kHz, 2-channel drive) 95 W (8 ohms, 0.08% THD) that can run a 5.2.2 setup. I would not say that this is a super powerful device, but for small and medium-sized rooms the power of this receiver will be more than enough.
You'll find 6 HDMI inputs (HDMI 2.1) and 2 HDMI outputs (HDCP 2.3) on the back panel. Also, there are different options of optical, analog, and coaxial inputs, and most importantly, there is Wi-Fi and Bluetooth. Regarding the video, AVR-X2800H specifications include the support of Dolby Vision, HDR, HLG, and HDR10+.
If you are a huge movie enthusiast like me, I have good news for you – X2800H supports Dolby Atmos, DTS: X, and some other surround sound formats. And for the music, it also has a vast list of supporting files – MP3, WMA, AAC, FLAC, ALAC, WAV, and has access to Spotify or AirPlay 2.
The settings menu is easy to navigate. It is very easy to switch between the different surround sound processing methods. The remote control is bulky and not very handy, but it did not spoil the overall picture in terms of ease of operation. By the way, additional speakers can be connected via Bluetooth and even turned on remotely. If you have a large house, the range may be limited, but for my room, it was optimal. There is a slight delay (as is often the case with Bluetooth), so you need to make sure that the Bluetooth speakers are not within earshot of the physically connected speakers.
Sound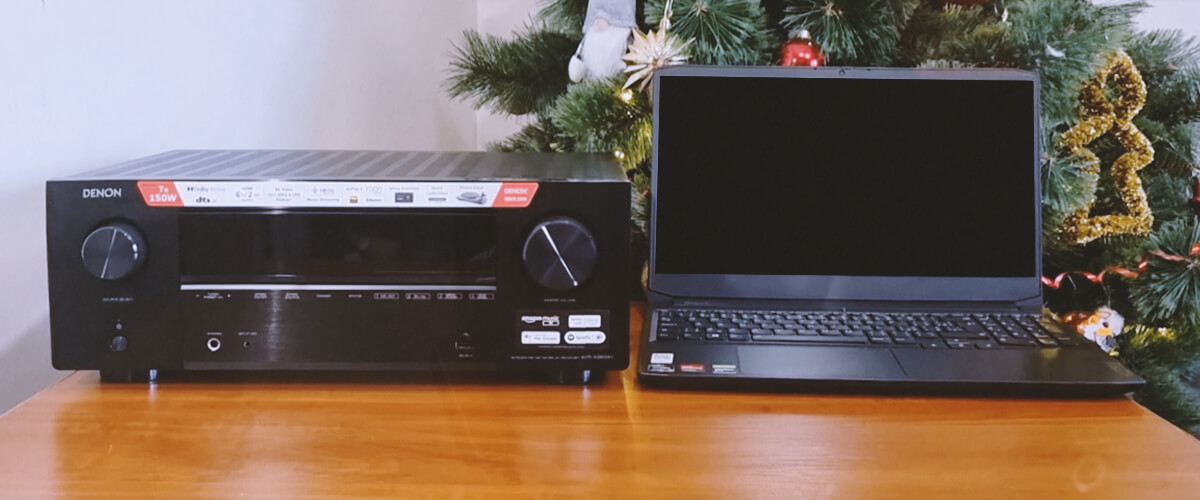 I've decided to test the system by watching The Batman. I needed to find out how X2800H can differentiate sounds, and I was satisfied with the result. But then I thought that it was a brief examination of all the powers that Denon included in its model, so I turned on The Avengers, and I wasn't available until the end credits. The Dolby Atmos Height Virtualization definitely reflects every sound piece planned in the movie into the reality you can enjoy in your room. Great effect, pure joy!
Key specs
Channels: 7.2.
Power output: 95W/8 Ohm, 125W/6 Ohm.
Surround sound: DTS HD Master, DTS:X, DTS Neural:X, DTS Virtual:X, Dolby TrueHD, Dolby Surround, Dolby Digital Plus, Dolby Atmos Height Virtualization, Dolby Atmos.
HDMI inputs/outputs: 6/2.
Supports: HDMI ARC, HDMI eARC, HDMI CEC, HDCP2.3, HDR10, HDR10+, Dolby Vision.
Video functions: 4K/120Hz, 8K/60Hz, upscaling to 8K.
Bluetooth/Wi-Fi: yes/yes.
Streaming services: AirPlay2, Deezer, Tidal, Pandora, SiriusXM, Napster, SoundCloud, Amazon Music, Amazon Music HD, Mood mix.
Also, a great surround sound receiver from Denon will give you the same advanced options, slightly inferior to the leader in functionality. But you'll still enjoy high-quality surround sound at a fraction of the cost.
Pros
Convenient full-screen interface.
With more precise timing, X2800H is more musical than its predecessor.
Really liked the level of wireless connectivity compared to other devices in this category.
Cons
A couple of times, it spontaneously rebooted while watching movies.
Denon AVR-S570BT – budget
In this Denon AVR-S570BT review, I would like to introduce you to this budget-friendly AV receiver released in 2022. As part of Denon's S-Series, this 5.2-channel model offers a pretty good balance of performance and value, making it a popular choice among novice home theater enthusiasts looking for an affordable yet capable receiver.
I am sure that you will be pleasantly surprised by the capabilities of this model, and I will start as usual with the design and build quality.
Build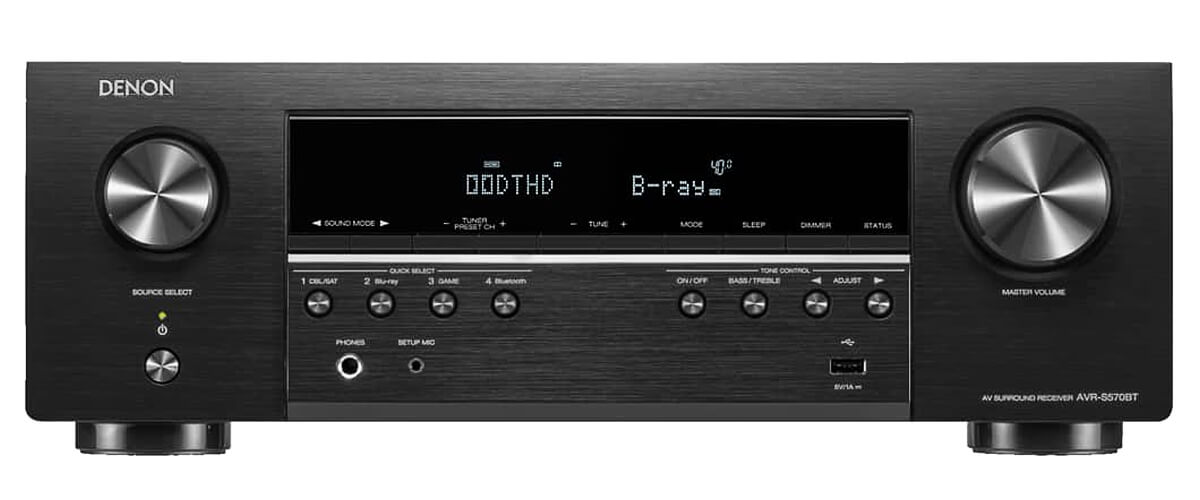 The AVR-S570BT sports a sleek, minimalist design that blends seamlessly into most home theater setups. In my opinion, the build quality is satisfactory, with a sturdy chassis and well-organized button layout on the front panel, making it user-friendly. The receiver's dimensions are 17.1 x 12.6 x 5.9 inches (43.4 x 32 x 15 cm), and it weighs 16.8 lbs (7.6 kg), making it a relatively compact and lightweight option. However, this is still an entry-level model, and you should not expect anything unusual in the design. So let's move on and get to the most interesting part.
Features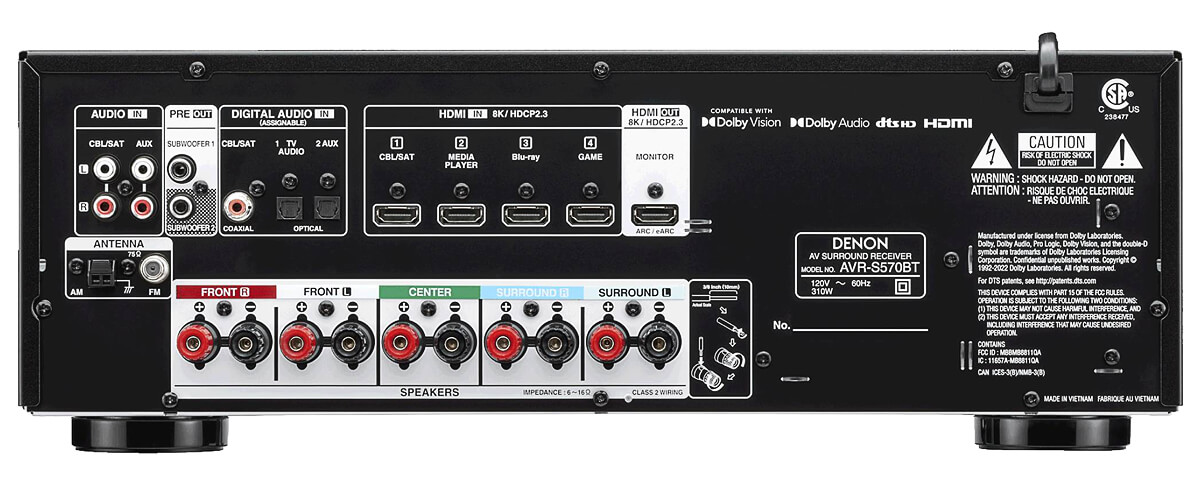 As for the AVR-S570BT specifications - this is a 5.2-channel AV receiver equipped with 5 power amplifiers, which makes it an optimal solution for small rooms. With an 8 ohm load, the receiver delivers 70 watts per channel with a frequency range of 20 Hz to 20 kHz and a low THD of 0.08% in the 2-channel configuration. For speakers with 6 ohms impedance, it can deliver 90 watts per channel at 1kHz and a THD of 0.7% in the 2-channel configuration. As you can see for yourself, the S570BT can deliver clean and consistent sound for most speakers.
This Denon receiver is equipped with 4 HDCP 2.3 compliant HDMI inputs on the back, and it implements the features of the 2.1 standard: supporting 8K/60Hz and 4K/120Hz video pass-through, ensuring compatibility with a wide range of video formats, including HDR, HLG, Dolby Vision, HDR10+, and Dynamic HDR. The S570BT offers VRR and QFT for gamers, reducing lag and screen tearing for a smoother gaming experience. Additionally, the receiver supports ARC/eARC for simplified audio connectivity with compatible TVs. I think the visual capabilities of this receiver are a notch above that of many budget models. I remind you that I said at the beginning of the review that this model can pleasantly surprise you, and I think I have succeeded. And most importantly, thanks to its 8K signal transmission and scaling capabilities, this device will not become obsolete in a few years and is ready for the future of video content.
The AVR-S570BT is equipped with Bluetooth, which allows you to use it to work with various music services, but it has no Wi-Fi. Of course, this is a serious disadvantage for a modern device, but once again, let me remind you about the class and price of this model. Perhaps a certain consolation will be the fact that this receiver is equipped with a phono stage for vinyl lovers.
For surround sound, the AVR-S570BT supports Dolby TrueHD and DTS-HD Master Audio. So yes, you won't find support for the most advanced surround sound formats here, but you will definitely be able to get your first 3D sound experience at home rather than in a theater.
Sound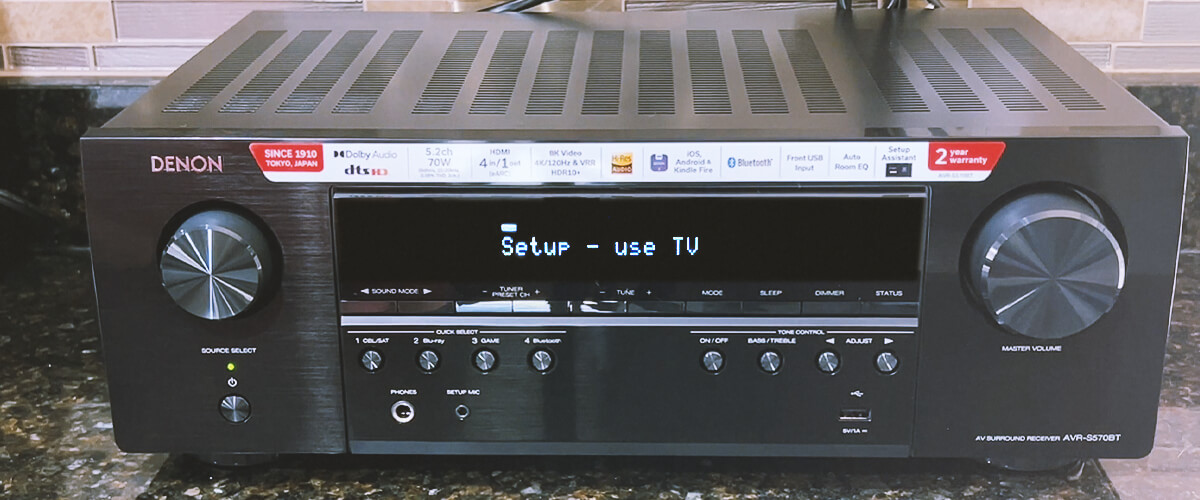 Now let's discuss the most important aspect of this Denon AVR-S570BT review: sound quality. When playing music, it provides a clear and well-balanced sound. The midrange reproduction deserves special attention, providing exceptional clarity of vocals and instruments, but it lacks the power to maintain coherence at high volume. Therefore, it is unlikely to satisfy demanding audiophiles, but it will certainly provide a pleasant listening experience for most users.
When watching movies, this model didn't surprise me in any way. The surround sound was at the level of a budget receiver. Still, the S570BT performed well in transmitting clear dialogues, ensuring that every phrase is understandable even among action-packed action scenes.
Key specs
Channels: 5.2.
Power output: 70W/8 Ohm, 90W/6 Ohm.
Surround sound: DTS HD Master, Dolby TrueHD.
HDMI inputs/outputs: 4/1.
Supports: HDMI ARC, HDMI eARC, HDMI CEC, HDCP2.3, HLG, HDR10, HDR10+, Dynamic HDR, Dolby Vision.
Video functions: 4K/120Hz, 8K/60Hz, upscaling to 8K.
Bluetooth/Wi-Fi: yes/no.
The winner in the budget Denon AVR category is AVR-S570BT. You get 8K video and good sound of basic surround sound formats for absolutely ridiculous money. Isn't it a miracle?
Pros
The system works great with an iPhone via Apple TV.
Just a great equalizer that provided detailed sound tuning.
The compressed sound enhancer really works very well.
Cons
Doesn't work with 120Hz.
Doesn't work well with some HDMI cables.
Denon AVR-X6700H – premium
Let's delve into the Denon AVR-X6700H review since it is one of Denon's top premium models in 2020, sitting between the AVR-X4800H and the X8500HA. The device features a full-fledged 11-channel amplifier, 13.2-channel audio processing with DTS:X Pro, and an improved 8K HDMI video section. Combined with a relatively affordable price, these features, compared to its bigger brother from the eighth series, are positioned by the manufacturer as the goal of releasing this model. So let's see if it is suitable for your preferences.
Build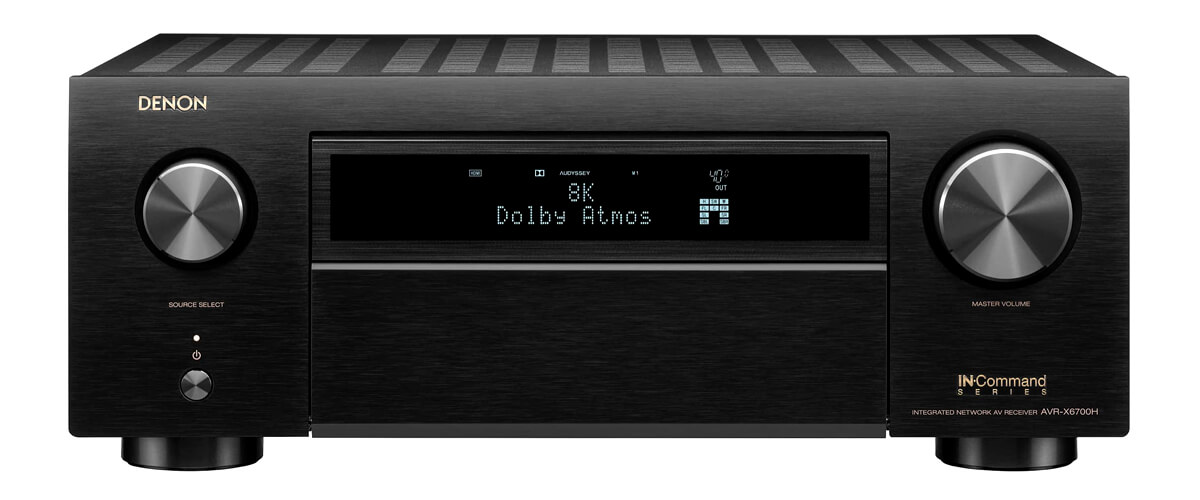 For those familiar with Denon's receiver lineup, the front panel design of this device doesn't offer anything new. Well, it's still visually appealing. And why remake something that is already close enough to minimalist perfection? This device's front panel features big source and volume knobs, an information screen that takes almost a quarter of space, and a power button with a status LED a little higher above. The rest of the control and navigation buttons, including USB, HDMI, and headphone connectors, are, as always, hidden behind a flip-down cover. The device weighs 32 pounds and has dimensions of 17.1 x 15.3 x 9.3 inches, making it a bit heavy but compact enough to fit in any part of the interior.
Features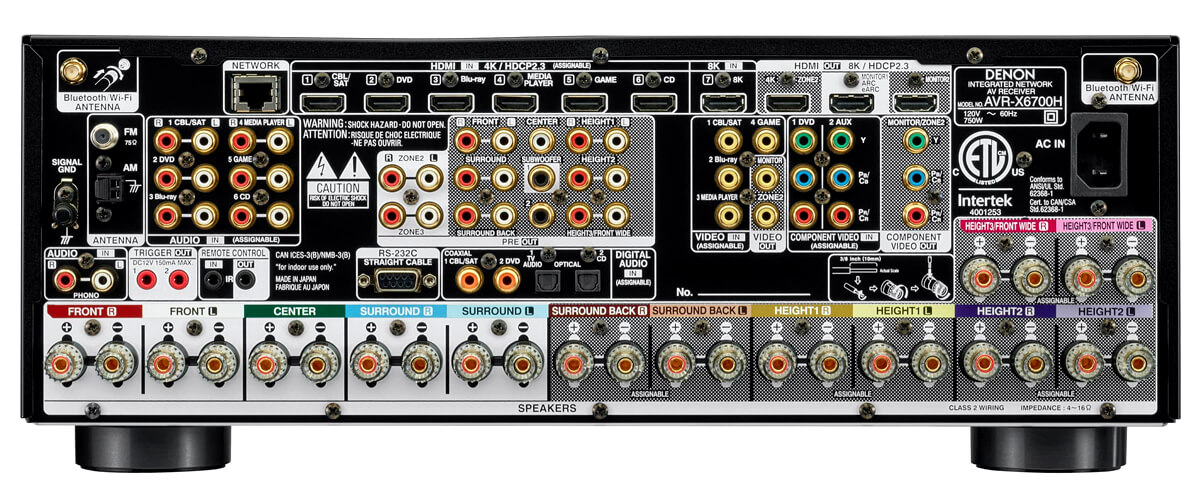 Looking at AVR-X6700H specifications, I can surely tell that this is where the most interesting part begins. With an 11-channel amplifier that delivers 140 W and 175 W output at 8 ohms and 6 ohms, respectively, each channel can be independently powered to minimize distortion and maximize clarity. It also offers up to 13.2 processing channels, allowing for a fully customizable audio system. Audyssey MultEQ XT32 room calibration technology optimizes audio quality based on specific listening environments, and the D.D.S.C. HD Digital processing technology ensures high-resolution audio with exceptional clarity and detail. In addition, the Pure Direct mode bypasses unnecessary circuits to deliver the purest possible audio signal.
This receiver also offers a comprehensive suite of audio formats, including Dolby Atmos, DTS:X, Auro-3, IMAX Enhanced, and DTS:X Pro. With its advanced audio processing capabilities, it delivers surround sound that immerses you in your favorite movies and games.
With eight HDMI inputs, including one on the front panel, and three HDMI outputs (two main and one - zone), it supports HDCP 2.3 and passthrough 3D, 4K, and 8K signals. It can also convert analog video signals to HDMI and scale them up to 8K resolution.
The AVR-X6700H makes streaming and playing audio from multiple sources effortless. The built-in media server supports a variety of formats, such as DSD, FLAC HD, WAV, and ALAC, and provides streaming services, including Spotify, Pandora, SiriusXM satellite radio, and internet radio via TuneIn. The device can be controlled via the Denon 2016 AVR Remote app on a smartphone or via Ethernet ports, Wi-Fi, and Bluetooth, which makes connectivity simple and versatile. The receiver supports three multi-room zones and is easily managed with IP Control, RS232 Control, Web Control, and App Control.
Sound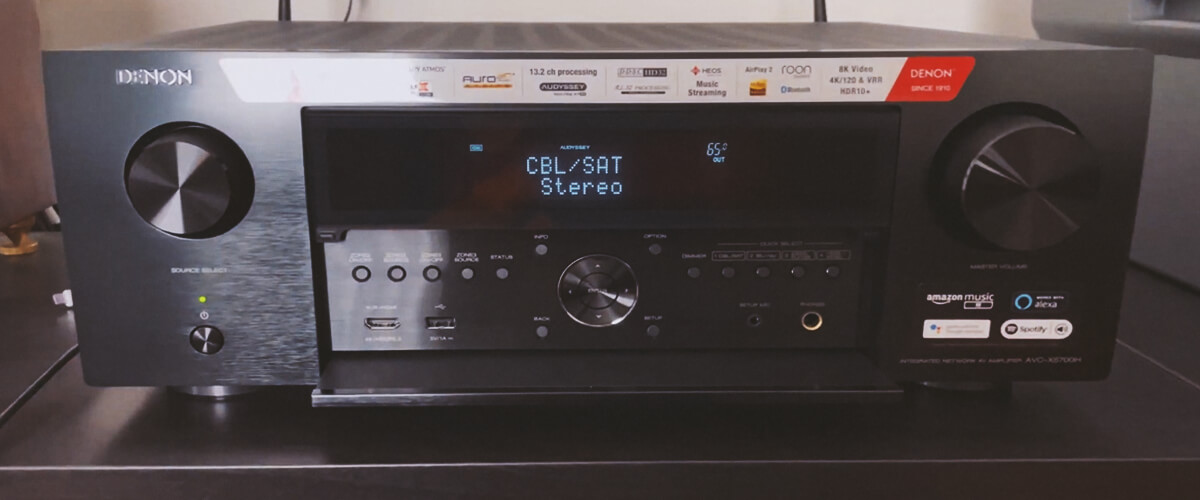 Right from the first note, the Denon receiver impressed me with its remarkable scale and convincing performance. When a thumping track is played at a volume higher than average, and you listen to it for a few minutes, you can't help but feel like hitting the repeat button. The emotional experience and impressions you get from listening to compositions by Hans Zimmer or modern orchestras playing Beethoven's music are akin to those you'd only get after attending a live concert.
The balance of the sound is biased towards the bass, more so than in previous generations, and some listeners may prefer to lower it slightly. However, this is subjective and a matter of personal preference. Personally, I'm not a fan of overpowering bass, but reducing it to a minimum on this device would be a mistake. The sound is well-controlled and mature, and the added volume of low frequencies ensures a complete and realistic reproduction of voices. And yes, it can easily wake up your neighbors across the street when necessary.
Key specs
Channels: 11.2.
Power output: 140W/8 Ohm, 175W/6 Ohm.
Surround sound: DTS HD Master, DTS:X, DTS Neural:X, DTS Virtual:X, Dolby TrueHD, Dolby Surround, Dolby Atmos Height Virtualization, Dolby Atmos, Auro-3D.
HDMI inputs/outputs: 8/3.
Supports: HDMI ARC, HDMI eARC, HDMI CEC, HDCP2.3, HDR10, HDR10+.
Video functions: 4K/120Hz, 8K/60Hz, upscaling to 8K.
Bluetooth/Wi-Fi: yes/yes.
Streaming services: AirPlay2, Deezer, Tidal, Pandora, SiriusXM, Napster, SoundCloud, Amazon Music, Amazon Music HD, Mood mix.
This premium Denon AV receiver crowns my collection and could be the jewel in the crown of any advanced home theater. The 11.2 channels deliver a stunning surround sound experience that will blow your mind! It is the best Denon receiver for the most advanced users.
Pros
The full symphony orchestra experience in IMAX Enhanced mode.
Reduced lag when switching between different video resolutions.
Superb 8K resolution performance with a fully immersive on-screen experience.
The sound is perceived as more controlled and mature, and the extra bass volume provides full and realistic voice reproduction.
Cons
The Denon app has many control features, but it's slow.
How to choose the right receiver from Denon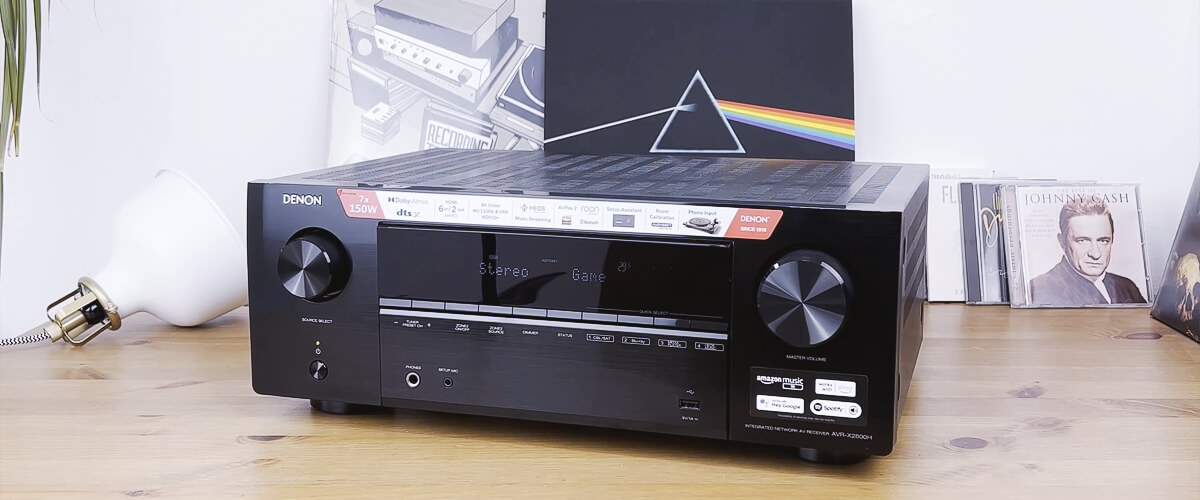 When choosing an AV receiver, I always recommend paying attention to the following key factors:
Sound quality
The most important thing when choosing a receiver is its sound quality. Denon is famous for its use of high-quality components. Therefore, the more expensive models have more power, lower THD, and SNR (Signal-to-Noise Ratio), and meet the demands of discerning users. But even the budget models of the brand can provide a very decent sound quality/level ratio, so in this sense, I fully trust their products.
Connectivity options
The second most important factor in choosing a Denon receiver I would call the connection ports. Their availability and number determine what kind of equipment you can connect and whether you can connect all of your devices simultaneously.
For example, the most important port today is the HDMI port, with which you can send high-quality video and audio signals over a single cable. Your TV, Blu-ray player, game console, and other devices connect to these. Therefore, it is very important to pay attention to their capabilities.
I am an audiophile and love vinyl, so I always pay attention to the phono input, which can save me from using an external preamplifier. Pre-out for the second sub will provide a better bass distribution, making it rich and deep. It will improve the soundstage.
Built-in Bluetooth, Wi-Fi, and AirPlay2, in turn, will save you from unnecessary wires and allow you to use ecosystems, streaming services, and voice assistants.
User interface
A user-friendly interface is important for easy setup and operation of the receiver. Who wants to use an incomprehensible, confusing GUI written in a professional language that looks like a set of hieroglyphs for the average user? So I recommend receivers with intuitive on-screen menus and well-designed remote controls, which Denon is usually fine with. Some models may even offer smartphone apps for easy control and setup.
Additional features
Denon receivers often come with various additional features to enhance your audio system. These include, for example, the proprietary HEOS ecosystem, wired multi-zone broadcast capabilities, support for immersive Dolby Atmos and DTS:X audio formats, and compatibility with music streaming services and voice assistants.
FAQ
What is the difference between Denon's AVR-X and AVR-S series?
The Denon AVR-X and AVR-S series are different receiver lines that differ in class. The X series is positioned as Denon's premium lineup and offers advanced features, improved audio performance, and greater connectivity. These receivers are designed for those looking for maximum sound quality and flexibility and aren't used to skimping on technology. So, it's easy to see that the S Series is in the more affordable price range. Nevertheless, it has the necessary features and capabilities and can satisfy users who prioritize balancing cost and performance.
How does Denon's HEOS feature work, and what benefits does it offer?
HEOS from Denon is a wireless multi-room audio technology that allows you to simultaneously play the same music in multiple rooms or different music in different areas via voice control or through an app on your smartphone. First, you connect compatible Denon products (receivers, soundbars, and speakers) to your home network. Then you can wirelessly stream music from various sources, including online streaming services, local music libraries, and even Bluetooth-enabled devices.
How often do Denon receivers need maintenance or repair?
Denon receivers don't need maintenance or repair more often than other brands. Then it depends on how you treat your equipment. Denon makes quality equipment, regardless of class, and has competent customer service and good warranty terms. So just monitor the performance, contact the manufacturer as needed, or make minor repairs and component replacements. In my experience, Denon receivers can last for decades.