In this Denon AVR-S570BT review, I would like to introduce you to this budget-friendly AV receiver released in 2022. As part of Denon's S-Series, this 5.2-channel model offers a pretty good balance of performance and value, making it a popular choice among novice home theater enthusiasts looking for an affordable yet capable receiver.
I am sure that you will be pleasantly surprised by the capabilities of this model, and I will start as usual with the design and build quality.
Build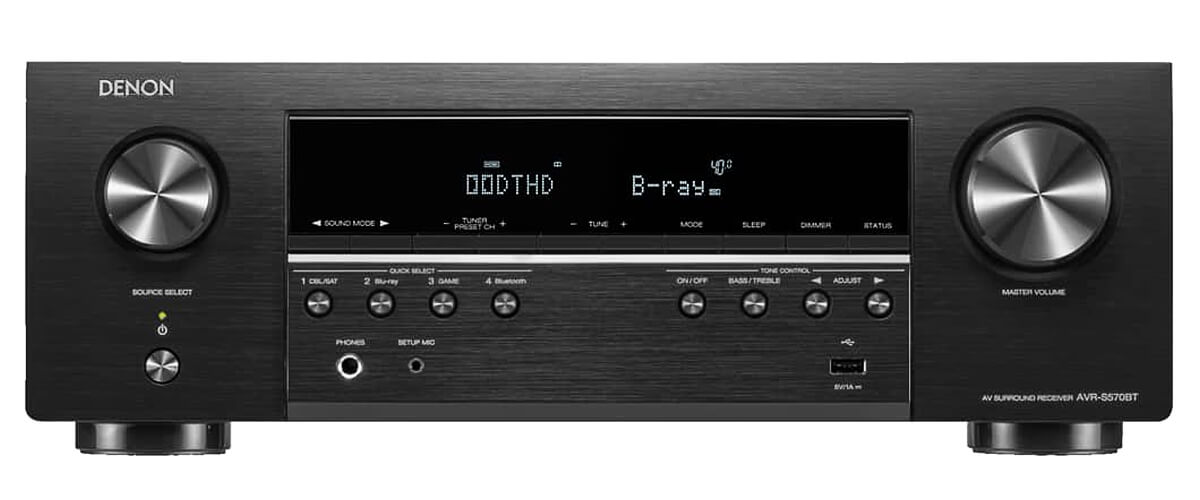 The AVR-S570BT sports a sleek, minimalist design that blends seamlessly into most home theater setups. In my opinion, the build quality is satisfactory, with a sturdy chassis and well-organized button layout on the front panel, making it user-friendly. The receiver's dimensions are 17.1 x 12.6 x 5.9 inches (43.4 x 32 x 15 cm), and it weighs 16.8 lbs (7.6 kg), making it a relatively compact and lightweight option. However, this is still an entry-level model, and you should not expect anything unusual in the design. So let's move on and get to the most interesting part.
Features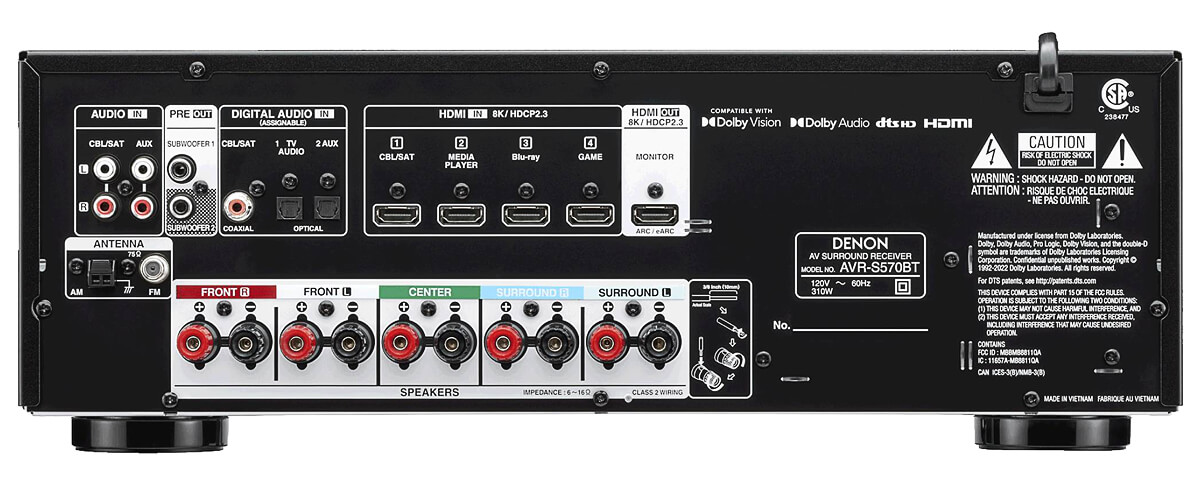 As for the AVR-S570BT specifications – this is a 5.2-channel AV receiver equipped with 5 power amplifiers, which makes it an optimal solution for small rooms. With an 8 ohm load, the receiver delivers 70 watts per channel with a frequency range of 20 Hz to 20 kHz and a low THD of 0.08% in the 2-channel configuration. For speakers with 6 ohms impedance, it can deliver 90 watts per channel at 1kHz and a THD of 0.7% in the 2-channel configuration. As you can see for yourself, the S570BT can deliver clean and consistent sound for most speakers.
This Denon receiver is equipped with 4 HDCP 2.3 compliant HDMI inputs on the back, and it implements the features of the 2.1 standard: supporting 8K/60Hz and 4K/120Hz video pass-through, ensuring compatibility with a wide range of video formats, including HDR, HLG, Dolby Vision, HDR10+, and Dynamic HDR. The S570BT offers VRR and QFT for gamers, reducing lag and screen tearing for a smoother gaming experience. Additionally, the receiver supports ARC/eARC for simplified audio connectivity with compatible TVs. I think the visual capabilities of this receiver are a notch above that of many budget models. I remind you that I said at the beginning of the review that this model can pleasantly surprise you, and I think I have succeeded. And most importantly, thanks to its 8K signal transmission and scaling capabilities, this device will not become obsolete in a few years and is ready for the future of video content.
The AVR-S570BT is equipped with Bluetooth, which allows you to use it to work with various music services, but it has no Wi-Fi. Of course, this is a serious disadvantage for a modern device, but once again, let me remind you about the class and price of this model. Perhaps a certain consolation will be the fact that this receiver is equipped with a phono stage for vinyl lovers.
For surround sound, the AVR-S570BT supports Dolby TrueHD and DTS-HD Master Audio. So yes, you won't find support for the most advanced surround sound formats here, but you will definitely be able to get your first 3D sound experience at home rather than in a theater.
Sound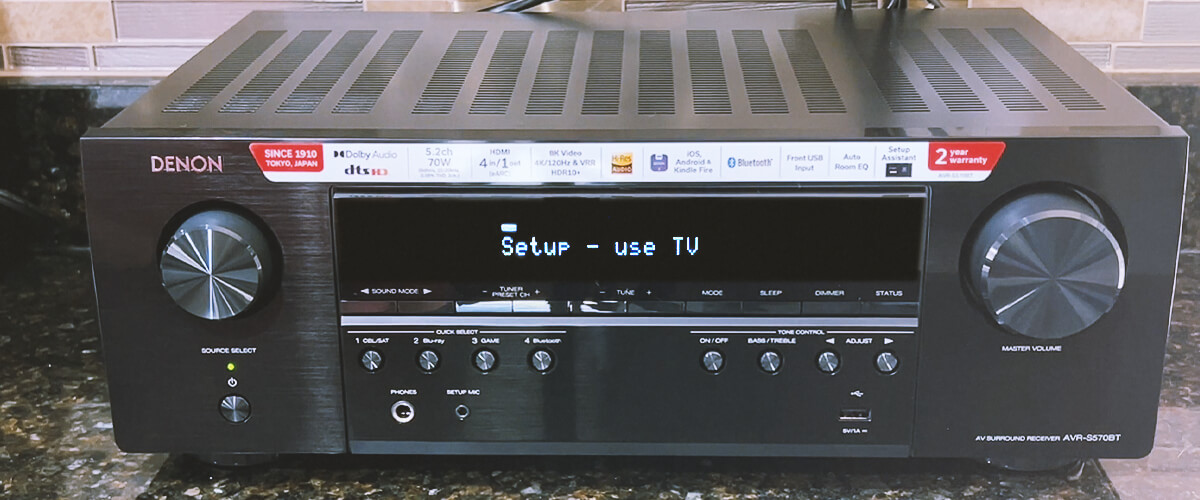 Now let's discuss the most important aspect of this Denon AVR-S570BT review: sound quality. When playing music, it provides a clear and well-balanced sound. The midrange reproduction deserves special attention, providing exceptional clarity of vocals and instruments, but it lacks the power to maintain coherence at high volume. Therefore, it is unlikely to satisfy demanding audiophiles, but it will certainly provide a pleasant listening experience for most users.
When watching movies, this model didn't surprise me in any way. The surround sound was at the level of a budget receiver. Still, the S570BT performed well in transmitting clear dialogues, ensuring that every phrase is understandable even among action-packed action scenes.
Key specs
Channels: 5.2.
Power output: 70W/8 Ohm, 90W/6 Ohm.
Surround sound: DTS HD Master, Dolby TrueHD.
HDMI inputs/outputs: 4/1.
Supports: HDMI ARC, HDMI eARC, HDMI CEC, HDCP2.3, HLG, HDR10, HDR10+, Dynamic HDR, Dolby Vision.
Video functions: 4K/120Hz, 8K/60Hz, upscaling to 8K.
Bluetooth/Wi-Fi: yes/no.