You are apparently ready to upgrade your home theater, so you are here to study what the market offers you today. I've chosen the best Yamaha receivers for you, as this brand is very popular today and has a range of models in different classes, configurations, and functionality. So, rest assured, you will definitely find something for your budget and preferences. Nevertheless, it's worth noting that each brand has its unique sound, and Yamaha fans appreciate its products for their transparent, cool, but bass-rich sound experience. And to begin with, I suggest you learn a little bit about the brand's history.
Our pick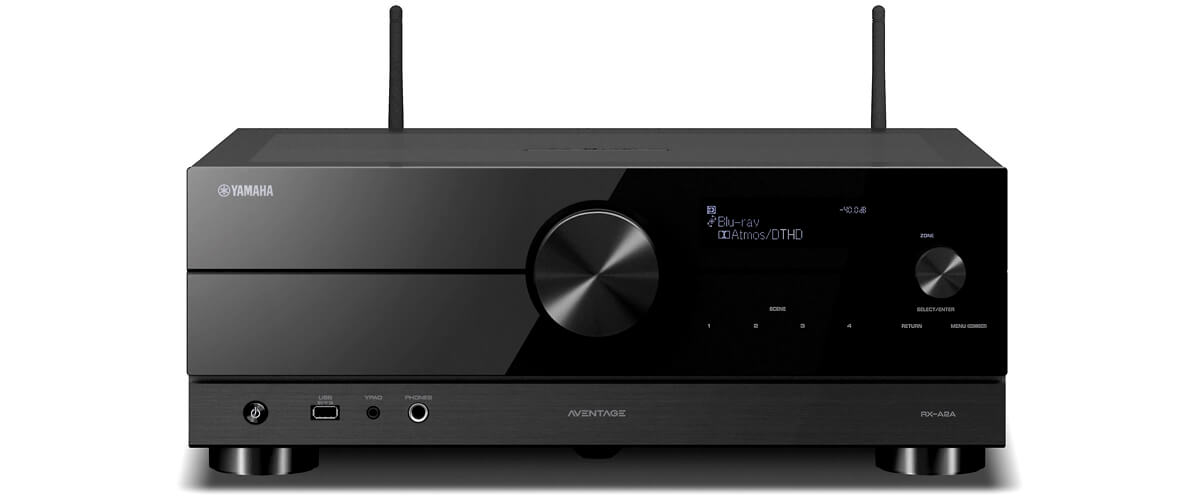 Yamaha RX-A2A
Best Yamaha AV receiver
The Yamaha RX-A2A AVENTAGE 7.2-channel AV receiver with 8K HDMI professional quality video and immersive surround sound via Dolby Atmos will completely transform your home cinema.
Read the full review
.
Yamaha AV receivers comparison table
Name
Channels
Power output
HDMI in/out
Bluetooth/Wi-Fi
Review
Yamaha RX-A2A

best overall

7.2
100W/8 Ohm
7/1
yes/yes
Review
Yamaha RX-A6A

premium

9.2
150W/8 Ohm
7/3
yes/yes
Review
Yamaha RX-V385

budget

5.1
70W/8 Ohm, 130W/6 Ohm
4/1
yes/yes
Review
Brief history of Yamaha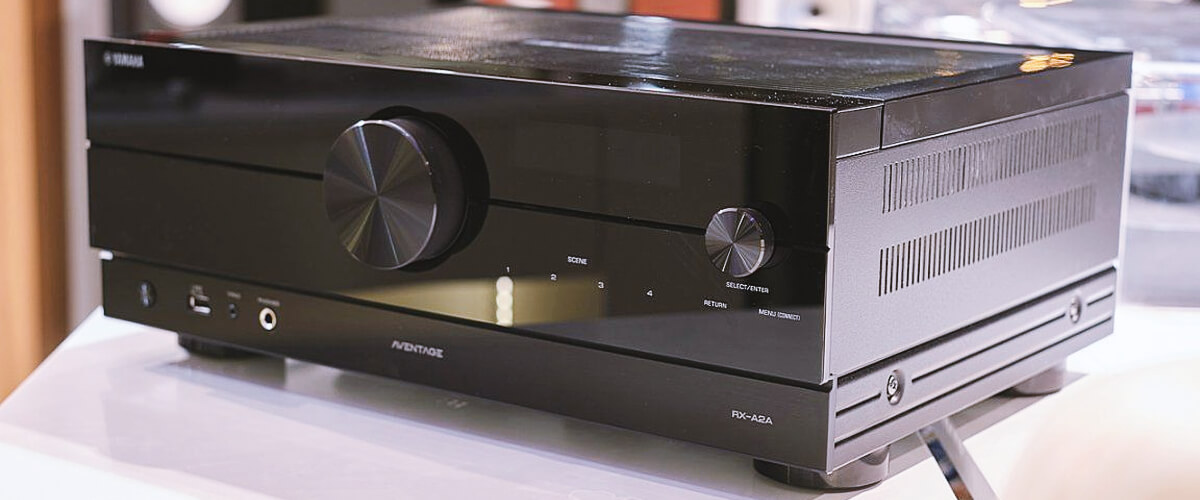 In 1887, the Japanese Torakusu Yamaha founded the Nippon Gakki Co., Ltd., which later became Yamaha Corporation, a company known today to anyone who has ever encountered musical equipment. Initially, of course, it was not about audio equipment, and the company was producing pianos and some other instruments, as Torakusu's first instrument was the reed organ. So, do not doubt the brand's quality, which for over 100 years offered the world devices and remains incredibly popular.
It wasn't until the 1950s that the company got involved in creating audio amplifiers and loudspeaker systems. Since then, Yamaha has followed technological advances, and in the 70s, it was already producing electronic equipment and musical instruments. As a result, probably every one of us has seen and heard a synthesizer of this brand at least once in our lives.
Today the brand is famous for producing home theater receivers and has a strong position among competitors in surround sound. As I mentioned, a receiver from Yamaha can give you pure quality sound with the specific aspect of transparent tops, rich bottoms, and clear middle frequencies. So you can be sure when you choose Yamaha AVR, you're getting a great quality speaker system, and the brand's long history ensures that its creators know how to make music.
Best Yamaha AV receivers reviews
I want to share with you my impressions of testing a very interesting model - the Yamaha RX-A2A. This is the junior member of the audiophile Aventage series with updated hardware and basic features of the RX line. My Yamaha RX-A2A review will allow you to become more familiar with this unit and decide whether it is worth buying.
This model was introduced by Yamaha Corporation in 2020 and boasts exciting surround sound, support for CINEMA DSP 3D technology, and some other nice features. So let's waste no time and see what this receiver looks like.
Build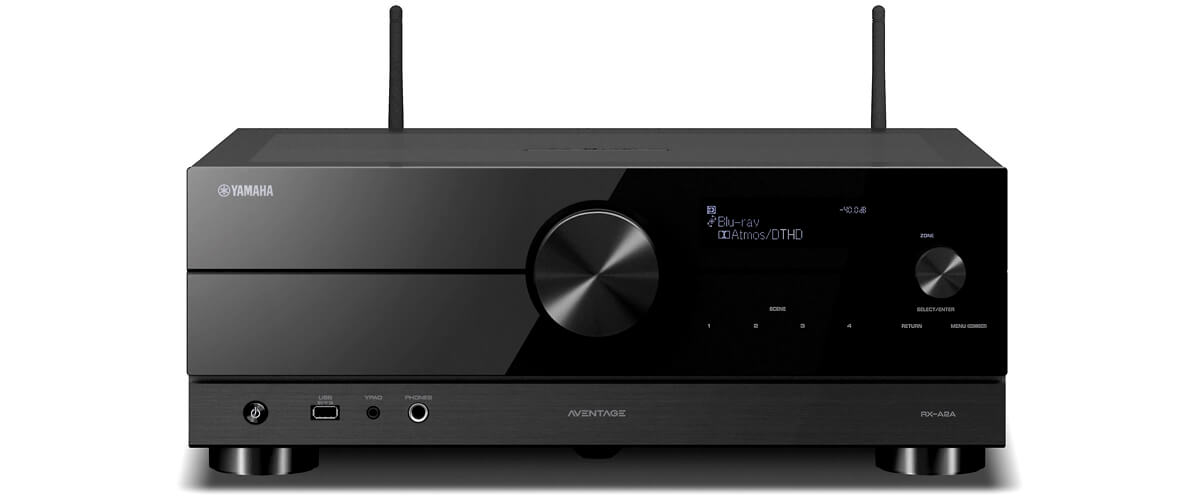 It feels like Yamaha has come a long way in terms of design - this time, instead of a more rounded look, we got straight lines and sharp corners. The almost completely glossy front side of the receiver looks modern.
The electronics are complemented by the Special ART internal vibration suppression technology, for which a fifth special support is installed in the center of the bottom panel of the case. The top panel and sides provide ventilation, with the top panel having a distinctly plastic appearance.
Its dimensions are (W x H x D): 17-1/8" x 6-3/4" x 14-5/8" (with the antenna up, its height increases to 9-5/8"). Weight is 22.5 lbs. By the way, it is the lightest of the whole RX series.
Features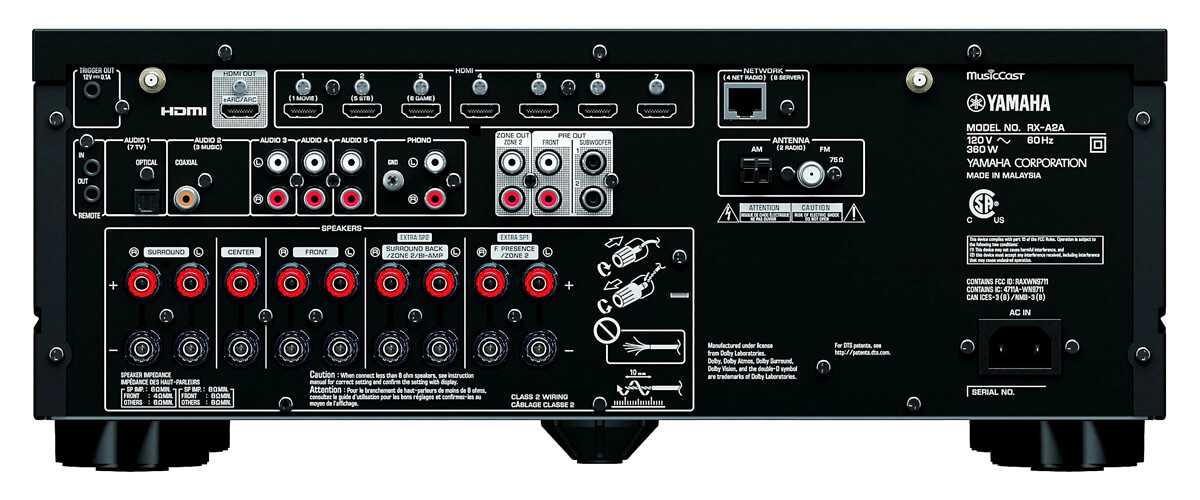 There is no point in enumerating all the features of this model, so I would like to focus on the most interesting and significant features of this unit. First of all, it is a 7.2-channel receiver with 100 watts per channel (8 ohms, 0.06% THD).
The Yamaha RX-A2A has seven HDMI inputs and one output that supports a 4K Ultra HD signal with all Dolby Vision and HLG add-ons and an 8K signal on three of the seven inputs. In addition, this model is also equipped with analog and digital inputs, which will allow you to create an AV system with a variety of signal sources on its basis. By the way, to support active powered HDMI cables, the HDMI power supply is increased to 300 mA.
The Yamaha RX-A2A features bi-amping, which improves the sound quality of the front channels - an important advantage for home theater. The Zone B output provides 2-channel sound in the other room. That leaves 7 output channels for the main zone. This means you can listen to stereo sound in the second room. In this case, both zones will play audio content from the same source (simultaneous use of two signal sources is not possible).
As for sound, in addition to Dolby Atmos and DTS:X support, there is Dolby Atmos Height Virtualization, as well as Cinema DSP. A proprietary YPAO auto-calibration circuit is used to adjust the multichannel sound to the listening room and acoustics. To connect all the speakers, the unit has secure screw terminals conveniently located in the middle of the back panel.
The RX-A2A, of course, got the full suite of MusicCast and app control features, including Wi-Fi, AirPlay 2, Spotify Connect, built-in music streaming services, multi-room audio, and support for voice control via Alexa, Google, and Siri. In addition, MusicCast Surround allows you to pair additional wireless MusicCast speakers and use them as surround sound in a 5.1.2-channel configuration.
Sound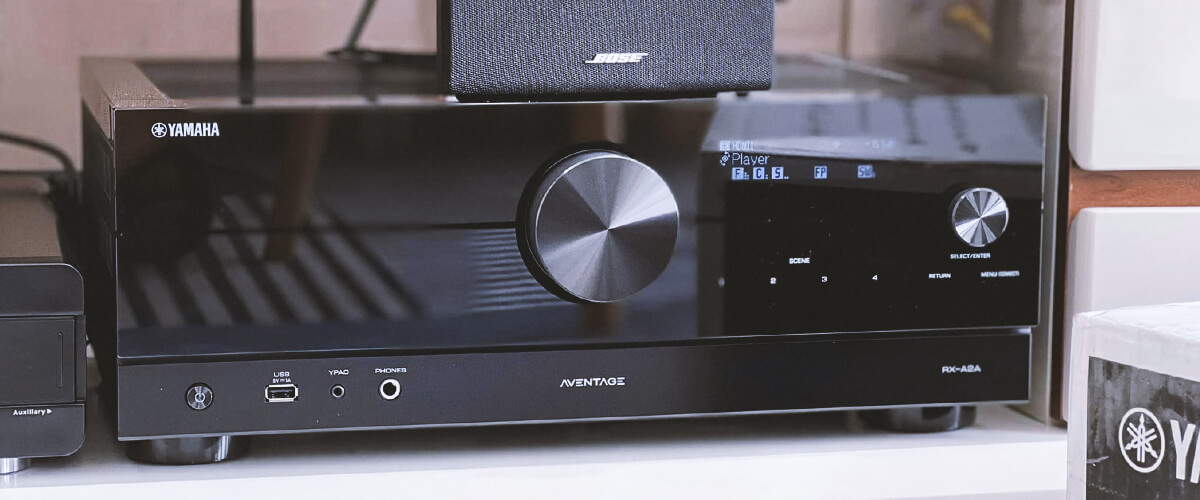 Moving on to the audio side of things, when I saw dynamic movies like "John Wick" or the TV series "The Witcher," soundtracks were immersive, and the RX-A2A receiver reproduced even the tiniest sounds with amazing accuracy in the action-packed scenes. I should also note that I liked the car and chase scenes. The skids and squealing brakes were full of nice hissing and squealing sounds, and the smaller features were quite neatly detailed. During crashes and various collisions, the low-pitched sound sometimes sounded a bit dull, but the overall action had the right dynamics. I loved it!
Key specs
Channels: 7.2.
Power output: 100W/8 Ohm.
Surround sound: DTS HD Master, DTS:X, DTS Neural:X, DTS Virtual:X, Dolby TrueHD, Dolby Surround, Dolby Digital Plus, Dolby Atmos Height Virtualization, Dolby Atmos, Cinema DSP.
HDMI inputs/outputs: 7/1.
Supports: HDMI ARC, HDMI eARC, HDMI CEC, HDCP2.3, HDR10, HDR10+, Dolby Vision.
Video functions: 4K/120Hz, 8K/60Hz, upscaling to 4K.
Bluetooth/Wi-Fi: yes/yes.
Streaming services: AirPlay2, Deezer, Tidal, Pandora, SiriusXM, Napster, SoundCloud, Amazon Music, Amazon Music HD, Mood mix.
This model is perfect for modern people who want advanced surround sound formats and extensive streaming capabilities. The RX-A2A does not have many options for connecting older equipment and is inferior in some aspects to its premium counterparts, but its sound overcomes all the disadvantages. It is the best Yamaha receiver in my price/performance ratio rating!
Pros
Didn't notice any overheating during operation like the more powerful receivers.
Beautifully controlled with my iPhone or iPad.
Extensive setup options will make you spend time, but it's worth it.
By all parameters of my analysis, this model has the optimal price/quality ratio value.
Cons
The on-screen menu is slow.
Some apps freeze, and you have to reboot the receiver.
Yamaha RX-A6A – premium
In this Yamaha RX-A6A review, I will tell you about a very interesting model, which is well-known to receiver fans and, in my opinion, is one of the most successful Yamaha releases in the mid-price segment. I assure you that the RX-A6A will remain in demand and relevant even after 10 years.
I'm not a big fan of Yamaha, but the RX-A6A is a genuine sports car compared to many other analogs on today's market. It doesn't mean that others are terrible, no. It's just the RX-A6A offers you a lot of cool stuff, and you, in one moment, transform into a little kid and start discovering so many things that your "new toy" can do.
Build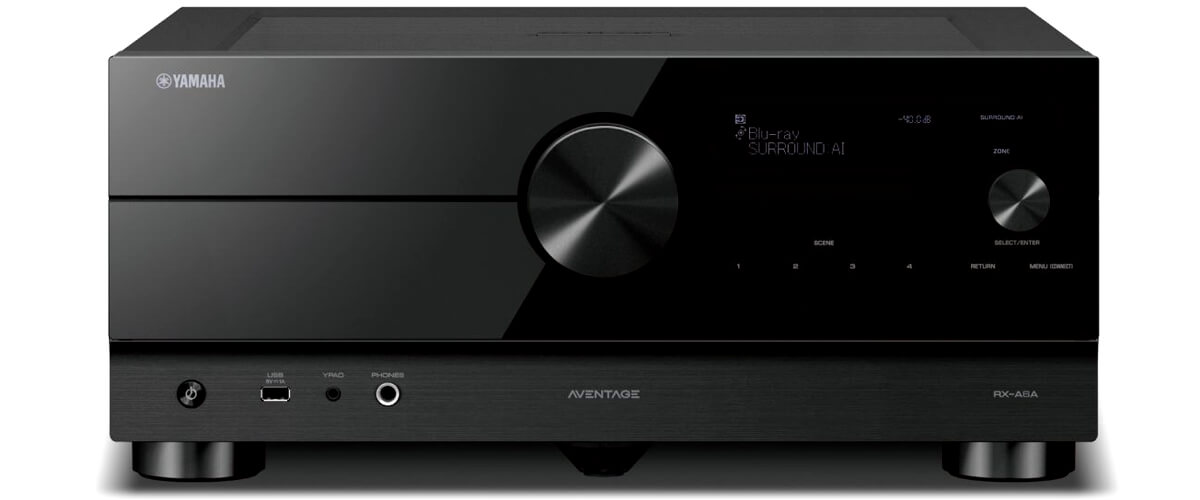 The design is solid and comfortable, as you can expect from Yamaha. It's a standard Aventage design we've seen in RX-A4A or RX-A2A.
If you are familiar with Yamaha Aventage products, you'll have no problems with the RX-A6A. The only thing in the model that differs is the dimensions. It's a pretty big receiver – 17-⅛ x 7-½ x 17-⅜ inches without an antenna and 41.2 lbs of weight, making it a massive system that you must find a place in the room beforehand.
On the front panel, you'll find scene buttons that you can adjust for every species of the system, so you can easily switch from movies to music or radio. And, of course, you can then control it with a remote or mobile app for every smartphone.
Features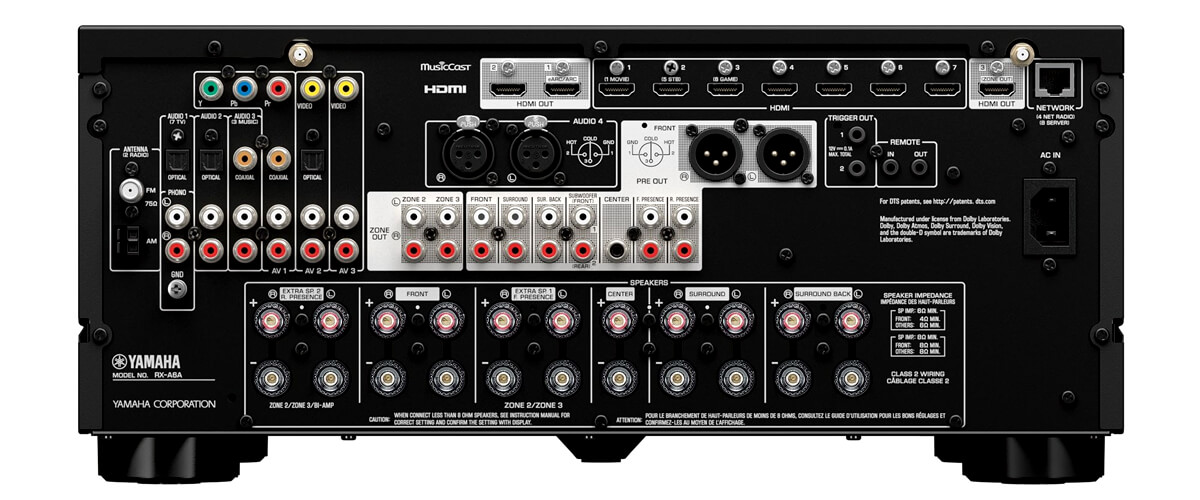 RX-A6A is a 9.2-channel AV receiver with Rated Output Power (20Hz-20kHz, 2-channel driven) 150 W (8 ohms, 0.06% THD) that can transform into a 5.1.4 configuration and can be modernized to 11.2-channel to plug 7.2.4 or 5.2.6 systems./p>
If we are talking about the video specifications of RX-A6A, you'll find everything you need here: 4K/60/120 Hz and 8K/60 Hz. It has 7 HDMI inputs (HDMI 2.1) and 3 HDMI outputs (HDCP 2.3) and supports Dolby Vision, HDR 10+, and ALLM & VRR for media and gaming. A few more words about the ports, in RX-A6A, you'll find Phono Input, XLR Terminal, as well as analog, optical, composite, and other outputs. There are more than enough connection possibilities.
Yamaha RX-A6A supports most modern surround sound formats, including Dolby Atmos, DTS:X, and AURO-3D. However, I think the most significant feature differentiating Yamaha receivers from competitors is the Surround: AI technology that analyzes movie scenes and adjusts them right for your surroundings. As a result, I felt like I watched the scene the same way the director planned. I'd also like to mention YPAO, a sound control system that helps you optimize your room settings.
Everything else is pretty standard – support of popular music networks, including Spotify and AirPlay 2, inserted MusicCast multi-room audio, Wi-Fi, Bluetooth, and the ability to control the system with voice assistance.
Sound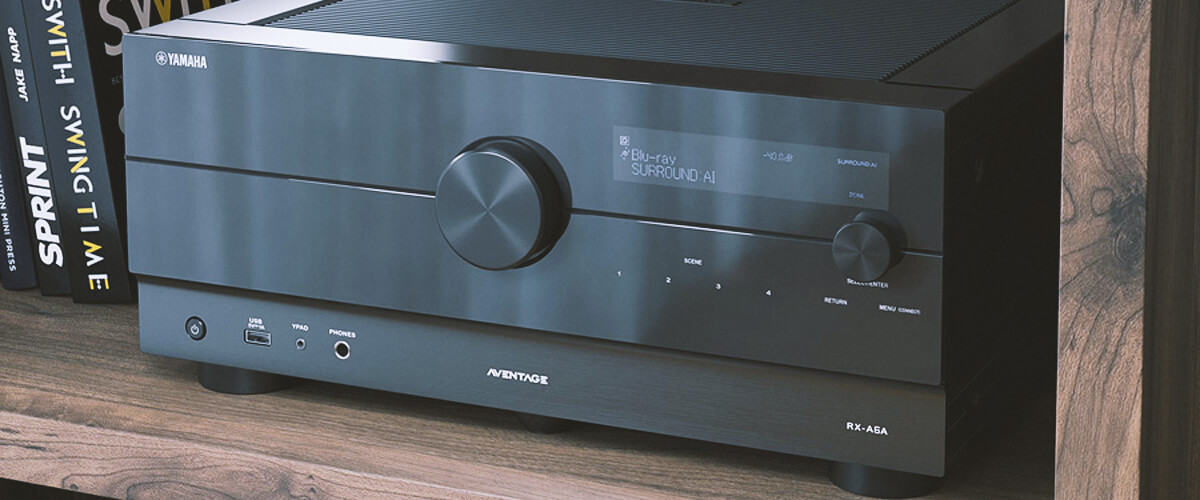 I started the receiver's test with A Quiet Place – a movie where silence is one of the main heroes. And you know what? I was satisfied with the feeling of my unusual surroundings. No, you can't hear massive blasts, shots, or screams most of the time, but you feel the forest, the farm, the waterfall, and the river. Usually, we perceive silence as a void, not paying attention to it because it doesn't require our attention. However, here the surrounding talks to you through this movie, and at some point, I felt like a prey who tried to hear where the monster was and did not make any noise. In this case, AI puts this movie on a new level of comprehension.
Key specs
Channels: 9.2.
Power output: 150W/8 Ohm.
Surround sound: DTS HD Master, DTS:X, Dolby TrueHD, Dolby Surround, Dolby Digital Plus, Dolby Atmos Height Virtualization, Dolby Atmos, Auro-3D.
HDMI inputs/outputs: 7/3.
Supports: HDMI ARC, HDMI eARC, HDMI CEC, HDCP2.3, HDR10, HDR10+, Dolby Vision.
Video functions: 4K/120Hz, 8K/60Hz, upscaling to 8K.
Bluetooth/Wi-Fi: yes/yes.
Streaming services: AirPlay2, Deezer, Tidal, Pandora, SiriusXM, Napster, SoundCloud, Amazon Music, Amazon Music HD, Mood mix.
It's impossible to describe the thrill of being on the soundstage with this receiver! You can expand your system to 11 channels; everything else is the latest in modern technology. This premium Yamaha home theater receiver is for those not used to saving money.
Pros
The bass is more refined and blends better with my speakers.
With any speakers, it creates an incredible soundscape.
The MusiсCast app works perfectly.
Cons
Sometimes the AirPlay 2 signal was missing.
Yamaha RX-V385 – budget
If you are really a sound fan, purchasing a receiver would be a fantastic decision for you. Today I decided to help you with it and prepared the Yamaha RX-V385 review. This model belongs to the budget RX-V line. In addition to the reasonable price and basic features of the RX-V385, this Yamaha offers playback from a USB drive and remote control. Let's take a closer look at its parameters, then move on to the technical aspects and sound.
Build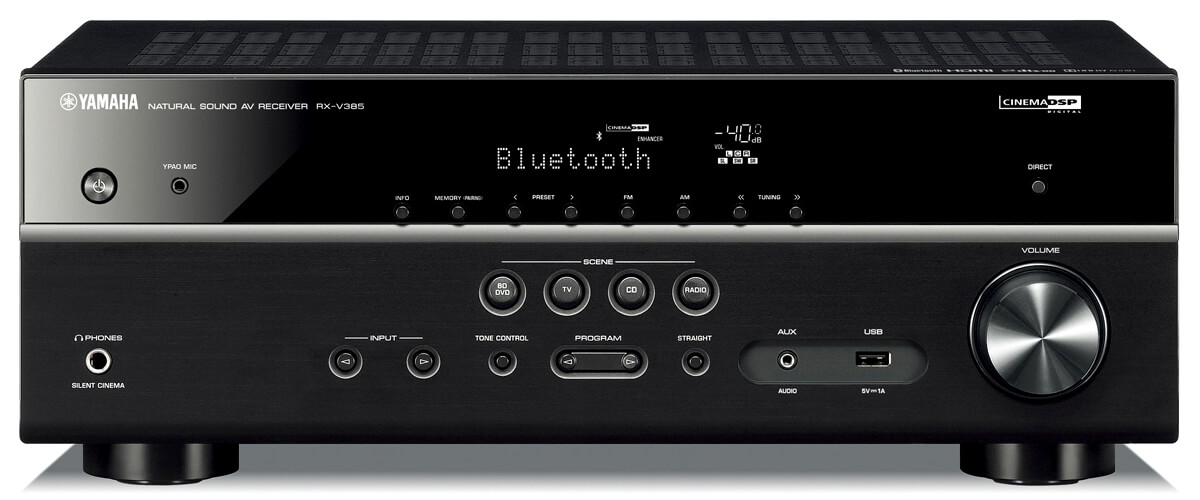 The Yamaha RX-V385 has a total weight of 37.4 pounds and dimensions of 12.4 x 17.13 x 6.34 inches. Therefore, I do not think that you will have problems with the place to set it. The model has a classical design and stylish deep black color.
The material of the lower front panel is plastic. The scene buttons are set on the front panel, and detecting them is easy. It's convenient. However, the screen, in my opinion, should be optimized a bit. I would enlarge it because sometimes it is difficult to distinguish the text.
Features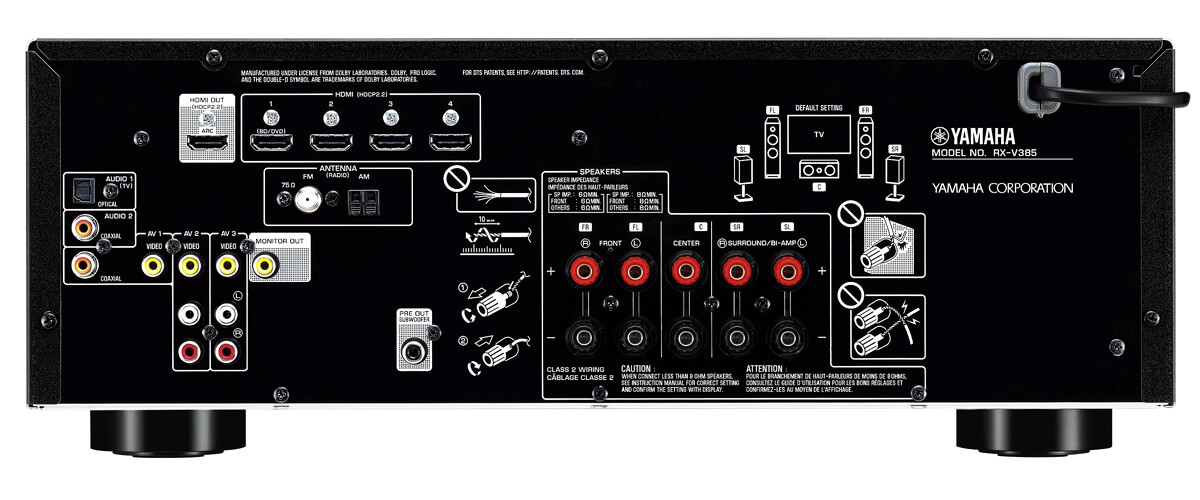 Yamaha RX-V385 is a classic 5.1 channel receiver with 100 W power per channel (6 Ohm, 1 kHz, THD 0,9%). There is an option to put speakers with 2 Ohm impedance on the front channels, but the other channels support 6 Ohm and higher load. In addition, there is a function of bi-amping - Bi-amp Connection, thanks to which the receiver controls the frequency ranges of the speakers and independent amplifiers. Also, unlike the previous model, instead of spring clips, there are screw terminals for all five channels.
This model has 4 HDMI (2.1/eARC) inputs and one output. Version 2.1 supports 4K/60p 4:4:4 video and dynamic range - HDR10, Dolby Vision and HLG, colors - BT.2020. Unfortunately, among the wireless connections here, there's only Bluetooth. There is no built-in Wi-Fi, which is normal for the budget segment.
According to the RX-V385 specifications, the supported USB formats are MP3 / WMA / MPEG-4 AAC / WAV: up to 48 kHz / 16-bit. FLAC is not supported in any form. But from my experience, I want to say that listening to music through the USB port of the receiver is not a very interesting thing to do with its stripped-down features and poor interface. I would also add that the RX series is designed more for movies, music concerts, and video clips than for listening to high-quality audio file formats.
The receiver supports all modern video formats: 4K, HDR10, Dolby Vision, HLG, HDCP 2.2, and BT.2020 color space. I have not had a single failure or glitch during the operation with the image output (including high resolution) or multi-channel audio. The main thing in your multimedia system is to use quality HDMI cables.
The remote is very handy, and I like it better than previous generations. It easily controls my media player via HDMI CEC. However, it lacks backlighting, but that is my subjective opinion. The important buttons are large, and the rest are conveniently grouped. The brightness of the display of the receiver is adjustable. An ECO mode allows you to reduce power consumption, and you can also set the receiver to operate in standby mode.
Sound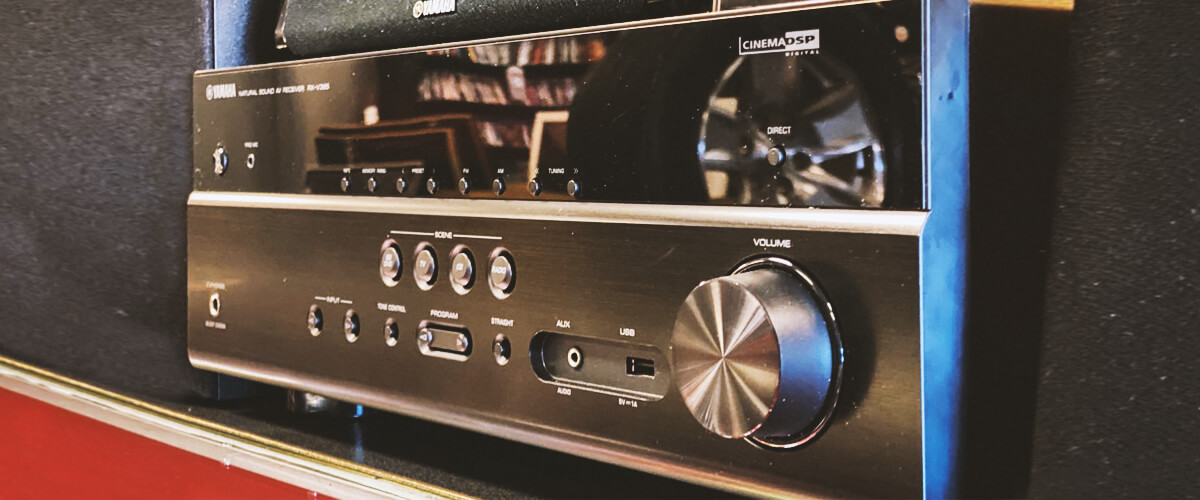 Traditionally the sound of Yamaha receivers is detailed, ambitious, and clear. For an entry-level receiver, the RX-V385 showed a powerful enough sound to pleasantly surprise me. Doctor Strange in the Multiverse of Madness allowed this model to demonstrate its dynamic range. The dialogs were crisp and accurate. The amp handled the large-scale final battle with ease. I simply had nothing to complain about. The test went great. But I'm not sure if the RX-V385 can prove itself in larger rooms. When I cranked the volume up to the maximum, it was difficult for it to hold the optimum sound balance.
By the way, I didn't use a YPAO microphone; I adjusted everything to my room by myself. But for the first time, if you don't know anything about AV receivers, you can adjust the sound with the included microphone. Then you can easily calibrate the values manually.
Key specs
Channels: 5.1.
Power output: 70W/8 Ohm, 130W/6 Ohm.
Surround sound: DTS HD Master, Dolby TrueHD, Dolby Digital Plus, Cinema DSP.
HDMI inputs/outputs: 4/1.
Suppots: HDMI ARC, HDMI eARC, HDMI CEC, HDMI Upscaling.
Video functions: 4K/60Hz, upscaling to 4K.
Bluetooth/Wi-Fi: yes/yes.
Streaming services: AirPlay2, Deezer, Tidal, Pandora, SiriusXM, Napster, SoundCloud, Amazon Music, Amazon Music HD, Mood mix.
The 2018 Yamaha AV receiver can offer the basic features of a 5.1 home theater configuration. But its clean, detailed sound is no compromise and will surely please movie buffs and gamers.
Pros
The setup is very easy and takes about 8-10 minutes.
Excellent seamless Bluetooth performance.
The 4K resolution upscaling feature works great.
Cons
There are problems (delays and 1-2 sec jumps) when working with video.
HDMI stopped working using a long cable (more than 10 feet).
Yamaha RX-V4A
For all good sound fans, I decided to prepare the Yamaha RX-V4A review. This model belongs to the middle segment price RX-V line and is popular among many users.
In addition to the basic functions, this model supports CINEMA DSP 3D and Music Enhancer and is equipped with MusicCast and a voice control system. You have to admit that it already sounds quite interesting. Let's take a closer look at its design, then move on to the technical aspects and sound.
Build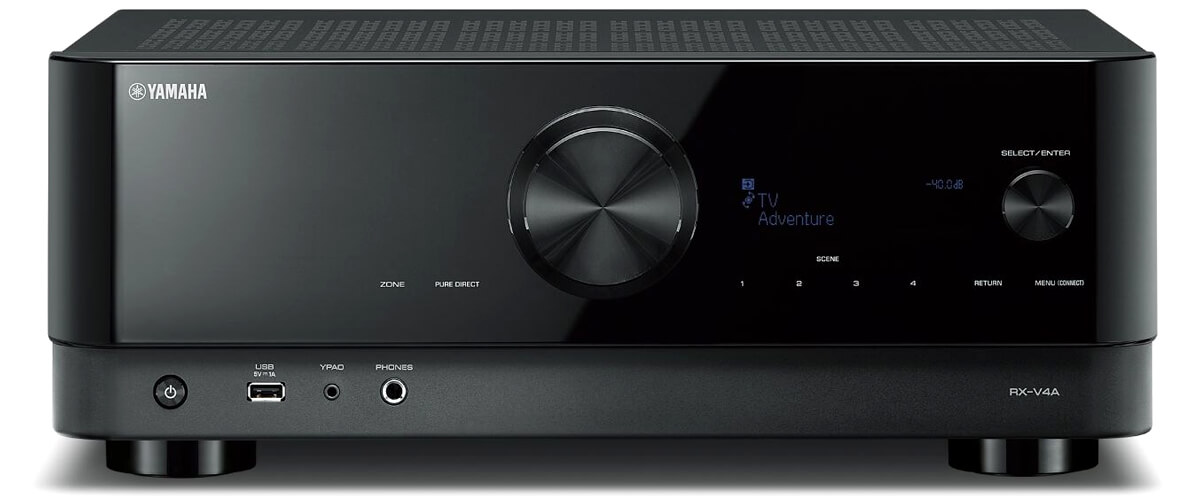 The Yamaha RX-V4A has a total weight of 19.4 pounds and dimensions of 20H x 18W x 11D inches. Thus, this "baby"' will fit your living room perfectly. The model has a classical receiver design and stylish deep black color.
The material of the receiver housing is metal. There are two menus: functions and settings. Unfortunately, the poor design of the on-screen menu can obscure the setup process. White type on a black screen is not easy to distinguish, and you can easily confuse what is what and choose the wrong option. But overall, everything is pretty standard, comfortable, and ergonomic.
Features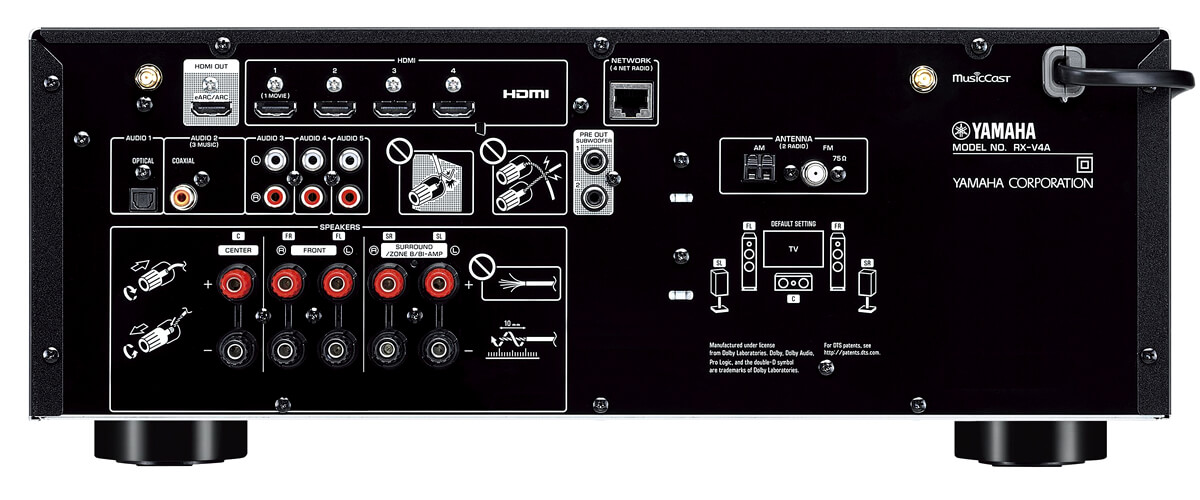 Yamaha RX-V4A is a modern 5.2-channel receiver with an output power of 115 W per channel (8 Ohms, 0.9% RHD). You can connect 2 to 5 speakers and up to 2 subwoofers. The rated power is 10 Hz - 10 kHz on 1 channel. Maximum effective output power is 1 kHz on 1 subwoofer. This model uses high-speed sweep amplification technology from more top-of-the-line Yamaha units for better dynamics. Its converter uses a Burr-Brown PCM5101A chip, operating at 384 kHz at 32 bits.
In addition, you can use a configuration with two amplifiers (Bi-amping). With this type of connection, the receiver adjusts the frequency ranges of the speakers and independent amplifiers. Finally, I'll note that the screw terminals for all five channels are included, which is better than the previous model's spring clips.
There are 4 HDMI inputs and 1 output (eARC). RX-V4A supports most audio file formats: MP3, WMA, WAV, ALAC, FLAC, etc. Also, using the USB port allows you to enjoy your music remotely. Among RX-V4A specifications, you will find all the features for convenient music streaming. MusicCast supports a wide variety of platforms, including Spotify, Tidal, Amazon Music, and Deezer. Moreover, both Wi-Fi and Bluetooth are accessible, and it's a big plus for promoting the possibilities of using this receiver.
You won't find a phono stage in the RX-V4A, although the FM/DAB tuner can make up for this shortcoming. I should point out that Yamaha has put its main emphasis on HDMI, as all connectors are compatible with 8K and 4K at 120 Hz, as well as Dolby Vision and HDR10+. That is a very nice point because some competitors settle for a single 8K input, even on very expensive devices.
Unfortunately, Yamaha RX-V4A doesn't support Dolby Atmos or DTS: X. I believe most home theater fans would consider it a drawback. But there is Virtual CINEMA DSP, Dolby TrueHD, and Dolby Digital Plus.
The remote decoder is compact and fits well in your hand. The backlit buttons are absent, so you need to have a lantern nearby. The speaker setup is not complex. Place the microphone at ear level on the middle seat and press the "Start" button.
Sound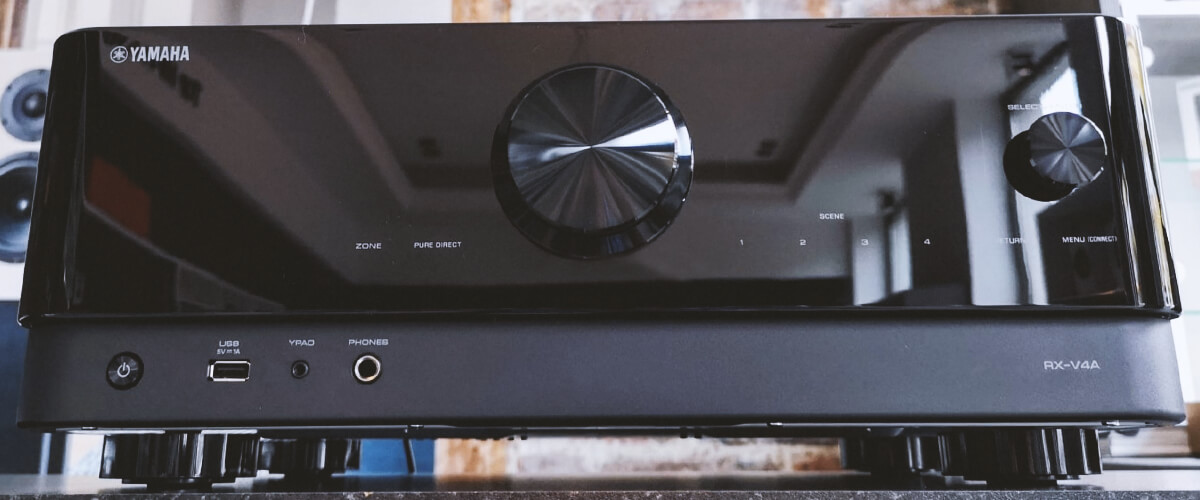 Let's first go through the YPAO sound calibration procedure. This is done in one iteration with one measurement position in mind. Yamaha got the distances right and set the levels correctly. Unlike many analogs, it has a good center channel setting, which is often a few decibels more.
Next, I tested the sound in the movies. I always choose something exciting and with a lot of battle scenes. Usually, in such movies, the receiver can show all its capabilities (if they allow it, of course). Watching Spartacus: Blood and Sand is a pleasure. Battles are effective and dynamic, and the music is magnificent. No sound stirring. The power is just enough for an average-sized room. I loved it. Not a dream come true for sure, but definitely good!
Key specs
Channels: 5.2.
Power output: 80W/8 Ohm.
Surround sound: DTS HD Master, Dolby TrueHD, Dolby Digital Plus, Cinema DSP.
HDMI inputs/outputs: 4/1.
Supports: HDMI ARC, HDMI eARC, HDMI CEC, HDCP2.3, HDR10, HDR10+, Dolby Vision.
Video functions: 4K/120Hz, 8K/60Hz, upscaling to 4K.
Bluetooth/Wi-Fi: yes/yes.
Streaming services: AirPlay2, Deezer, Tidal, Pandora, SiriusXM, Napster, SoundCloud, Amazon Music, Amazon Music HD, Mood mix.
Slightly more expensive than the Yamaha RX-V385, this model offers advanced modern video and audio options. It gives you 8K resolution and Dolby Atmos surround sound while being affordable for many. That allows me to call it the best Yamaha AV receiver for those who keep up with the times.
Pros
There is the ability to adjust the volume of each speaker, and I have adapted the system better because of this.
You can use the 4 Ohm speakers if you don't crank the volume.
Works for both TV audio playback via ARC and volume control via HDMI CEC and for both inputs and outputs.
The branded app lets you do a lot of things, including Wi-Fi.
Cons
In some TV apps, the sound goes out for a few seconds.
The eArc has issues with 4K/120Hz (4K/60Hz works fine).
How to choose the right Yamaha receiver for you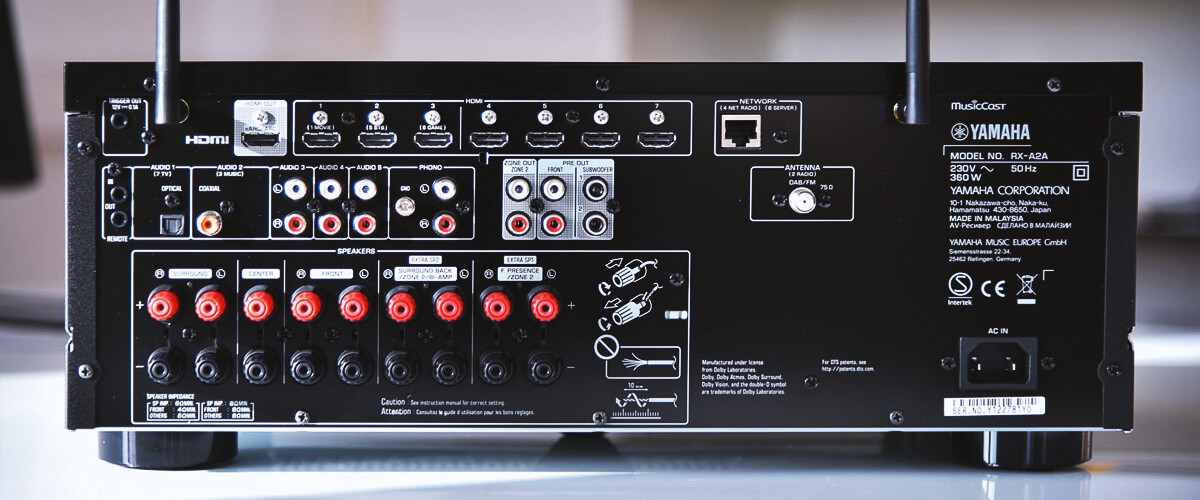 When choosing a Yamaha receiver for your audio system, I recommend that you pay attention to some key points:
Evaluate your sound system needs
The main thing is correctly assessing your specific sound system needs. First, think about how many speakers you want to connect with. It depends on your desired sound: stereo, surround, or a more advanced Dolby Atmos configuration. Next, specify the impedance and wattage of your speakers so that they match the receiver's capabilities and do not create extraneous noise during the broadcast. If you like listening to vinyl, ensure the receiver has a phono input. For streaming services, you'll need a wireless connection. You may also want to consider Multi-room functionality or ecosystem compatibility to stream audio to other areas. Try to think about everything you'll want to use as much as possible, and only then start exploring the market.
Consider your budget
Determining your budget is critical when choosing a Yamaha receiver. I don't think you should empty your pockets. After all, there are great examples among the budget Yamaha options. On the other hand, more expensive models often offer additional features and advanced capabilities that are not critical. So I would recommend finding a balance between the features you want and your budget constraints.
Consider room size and layout
Why is the size and layout of your room important when choosing a receiver? Because more powerful receivers with more channels better serve larger rooms. That way, you'll fill the space optimally. Conversely, it's better to choose a less powerful receiver for smaller rooms. Otherwise, you'll get lost in the mixed sounds. Also, consider the room's layout and the speakers' placement to ensure that the receiver can accommodate the desired configuration.
FAQ
How long does a Yamaha receiver last?
In terms of service life, a Yamaha receiver is no different than another brand. It all depends on several factors: proper use and timely maintenance. You also have to consider technological advances to keep up with popular sites' content quality. In general, I would estimate the lifetime of a receiver at 10-20 years. You can still find great units of that age on the aftermarket.
Does Yamaha make a good receiver?
I think the answer to this question can be found in the reputation of the brand and its popularity. Yamaha has a huge army of fans who appreciate the unique transparent sound, reliable design, compliance with modern trends, and convenience and ease of use. So yes, Yamaha makes good receivers!
What are alternatives to Yamaha?
The most popular alternatives to Yamaha are no less popular brands: Denon, Marantz, Onkyo, Pioneer, and Sony. Today, each of the companies offers quality modern multifunctional receivers. Although Marantz and Denon are more expensive, the other three companies are quite competitive with Yamaha, offering similar equipment in the same price range.