The Marantz NR1510 is an excellent receiver that offers features for both types of users – those who prefer simplicity and people who test different settings to ensure that they will achieve the maximum sound quality at a home theater setup. This slimline AV receiver released in 2019 offers a sleek design and good performance that belies its compact form factor. As a mid-range device, the NR1510 boasts basic features for an immersive home theater experience, including support for 5.2 channels, 4K Ultra HD video, and HEOS.
My Marantz NR1510 review will help you get acquainted with this model and understand how it suits your needs.
Build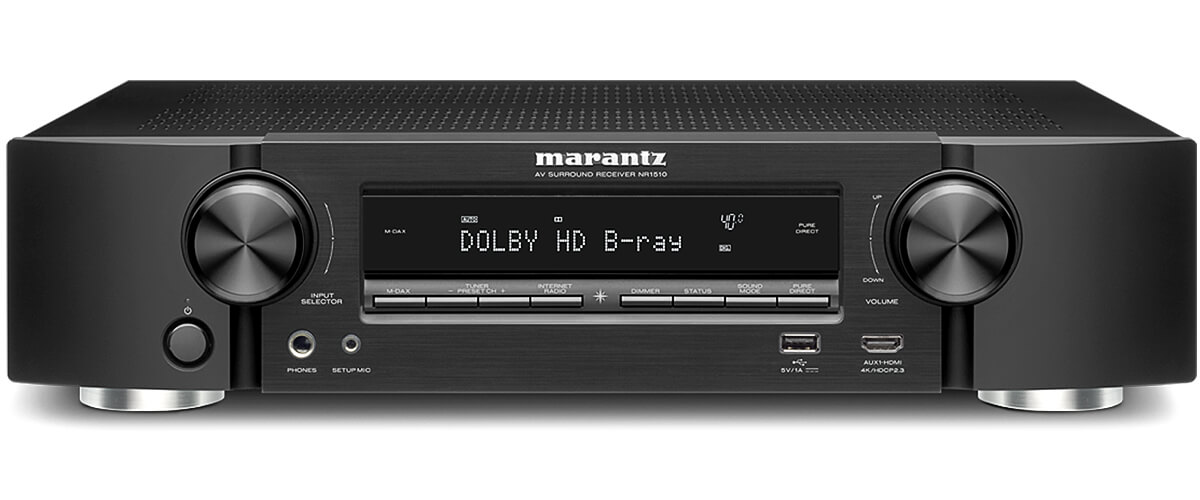 The Marantz NR1510 has a sleek and modern design with a brushed metal front panel that will easily blend into any interior. The front panel has a fairly large display and some controls. Everything is simple, without frills, but quite comfortable.
The slimline design of the NR1510 measures approximately 4.1 x 17.3 x 14.8 inches (10.4 x 43.9 x 37.6 cm) (HxWxD), making it an ideal choice for space-conscious users. Furthermore, this compact receiver weighs in at 18.1 lbs (8.2 kg), striking a perfect balance between portability and performance.
Features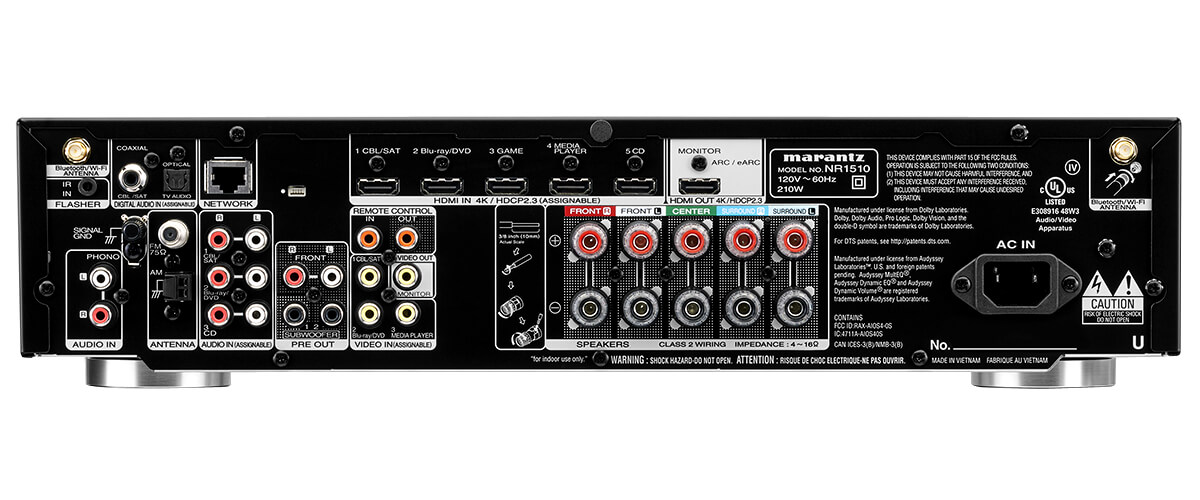 Now it is time to talk about Marantz NR1510 specifications, and with 5.2 channels and a power output of 50 watts per channel (8 ohms, 20 Hz – 20 kHz, 0.08% THD), it delivers a robust audio experience.
Connectivity-wise, the NR1510 comes equipped with 6 HDMI inputs and 1 output, all compliant with the 2.0b standard. There is support for ARC, CEC, and HDCP 2.3 for protected content playback. Wireless connectivity includes dual-band Wi-Fi and Bluetooth for streaming from various devices. Built-in support for popular streaming services such as Spotify, Apple Music, and Tidal ensures easy access to an extensive music library.
On the video front, the NR1510 can handle 4K content up to 60 Hz, providing stunning visuals for compatible displays. HDR10, HLG and Dolby Vision support ensure an enhanced viewing experience with richer colors and contrast. I regret to note that this receiver does not feature video conversion or scaling capabilities.
For immersive audio, the NR1510 supports Dolby TrueHD and DTS-HD Master Audio formats but, unfortunately, does not support more modern formats. This, of course, reduces its capabilities but is not a critical indicator.
Setting up and operating the Marantz NR1510 is made simple with its intuitive on-screen interface and the Audyssey MultEQ room calibration system. The included remote control provides easy access to all essential functions, while the Marantz AVR Remote App (available for iOS and Android devices) offers additional convenience for adjusting settings and controlling playback. Another good thing about HEOS is that it allows you to use the capabilities of this model not only within one room.
Sound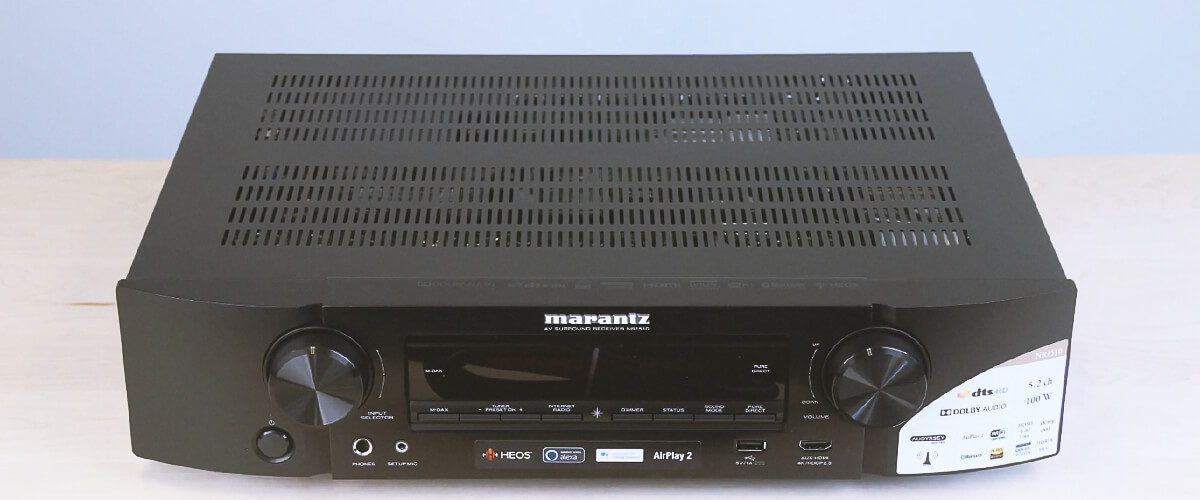 The Marantz NR1510 delivers a reasonably clean and transparent sound. I'll point out the balanced sound signature of the NR1510, which delivers a tight bass response, well-articulated midrange, and smooth high-frequency performance across various musical genres. The receiver's SINAD (Signal-to-Noise and Distortion Ratio) performance is in the average range for AV receivers, which implies that the NR1510 provides a satisfactory audio experience for most users. While it may not be a top performer among its peers, its audio quality is adequate for typical home theater setups and casual listening.
Key specs
Channels: 5.2.
Power output: 50W/8 Ohm, 60W/6 Ohm.
Surround sound: DTS HD Master, Audyssey Dynamic EQ.
HDMI inputs/outputs: 6/1.
Supports: HDMI ARC, HDMI eARC, HDMI CEC, HDCP2.3, HDR10, Dolby Vision.
Video functions: 4K/60Hz, pass-through.
Bluetooth/Wi-Fi: yes/yes.
Streaming services: AirPlay2, Deezer, Tidal, Pandora, SiriusXM, Napster, SoundCloud, Amazon Music, Amazon Music HD, Mood mix.