In this Marantz SR8015 review, I want to introduce you to the premium AV receiver designed for home theater enthusiasts who demand truly immersive impressions. Released in 2020 and positioned by Marantz as its flagship model, it offers support for 8K resolution, modern surround sound formats, multi-room functionality, and extensive network capabilities.
Significant differences from its close model line relative, the SR7015, include increased power output, more channels, and advanced audio processing, creating a more immersive and detailed home theater experience. And let me start with the exterior design.
Build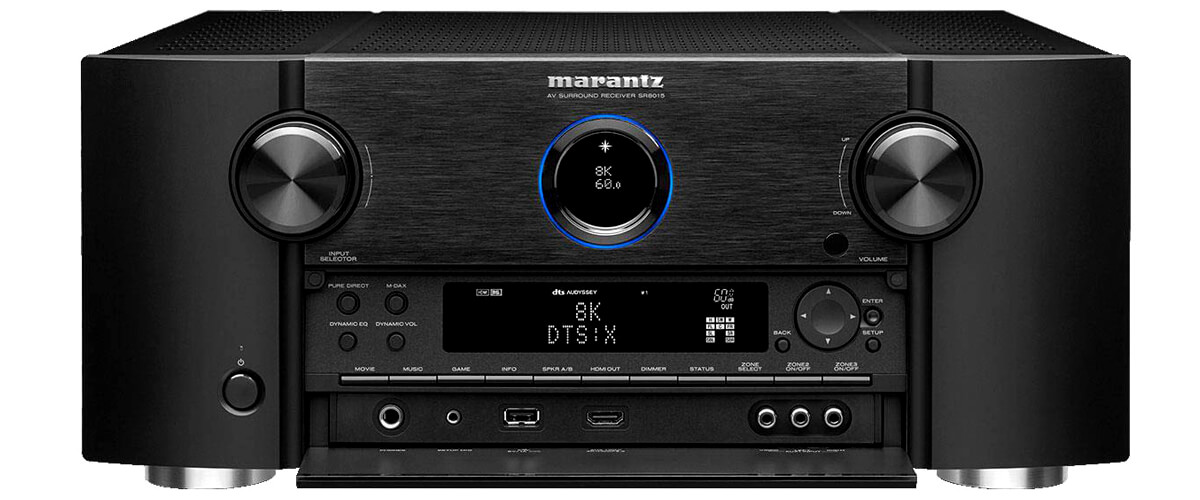 When looking at the Marantz SR8015, one can clearly see that its creation focused on the aspects of aesthetics, assembly excellence, and user-friendliness. As a result, the receiver showcases a refined and sophisticated appearance, characterized by a brushed metal front panel with a subtly curved profile. The distinctive Marantz porthole display offers essential information, while the front panel door discreetly conceals supplementary controls and inputs, maintaining a neat and uncluttered facade.
The build quality of the SR8015 is indeed remarkable, as it features a robust chassis and employs high-quality components to ensure durability and dependability. The arrangement of buttons and controls is both intuitive and user-friendly, with a generously sized volume knob and input selector strategically positioned for ease of access. However, it is important to ensure that you have enough space for this device, as it measures 18.7 x 17.3 x 7.3 inches (47.5 x 44 x 18.5 cm) and weighs 40 lbs (18.1 kg).
Features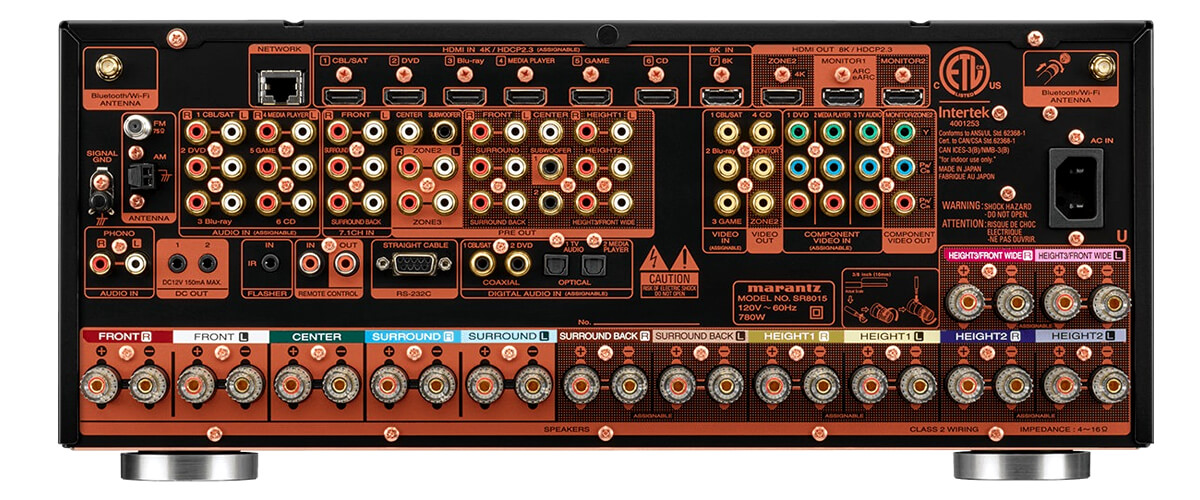 The Marantz SR8015 has 11 identical amplifier channels, delivering 205 (6 ohms, 1 kHz, 1% 2 channels active) with 13.2-channel pre-out for further system expansion, a large toroidal transformer mounted at the center on a separate aluminum base, a dual chassis made of copper and aluminum and high-quality speaker terminals.
This device offers 8 HDMI inputs and 3 outputs, with one input specifically designed for 8K/60Hz and 4K/120Hz signals. It supports various video technologies, including Dolby Vision, HLG, HDR10/10+, Dynamic HDR, 4:4:4 color sub-sampling modes, and BT.202. The built-in video processor can upscale video sources to 8K quality. To enhance the gaming experience and visual quality on compatible devices, the SR8015 has various modern features, like ALLM, VRR, QMS, and QFT. Additionally, all HDMI ports are compliant with HDCP 2.3 copy protection standards.
The SR8015 specifications feature the ability to work with most surround sound formats, including the most advanced: DTS:X, DTS:X Pro, DTS Neural:X, DTS Virtual:X, IMAX Enhanced, Dolby Atmos and Auro 3D. Considering its video capabilities, you can already imagine what emotions and impressions are waiting for you from Marvel, DC, or historical blockbusters!
Additionally, it offers built-in Wi-Fi, Bluetooth, and HEOS multi-room streaming capabilities, allowing you to enjoy music from popular streaming services like Spotify, Apple Music, and more. A phono stage is also included for vinyl enthusiasts.
Sound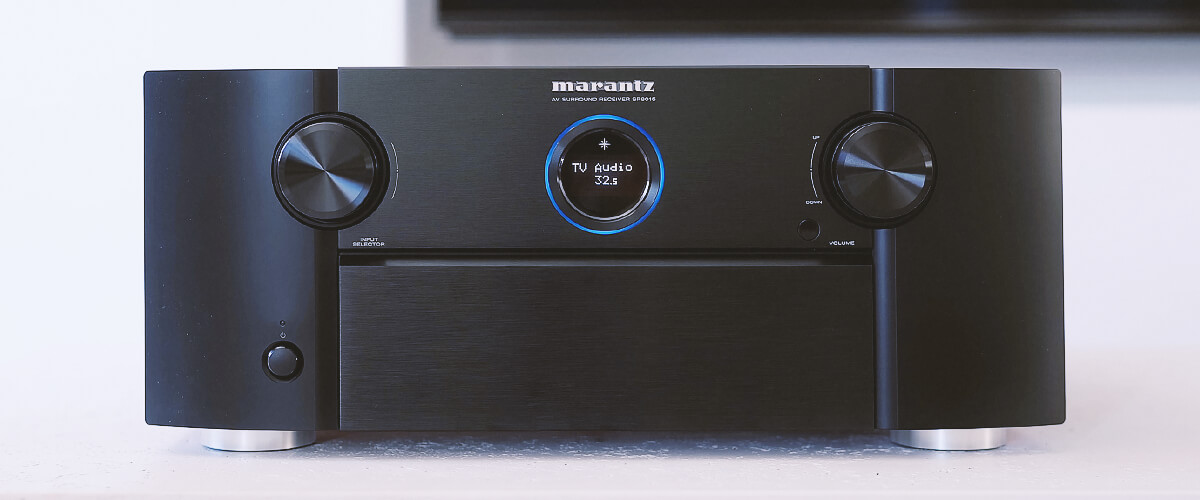 As someone who has experienced the Marantz SR8015 firsthand, I can attest to its truly outstanding sound quality, whether I enjoy music or movies. When I played a diverse range of music genres, the receiver delivered an incredibly dynamic and detailed sound, capturing every nuance with precision and clarity. The powerful amplifier section allowed the SR8015 to effortlessly drive various speakers, creating an enriching and captivating listening experience.
The magic of the SR8015 really came to life when I watched movies with it, providing an immersive and authentic audio experience. Thanks to its support for Dolby Atmos, DTS:X, and Auro-3D, the receiver constructed an extensive, three-dimensional soundstage that drew me right into the heart of the action. From the faintest background noises to the most intense action scenes, the SR8015 tackled everything with grace and finesse, delivering a peerless cinematic experience.
I also want to mention the room calibration system because, in my experience, the implementation of Audyssey MultEQ XT32 in this model was incredibly effective, making it easily adaptable to my listening preferences.
Key specs
Channels: 11.2.
Power output: 140W/8 Ohm, 175W/6 Ohm.
Surround sound: DTS HD Master, DTS:X, DTS Neural:X, DTS Virtual:X, Dolby TrueHD, Dolby Surround, Dolby Digital Plus, Dolby Atmos Height Virtualization, Dolby Atmos, Auro-3D, IMAX Enhanced.
HDMI inputs/outputs: 8/3.
Supports: HDMI ARC, HDMI eARC, HDMI CEC, HDCP2.3, HLG, HDR10, HDR10+, Dynamic HDR, Dolby Vision.
Video functions: 4K/120Hz, 8K/60Hz, upscaling to 8K.
Bluetooth/Wi-Fi: yes/yes.
Streaming services: AirPlay2, Deezer, Tidal, Pandora, SiriusXM, Napster, SoundCloud, Amazon Music, Amazon Music HD, Mood mix.