Marantz is the king among manufacturers of audio equipment for home theaters. You can find the most expensive and highest-quality models right here. But rest assured, in my selection of best Marantz receivers; every model is worth your attention and worth every cent. After all, the equipment of this brand uses high-quality components that affect the quality of signal transmission and the overall sound scene. Multifunctionality, build quality, and following the latest trends, even in the simplest models, are all characteristics of Marantz receivers. And the status confirmed by years of history will satisfy even the most demanding user.
Our pick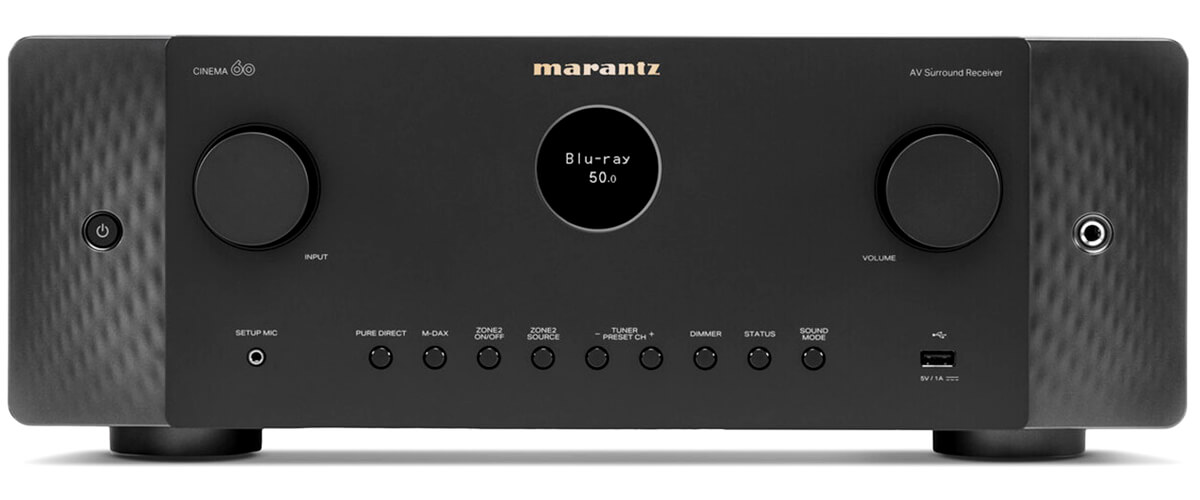 Marantz CINEMA 60
Best Marantz AV receiver
The Marantz CINEMA 60 is a high-performance 7.2 channel AV receiver with 100 watts per channel amplification, Dolby Atmos, DTS:X, 8K Ultra HD, and HEOS built-in streaming.
Read the full review
.
Marantz AV receivers comparison table
Name
Channels
Power output
HDMI in/out
Bluetooth/Wi-Fi
Review
Marantz CINEMA 60

best overall

7.2
100W/8 Ohm, 140W/6 Ohm
6/2
yes/yes
Review
Marantz NR1510

budget

5.2
50W/8 Ohm, 60W/6 Ohm
6/1
yes/yes
Review
Marantz SR8015

premium

11.2
140W/8 Ohm, 175W/6 Ohm
8/3
yes/yes
Review
Brief history of Marantz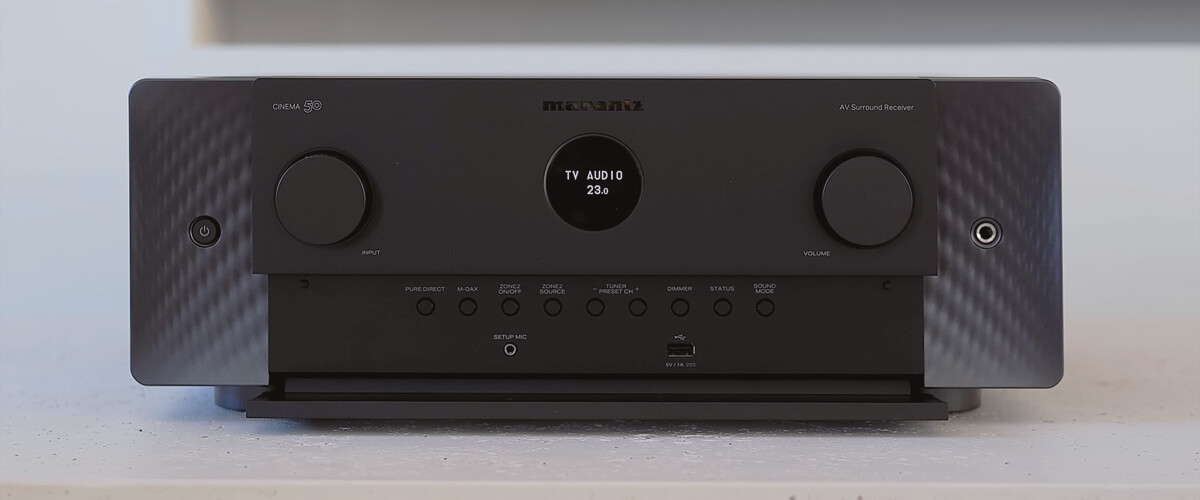 Unlike other manufacturers, the brand's creator, Sol Marantz, did not start with producing musical instruments but immediately focused on sound amplification. Of course, this is since he started his business in 1953 in New York, when it was already possible. His first Model 1 preamplifier and Model 2 amplifier quickly gained a reputation for exceptional sound quality and innovative design.
During the '60s and '70s, the company gave the world such legendary models as the iconic Model 7 tube preamplifier, Model 10B tuner, and Model 9 power amplifier. And it went on to expand its range and expand the capabilities of each device.
In 2001, Marantz merged with another respected audio brand, Denon, to form D&M Holdings. This collaboration brought together the expertise of both brands and further strengthened Marantz's position as a leading manufacturer of high-end audio equipment.
Today Marantz receiver models are the premium choice. The company keeps pace with the times, uses the highest quality components, and creates home theater systems with a combination of optimal functionality and consistently great sound quality.
Best Marantz AV receiver reviews
The Marantz Cinema 60 is a good mid-range receiver that offers an impressive range of features and capabilities. It's a significant upgrade for techno enthusiasts who want to change their perspectives on home entertainment without going bankrupt. From this Marantz Cinema 60 review, you will know if this model suits you or if you should pay attention to other devices.
I would like to note that CINEMA series products can really boast the superior ability to immerse the listener into the three-dimensional sound space due to the support of modern audio formats with presence effect (such as Dolby Atmos and DTS:X), 8K-video support, room acoustic correction, and other features that are designed to improve sound and picture quality.
I'll keep up with the tradition and start with the design; then, we'll look at its most important functions and dwell on the sound. So let's not waste time - let's start!
Build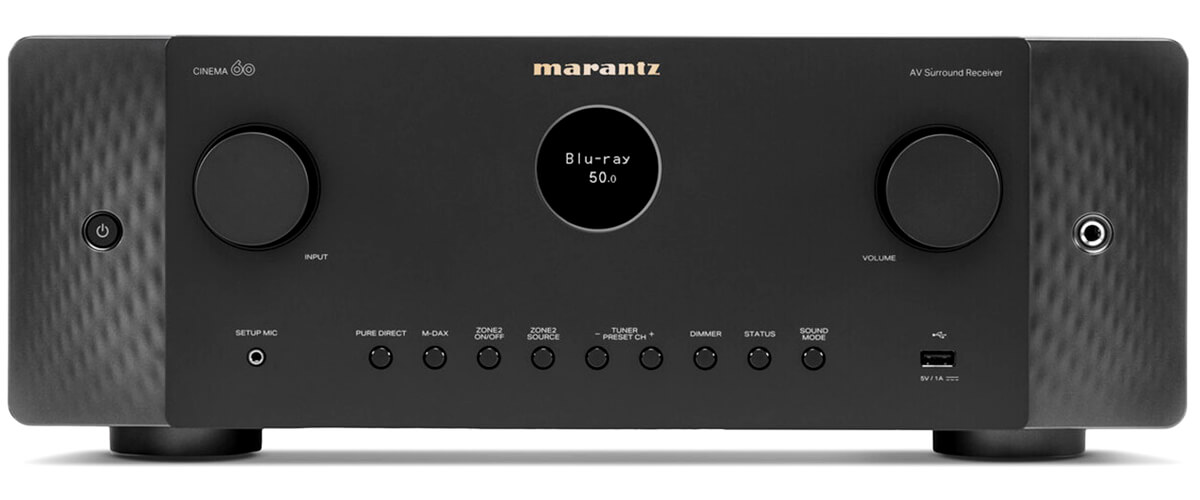 The design was the first thing that caught my attention after I opened the box with Cinema 60. My first thought was that it's carved from one firm piece of metal – you can't see the stitches that unite one part with another. It looks luxurious but not pompous and can perfectly blend into every design.
However, remember that the device is not light – 31.1 lbs proves we can find many technological wonders to transform your room into a home cinema. With 17.3x7.3x16.2 inches in dimension, you need to think beforehand about where to place the device.
There is a manual for newbies, but the system's intuitive menu makes it easy to access all of the receiver's settings with a few clicks of the remote. And you can control the device with your voice by connecting to Siri or Alexa.
Features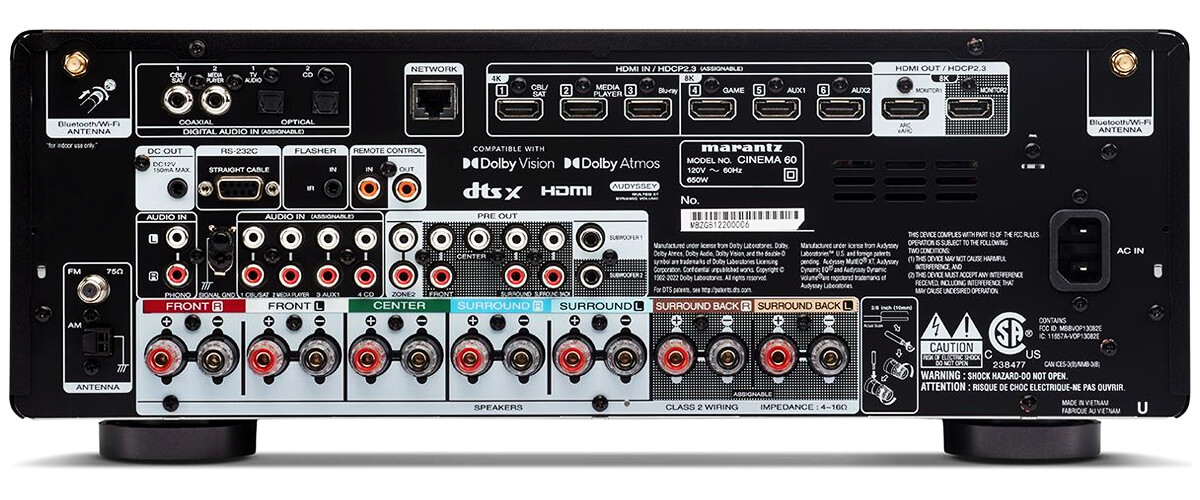 Time to talk about Cinema 60 specifications, and I'll start with channel and power. This 7.2 channel receiver has standard power for its class - 100W (8 Ohm, 20Hz - 20kHz, 0.08% 2ch Drive) or 140W (6 Ohm, 1kHz, 0.7% 2ch Drive). So in this aspect, it is virtually no different from its competitors.
The connectivity options of the Cinema 60 are quite extensive. It has 6 HDMI inputs supporting 8K/60Hz, 4K/120Hz, upscaling 1080P/4K to 8K resolution, and 2 HDMI outputs (HDCP2.3, ARC, eARC). The model works with modern video formats HDR, HLG, Dolby Vision, HDR10+, and Dynamic HDR. In addition, decoding of DTS HD Master, DTS:X, Dolby TrueHD, and Dolby Atmos audio formats and their configurations is available.
It also has 4 digital inputs (2 optical and 2 coaxial), a Phono (MM) input, 2 subwoofer outputs (those are what make it a 7.2-channel receiver), and 1 front-panel USB. In addition, there are Multi-Room (2 zones) and HEOS Multi-Room Integrated, AM/FM tuner, and Wi-Fi with Bluetooth. And, of course, Cinema 60 works with streaming services (AirPlay Audio Streaming, AirPlay 2, Spotify, Pandora, and others). As you may have noticed, this receiver allows you to connect many third-party devices and make your home multimedia system the most versatile.
As far as surround sound support is concerned, this model is consistently good. The Marantz Cinema 60 can handle Dolby TrueHD, Dolby Atmos, Dolby Atmos Height Virtualization, Dolby Atmos Music, and Dolby Surround. Next, I'll tell you what this Marantz receiver sounds like.
Sound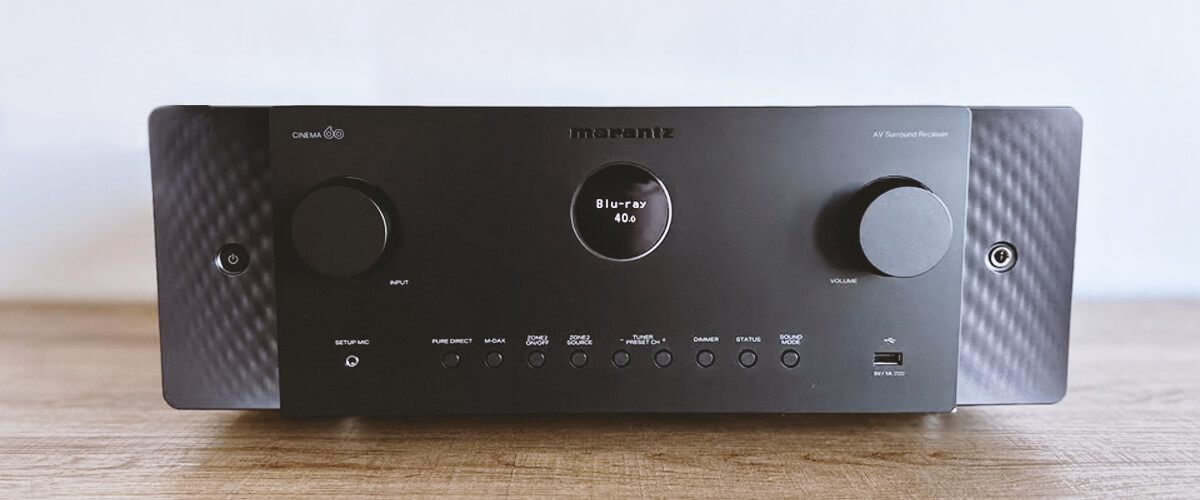 As I soared through the skies with Top Gun: Maverick blasting in my headphones, the receiver truly impressed me. Its deep bass boomed in my ears, the tops were crystal clear even at high volumes, and the surround sound was incredibly realistic.
During gaming, it felt even better – in Gears 5, I was fascinated to hear the environment. Every enemy, NPC, and gun had its specific noise, and I want to praise the sound designers for their good job.
Then I decided to switch things up and connect to Spotify, expecting a drop in quality without a wired connection. Instead, to my delight, the music played seamlessly and sounded just as high-quality as before.
Key specs
Channels: 7.2.
Power output: 100W/8 Ohm, 140W/6 Ohm.
Surround sound: DTS HD Master, DTS:X, DTS Neural:X, DTS Virtual:X, Dolby TrueHD, Dolby Surround, Dolby Atmos Music, Dolby Atmos Height Virtualization, Dolby Atmos.
HDMI inputs/outputs: 6/2.
Supports: HDMI ARC, HDMI eARC, HDMI CEC, HLG, HDCP2.3, HDR10, HDR10+, Dolby Vision, Dynamic HDR.
Video functions: 4K/120Hz, 8K/60Hz, upscaling to 8K.
Bluetooth/Wi-Fi: yes/yes.
Streaming services: AirPlay2, Deezer, Tidal, Pandora, SiriusXM, Napster, SoundCloud, Amazon Music, Amazon Music HD, Mood mix.
The perfect combination of price and quality makes this model the best Marantz receiver in my rating. Stunning surround sound, support for the highest resolution, and numerous additional options are the choice of the modern user who understands quality.
Pros
After careful adjustment, the system sounded even better.
It plays iTunes music brilliantly without the tinny harshness that accompanies Apple AirPlay.
Class A/B amplification makes a noticeable difference to the sound.
Cons
The receiver confuses the TV when I use the extended audio return channel (e-ARC).
Marantz NR1510 – budget
The Marantz NR1510 is an excellent receiver that offers features for both types of users – those who prefer simplicity and people who test different settings to ensure that they will achieve the maximum sound quality at a home theater setup. This slimline AV receiver released in 2019 offers a sleek design and good performance that belies its compact form factor. As a mid-range device, the NR1510 boasts basic features for an immersive home theater experience, including support for 5.2 channels, 4K Ultra HD video, and HEOS.
My Marantz NR1510 review will help you get acquainted with this model and understand how it suits your needs.
Build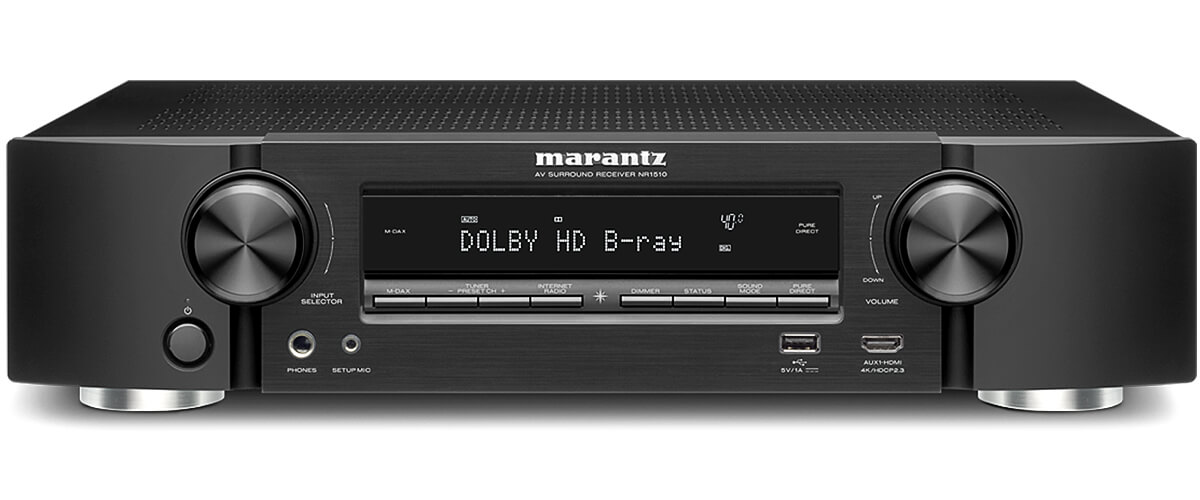 The Marantz NR1510 has a sleek and modern design with a brushed metal front panel that will easily blend into any interior. The front panel has a fairly large display and some controls. Everything is simple, without frills, but quite comfortable.
The slimline design of the NR1510 measures approximately 4.1 x 17.3 x 14.8 inches (10.4 x 43.9 x 37.6 cm) (HxWxD), making it an ideal choice for space-conscious users. Furthermore, this compact receiver weighs in at 18.1 lbs (8.2 kg), striking a perfect balance between portability and performance.
Features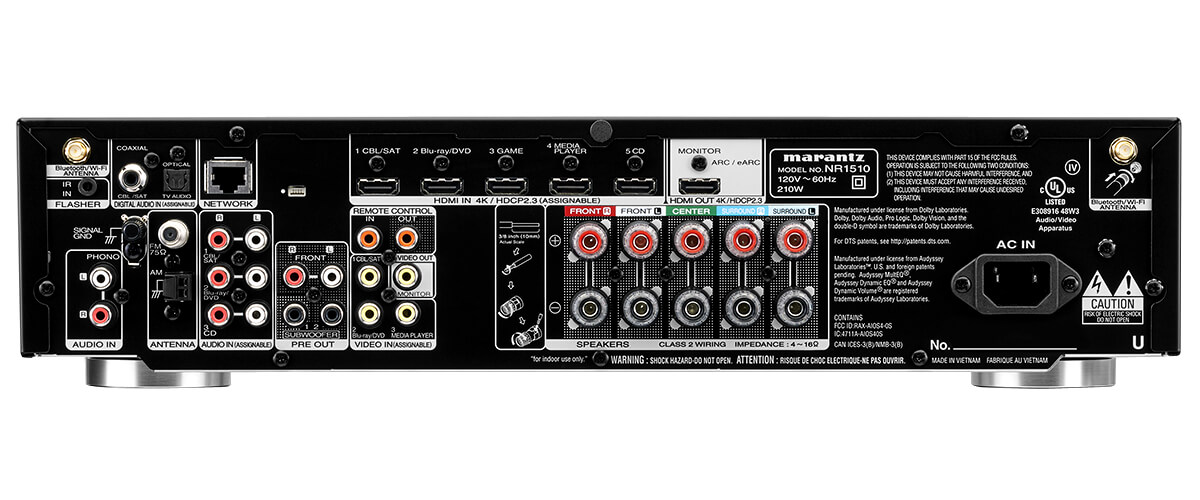 Now it is time to talk about Marantz NR1510 specifications, and with 5.2 channels and a power output of 50 watts per channel (8 ohms, 20 Hz - 20 kHz, 0.08% THD), it delivers a robust audio experience.
Connectivity-wise, the NR1510 comes equipped with 6 HDMI inputs and 1 output, all compliant with the 2.0b standard. There is support for ARC, CEC, and HDCP 2.3 for protected content playback. Wireless connectivity includes dual-band Wi-Fi and Bluetooth for streaming from various devices. Built-in support for popular streaming services such as Spotify, Apple Music, and Tidal ensures easy access to an extensive music library.
On the video front, the NR1510 can handle 4K content up to 60 Hz, providing stunning visuals for compatible displays. HDR10, HLG and Dolby Vision support ensure an enhanced viewing experience with richer colors and contrast. I regret to note that this receiver does not feature video conversion or scaling capabilities.
For immersive audio, the NR1510 supports Dolby TrueHD and DTS-HD Master Audio formats but, unfortunately, does not support more modern formats. This, of course, reduces its capabilities but is not a critical indicator.
Setting up and operating the Marantz NR1510 is made simple with its intuitive on-screen interface and the Audyssey MultEQ room calibration system. The included remote control provides easy access to all essential functions, while the Marantz AVR Remote App (available for iOS and Android devices) offers additional convenience for adjusting settings and controlling playback. Another good thing about HEOS is that it allows you to use the capabilities of this model not only within one room.
Sound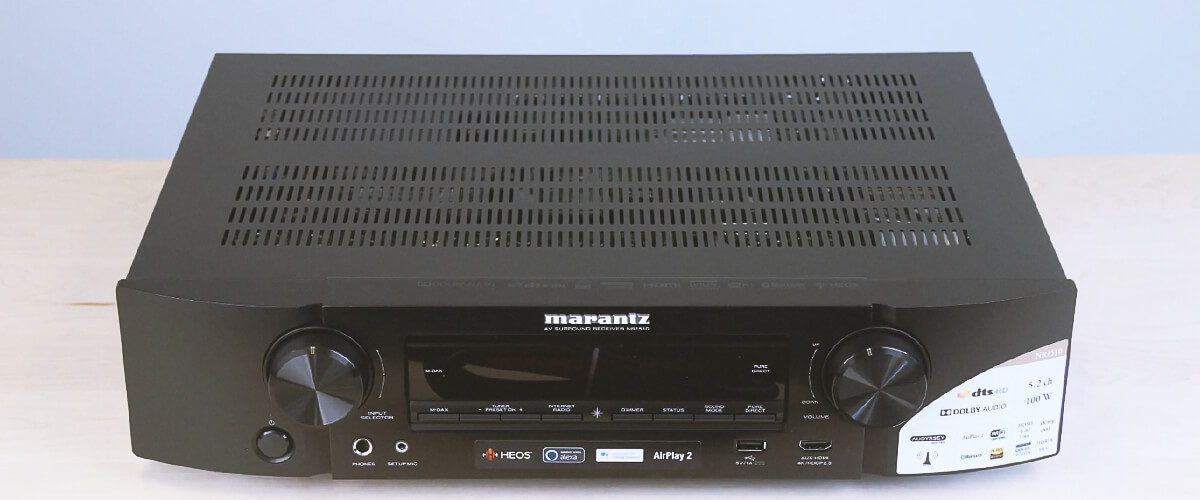 The Marantz NR1510 delivers a reasonably clean and transparent sound. I'll point out the balanced sound signature of the NR1510, which delivers a tight bass response, well-articulated midrange, and smooth high-frequency performance across various musical genres. The receiver's SINAD (Signal-to-Noise and Distortion Ratio) performance is in the average range for AV receivers, which implies that the NR1510 provides a satisfactory audio experience for most users. While it may not be a top performer among its peers, its audio quality is adequate for typical home theater setups and casual listening.
Key specs
Channels: 5.2.
Power output: 50W/8 Ohm, 60W/6 Ohm.
Surround sound: DTS HD Master, Audyssey Dynamic EQ.
HDMI inputs/outputs: 6/1.
Supports: HDMI ARC, HDMI eARC, HDMI CEC, HDCP2.3, HDR10, Dolby Vision.
Video functions: 4K/60Hz, pass-through.
Bluetooth/Wi-Fi: yes/yes.
Streaming services: AirPlay2, Deezer, Tidal, Pandora, SiriusXM, Napster, SoundCloud, Amazon Music, Amazon Music HD, Mood mix.
This budget Marantz AVR offers us 5.2 channels and basic video and surround sound options. But it will give your speakers a new sound and you a new experience even with old, seemingly familiar content.
Pros
Convenient and high-quality control of the receiver with the phone app.
The Option button is very useful if you need to quickly change the dialog quality or increase the speaker volume for a particular movie.
The M-DAX function works well, lending authenticity.
Cons
The Bluetooth sound is not clear.
The receiver is not loud; your windows won't shake (50W per channel).
Marantz SR8015 – premium
In this Marantz SR8015 review, I want to introduce you to the premium AV receiver designed for home theater enthusiasts who demand truly immersive impressions. Released in 2020 and positioned by Marantz as its flagship model, it offers support for 8K resolution, modern surround sound formats, multi-room functionality, and extensive network capabilities.
Significant differences from its close model line relative, the SR7015, include increased power output, more channels, and advanced audio processing, creating a more immersive and detailed home theater experience. And let me start with the exterior design.
Build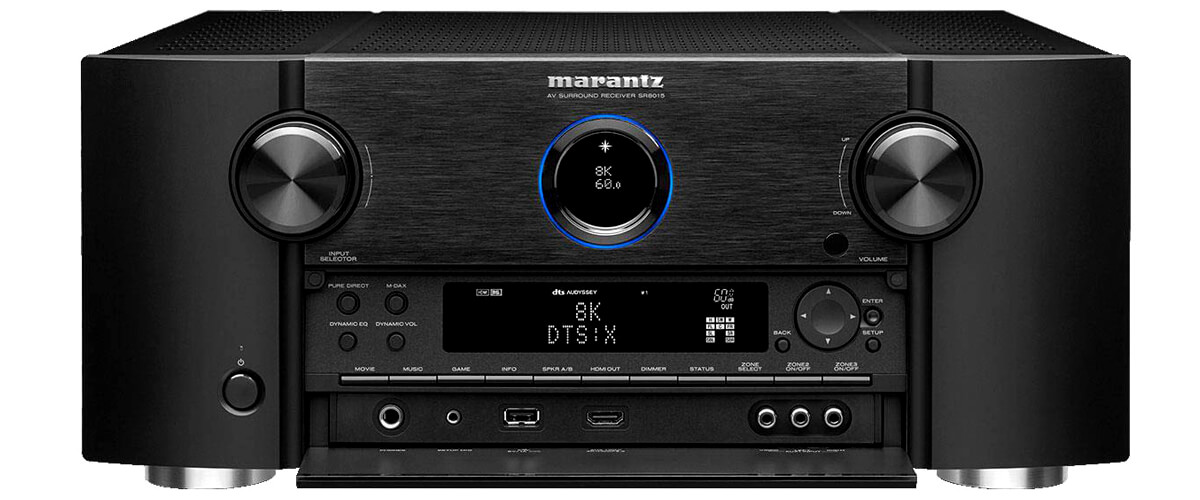 When looking at the Marantz SR8015, one can clearly see that its creation focused on the aspects of aesthetics, assembly excellence, and user-friendliness. As a result, the receiver showcases a refined and sophisticated appearance, characterized by a brushed metal front panel with a subtly curved profile. The distinctive Marantz porthole display offers essential information, while the front panel door discreetly conceals supplementary controls and inputs, maintaining a neat and uncluttered facade.
The build quality of the SR8015 is indeed remarkable, as it features a robust chassis and employs high-quality components to ensure durability and dependability. The arrangement of buttons and controls is both intuitive and user-friendly, with a generously sized volume knob and input selector strategically positioned for ease of access. However, it is important to ensure that you have enough space for this device, as it measures 18.7 x 17.3 x 7.3 inches (47.5 x 44 x 18.5 cm) and weighs 40 lbs (18.1 kg).
Features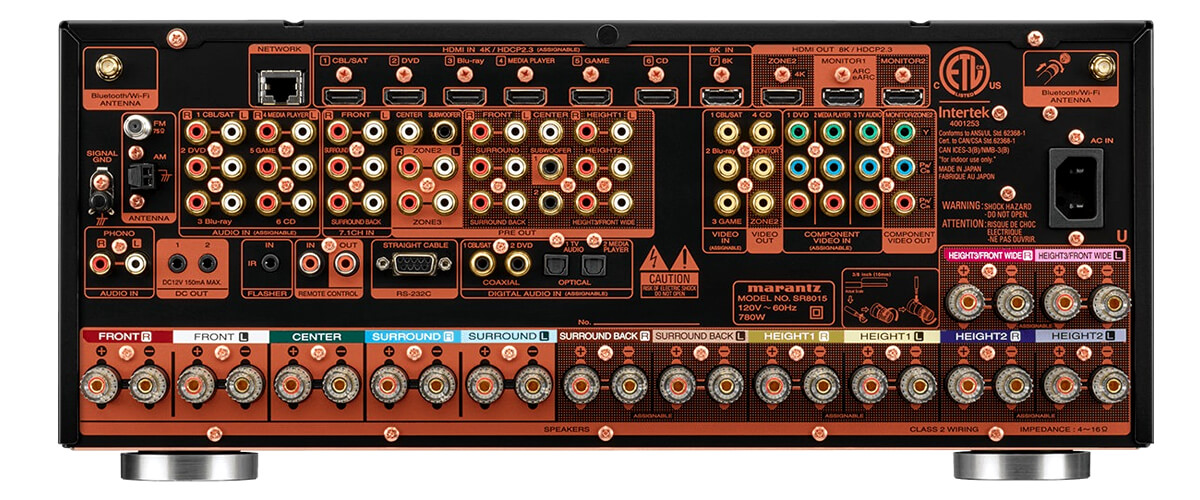 The Marantz SR8015 has 11 identical amplifier channels, delivering 205 (6 ohms, 1 kHz, 1% 2 channels active) with 13.2-channel pre-out for further system expansion, a large toroidal transformer mounted at the center on a separate aluminum base, a dual chassis made of copper and aluminum and high-quality speaker terminals.
This device offers 8 HDMI inputs and 3 outputs, with one input specifically designed for 8K/60Hz and 4K/120Hz signals. It supports various video technologies, including Dolby Vision, HLG, HDR10/10+, Dynamic HDR, 4:4:4 color sub-sampling modes, and BT.202. The built-in video processor can upscale video sources to 8K quality. To enhance the gaming experience and visual quality on compatible devices, the SR8015 has various modern features, like ALLM, VRR, QMS, and QFT. Additionally, all HDMI ports are compliant with HDCP 2.3 copy protection standards.
The SR8015 specifications feature the ability to work with most surround sound formats, including the most advanced: DTS:X, DTS:X Pro, DTS Neural:X, DTS Virtual:X, IMAX Enhanced, Dolby Atmos and Auro 3D. Considering its video capabilities, you can already imagine what emotions and impressions are waiting for you from Marvel, DC, or historical blockbusters!
Additionally, it offers built-in Wi-Fi, Bluetooth, and HEOS multi-room streaming capabilities, allowing you to enjoy music from popular streaming services like Spotify, Apple Music, and more. A phono stage is also included for vinyl enthusiasts.
Sound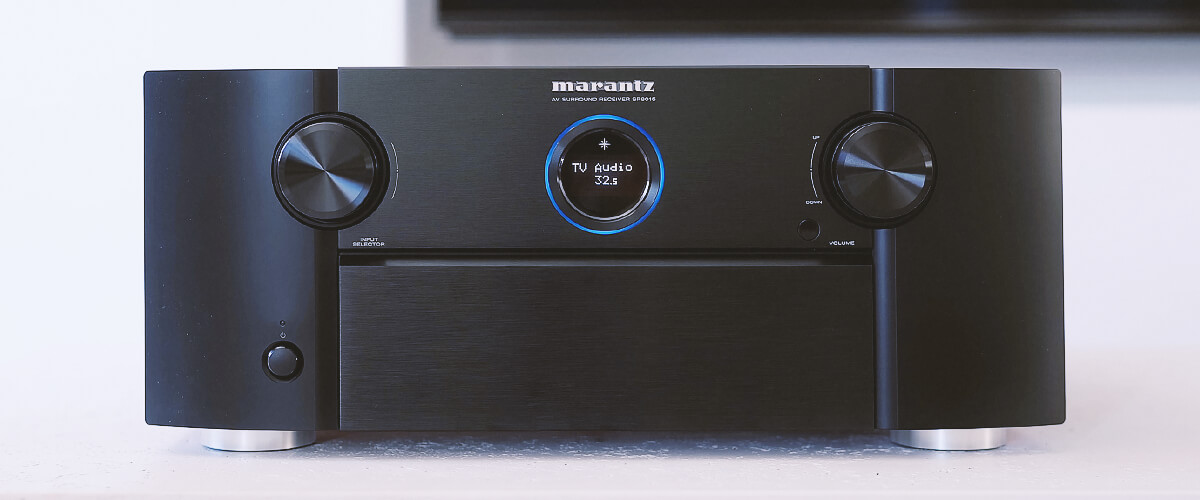 As someone who has experienced the Marantz SR8015 firsthand, I can attest to its truly outstanding sound quality, whether I enjoy music or movies. When I played a diverse range of music genres, the receiver delivered an incredibly dynamic and detailed sound, capturing every nuance with precision and clarity. The powerful amplifier section allowed the SR8015 to effortlessly drive various speakers, creating an enriching and captivating listening experience.
The magic of the SR8015 really came to life when I watched movies with it, providing an immersive and authentic audio experience. Thanks to its support for Dolby Atmos, DTS:X, and Auro-3D, the receiver constructed an extensive, three-dimensional soundstage that drew me right into the heart of the action. From the faintest background noises to the most intense action scenes, the SR8015 tackled everything with grace and finesse, delivering a peerless cinematic experience.
I also want to mention the room calibration system because, in my experience, the implementation of Audyssey MultEQ XT32 in this model was incredibly effective, making it easily adaptable to my listening preferences.
Key specs
Channels: 11.2.
Power output: 140W/8 Ohm, 175W/6 Ohm.
Surround sound: DTS HD Master, DTS:X, DTS Neural:X, DTS Virtual:X, Dolby TrueHD, Dolby Surround, Dolby Digital Plus, Dolby Atmos Height Virtualization, Dolby Atmos, Auro-3D, IMAX Enhanced.
HDMI inputs/outputs: 8/3.
Supports: HDMI ARC, HDMI eARC, HDMI CEC, HDCP2.3, HLG, HDR10, HDR10+, Dynamic HDR, Dolby Vision.
Video functions: 4K/120Hz, 8K/60Hz, upscaling to 8K.
Bluetooth/Wi-Fi: yes/yes.
Streaming services: AirPlay2, Deezer, Tidal, Pandora, SiriusXM, Napster, SoundCloud, Amazon Music, Amazon Music HD, Mood mix.
This 2020 model is still the flagship receiver of the brand. In this premium AVR, you'll find everything that exists in video and surround sound today and a host of extra features. So, open your pocket wide and get ready to splurge on this baby.
Pros
The Marantz interface is fast and much better than the competition.
The Audyssey calibration system did fine without manual fine-tuning.
In my tests, it easily handled different speaker models.
Cons
When streaming to 2 zones, if one of the TVs does not support Dolby Vision, you will not get it on any of the HDMI outputs.
Marantz SR7015
I want to start my Marantz SR7015 review by saying that this is an 8K AV receiver released in 2020 as a successor to the SR7013. It is positioned as a mid-level model in the SR lineup and features advanced audio and video processing technologies, high-quality amplification, and extensive connectivity options.
Priced towards the upper end of the range, it targets serious home theater enthusiasts and audio aficionados seeking quality and performance. Let's explore if this is true.
Build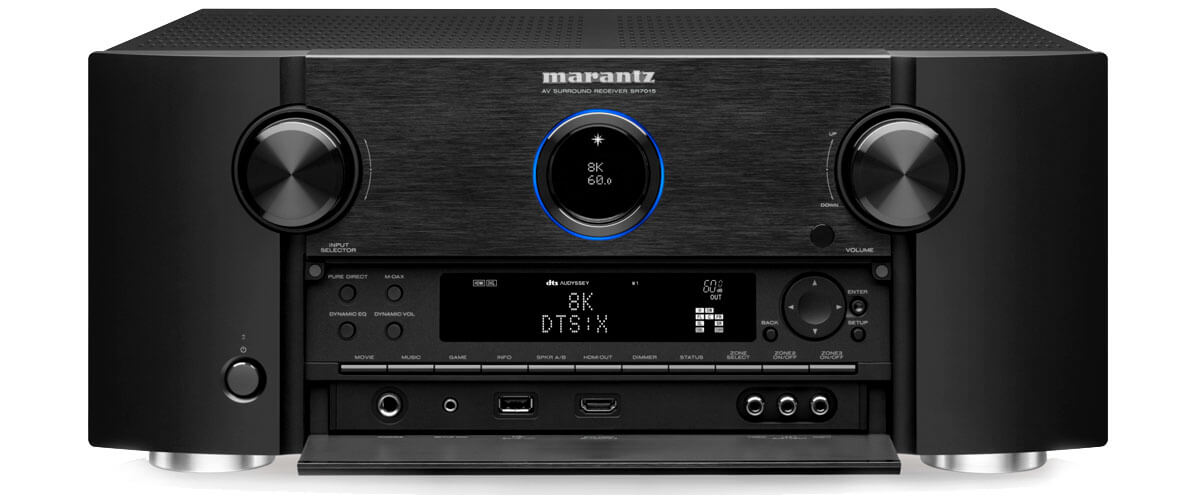 This device has a modern design, with a compact size of 17.3 x 16.2 x 7.3 inches (WxDxH) and weighing 31.3 pounds. The Marantz SR7015 combines its large cabinet's signature look and feel, and the clever implementation of the front panel adds to its harmony. The front panel has a display and easy-to-use buttons. Such a small round display is intentional because apart from the menu, which SR7015 can display on the TV screen, there is another large and much more informative display behind the hinged cover on the front panel. There is also access to some functional buttons and "hot" connectors that can come in handy at any unexpected moment: USB port, HDMI, headphone jack, and microphone jack for the audio autocalibration system, and three RCAs for analog audio/video signals.
Hiding all these elements and the main display behind the hinged lid is an excellent solution because, firstly, in its original state, the receiver does not look like a spaceship remote control, and secondly, the large informative display can distract from the screen when watching a movie in a dark room. Therefore, I give the engineers and designers a big plus for this design move.
Features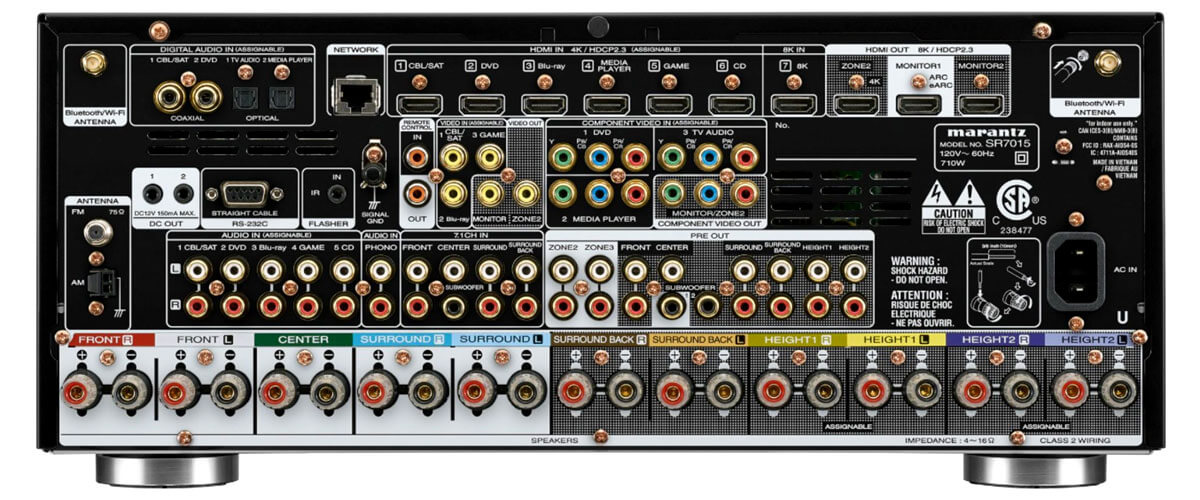 First of all, I want to say that the SR7015 features a high-current amplifier design that can power even the most demanding speakers, maintaining low distortion and high fidelity thanks to its 11.2 channel processor and 9 channels of power amplification with a power output of 125W per channel at 8 Ohms. Additionally, the device has a 32-bit AKM AK4458VN DAC that supports high-resolution audio formats up to 192kHz/24bit and DSD 2.8 MHz/5.6MHz with a 0.05% THD frequency response.
The device supports bi-amping and multi-room zones, eight HDMI inputs, and three HDMI outputs that support version 2.1 with HDCP 2.3. The receiver also features eARC and CEC (Consumer Electronics Control) for easy control of connected devices. Wi-Fi and Bluetooth are built-in, and the model supports streaming services like Apple Music, Spotify, and Tidal. Additionally, it features a phono stage for vinyl lovers to connect a turntable.
The receiver offers extensive video features for video enthusiasts, including support for Dolby Atmos, DTS:X, and other immersive audio formats. In addition, it can handle 4K/120Hz and 8K/60Hz video content as well as HDR10, Dolby Vision, and Hybrid Log-Gamma with conversion/scaling. The unit can upscale lower-resolution content to 4K/8K if desired. I played around with upscaling and want to say that the 8K upscaling is truly stunning, and it even improved the picture quality of my older DVDs.
The Marantz SR7015 correctly builds the sound picture in the room. However, if you are not satisfied with the final result, the Audyssey MultEQ XT32 automatic sound calibration system comes to the rescue. And now, I'll get to the most important aspect.
Sound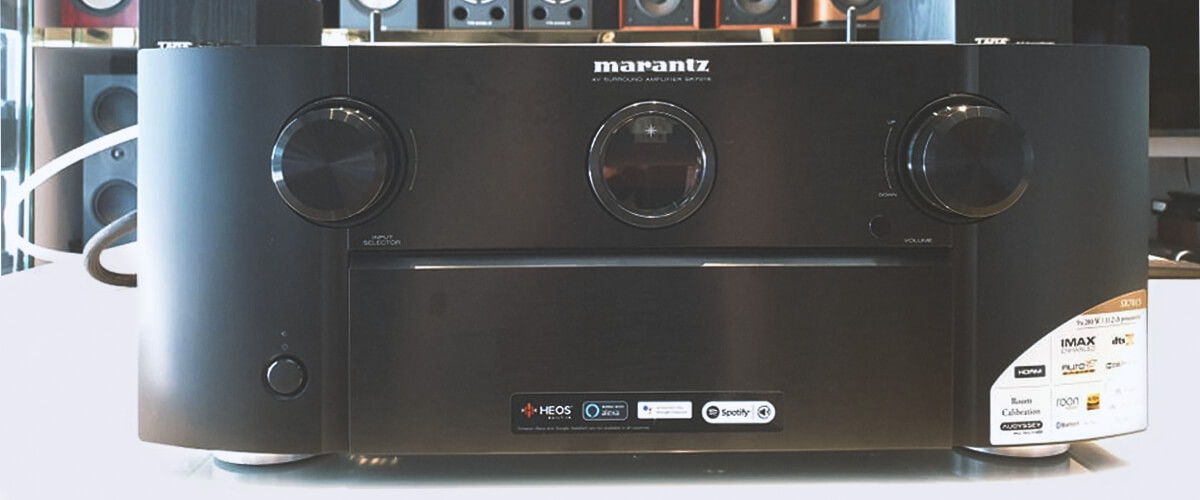 When it comes to sound performance, my opinion, and that of many other experts, is that the SR7015 delivers excellent sound performance, with a powerful and dynamic sound that is well-balanced and natural. In music mode, the receiver is capable of reproducing a detailed and nuanced sound that is faithful to the original recording, with a wide soundstage and good separation between instruments. In movie mode, advanced processing and support for technologies like Dolby Atmos and DTS:X are used to the fullest and deliver a highly immersive and realistic sound experience, with accurate and well-defined sound effects that add to the overall movie experience.
When I listened to it, I would say that the default sound settings make the sound a bit harsh and lacking in warmth, but this is just my opinion, and the possibilities of sound settings make it possible to please even such a picky listener as I am.
Key specs
Channels: 9.2.
Power output: 125W/8 Ohm, 165W/6 Ohm.
Surround sound: DTS HD Master, DTS:X, DTS Neural:X, DTS Virtual:X, Dolby TrueHD, Dolby Surround, Dolby Digital Plus, Dolby Atmos Height Virtualization, Dolby Atmos, Multichannel Stereo, IMAX Enhanced, Auro-3D.
HDMI inputs/outputs: 8/3.
Supports: HDMI ARC, HDMI eARC, HDMI CEC, HDCP2.3, HDR10, HDR10+, Dynamic HDR, Dolby Vision.
Video functions: 4K/120Hz, 8K/60Hz, upscaling to 8K.
Bluetooth/Wi-Fi: yes/yes.
Streaming services: AirPlay2, Deezer, Tidal, Pandora, SiriusXM, Napster, SoundCloud, Amazon Music, Amazon Music HD, Mood mix.
The last best Marantz AV receiver on my list is the 9.2 channel model. It will be appreciated by those who want almost full modern features and terrific sound but pay a little less than the SR8015.
Pros
Great audio detail and clear dialogue highlighting.
Pandora playback via AirPlay without a single signal delay from Sonos.
This AV receiver hardly ever warms up.
Cons
Problem with software bias; the audio display is unresponsive to selection.
How to choose the right receiver from Marantz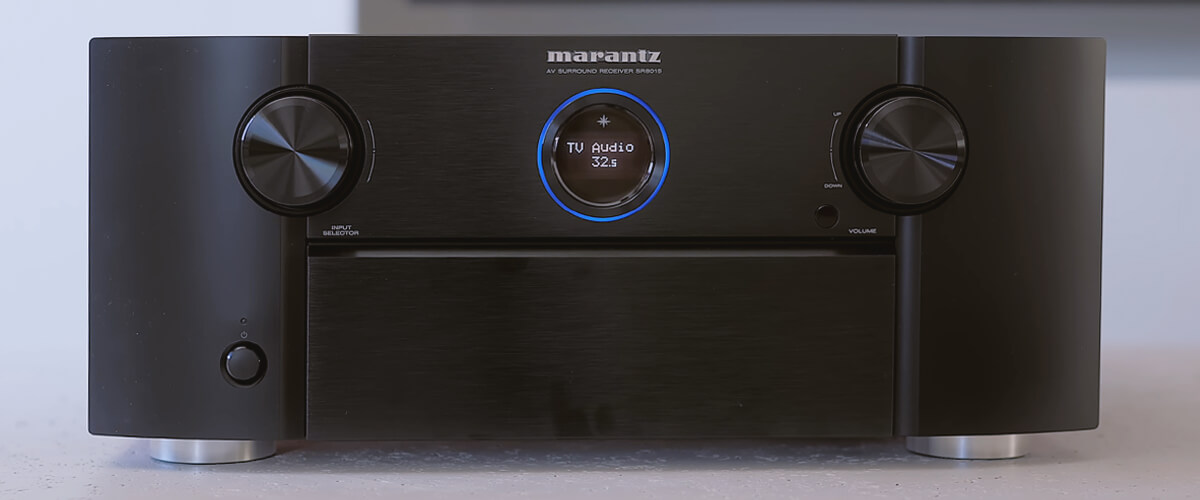 When choosing a Marantz receiver, pay attention to the following key factors:
Sound quality
What is the first thing we expect from a receiver? That's right, quality sound. So when choosing a Marantz receiver, pay attention to the THD (the lower, the better) and SNR (signal-to-noise ratio). Of course, it is not a secret that the more expensive the receiver Marantz is, the more qualitative components are used. But in the case of the brand, even budget models can provide quality sound that will satisfy novice users.
Connectivity capabilities
Yes, yes, this is one of the most important factors when choosing a receiver because you have to connect all the devices you have and be able to expand the system if you want to. So please pay attention to the number of HDMI devices and their capabilities (eARC, HDCP 2.3, and CEC) because all modern equipment (game consoles, TV, Blu-ray player) conducts audio and video signals this way and with the highest quality.
Want more bass? Look for a pre-out for the additional sub. Vinyl? It would help if you had a phono input. And to use streaming services, voice assistant, or content from your smartphone, Wi-Fi, Bluetooth, and AirPlay2 (not necessarily all together) will come in handy.
Interface and user experience
It may not seem like the most important factor to many of you, but it can't be inspiring when faced with the challenges of setting up, especially if you're unfamiliar with the intricacies. We don't want to ruin our mood before we even start using the device, do we? So study the GUI before buying; it should be intuitive for you. The remote control is also important if you will use it (today, many people use apps to control it).
Extra features
Extra features I would include are the wired and wireless (HEOS) Multiroom system, work with streaming music services and voice assistants, and support for immersive audio formats Dolby Atmos and DTS:X. If I were you, I'd pay special attention to this item, because carefully researching what you really need will save you a lot of money. Fortunately, Marantz has a lot of functionality options, and you can choose.
FAQ
Does Marantz really sound better than Denon?
Marantz and Denon are the most famous and expensive audio industry brands, famous for producing high-quality audio equipment. And in the early 2000s, these two companies organized a joint D&M Holdings, often using similar technology and components, providing comparable performance. However, the difference in sound quality between Marantz and Denon receivers can be explained by minor differences in audio tuning and processing algorithms.
Are Marantz receivers good?
Marantz receivers have a solid reputation for exceptional build quality, attention to detail, and impressive audio performance. Marantz has a long history of creating high-quality audio equipment, and audiophiles and music lovers highly regard its receivers.
What's the difference between the Marantz NR and SR series?
The NR series, "network receiver," is designed to provide a wide range of connectivity and streaming options. Therefore, these receivers are more suitable for users for whom convenience and network connectivity are a priority.
The SR series, "stereo receiver," focuses more on traditional audio features and versatility. So these receivers are for users for whom sound quality and the ability to create an immersive home theater experience with greater support for surround sound formats are important.