Denon is a reputable player in the audio/video equipment market, as evidenced by the quality of each of its products. In this Denon AVR-X2800H review, I'll focus on an impressive 7.2-channel 8K AV receiver. At first glance, it may seem identical to the X2700H, with no significant differences visible. However, as you start using it, you'll discover additional features that the X2700H lacks. So, to begin, let's take a closer look at its design.
Build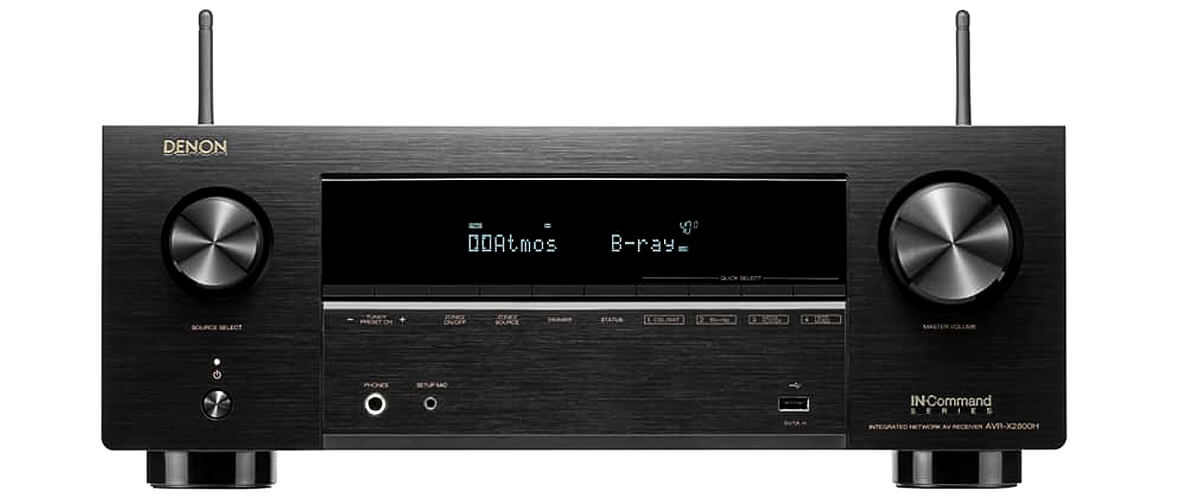 You can always recognize Denon's receiver – their design doesn't change much, but I must admit that their products look classy and stylish. The display is significant, the knobs and buttons work smoothly, and the steel cover gives the system a luxurious appearance.
The front panel has a USB port, quick select buttons, and 2 jacks – one for a mic and one for headphones. You'll find a remote control in the box with the system, but you can also control it with voice assistance. Nothing extraordinary, only the most necessary options, as usual.
Regarding the dimensions, X2800H has 17.1′ x 13.4′ x 6.6′ and weighs 21 pounds. It's not the biggest receiver I've ever seen, and you can easily imply it to your interior.
Features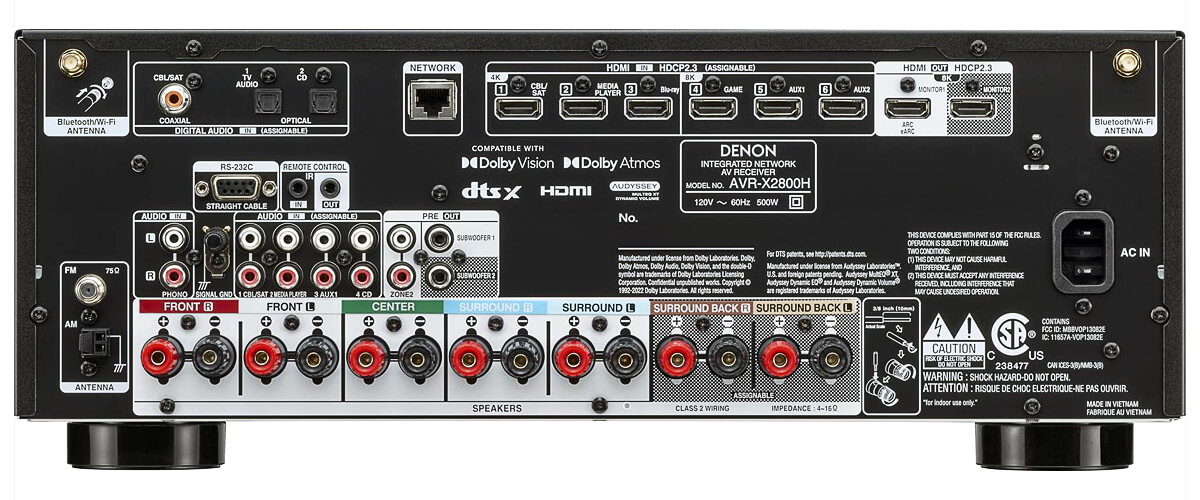 As I said in the beginning, the Denon AVR-X2800H is a 7-channel receiver with rated output power (20 Hz-20 kHz, 2-channel drive) 95 W (8 ohms, 0.08% THD) that can run a 5.2.2 setup. I would not say that this is a super powerful device, but for small and medium-sized rooms the power of this receiver will be more than enough.
You'll find 6 HDMI inputs (HDMI 2.1) and 2 HDMI outputs (HDCP 2.3) on the back panel. Also, there are different options of optical, analog, and coaxial inputs, and most importantly, there is Wi-Fi and Bluetooth. Regarding the video, AVR-X2800H specifications include the support of Dolby Vision, HDR, HLG, and HDR10+.
If you are a huge movie enthusiast like me, I have good news for you – X2800H supports Dolby Atmos, DTS: X, and some other surround sound formats. And for the music, it also has a vast list of supporting files – MP3, WMA, AAC, FLAC, ALAC, WAV, and has access to Spotify or AirPlay 2.
The settings menu is easy to navigate. It is very easy to switch between the different surround sound processing methods. The remote control is bulky and not very handy, but it did not spoil the overall picture in terms of ease of operation. By the way, additional speakers can be connected via Bluetooth and even turned on remotely. If you have a large house, the range may be limited, but for my room, it was optimal. There is a slight delay (as is often the case with Bluetooth), so you need to make sure that the Bluetooth speakers are not within earshot of the physically connected speakers.
Sound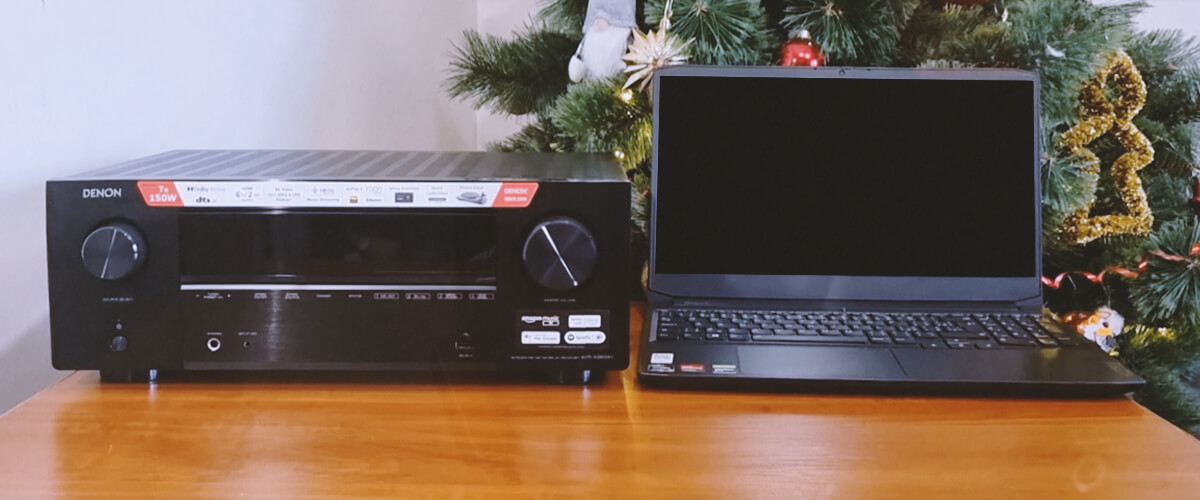 I've decided to test the system by watching The Batman. I needed to find out how X2800H can differentiate sounds, and I was satisfied with the result. But then I thought that it was a brief examination of all the powers that Denon included in its model, so I turned on The Avengers, and I wasn't available until the end credits. The Dolby Atmos Height Virtualization definitely reflects every sound piece planned in the movie into the reality you can enjoy in your room. Great effect, pure joy!
Key specs
Channels: 7.2.
Power output: 95W/8 Ohm, 125W/6 Ohm.
Surround sound: DTS HD Master, DTS:X, DTS Neural:X, DTS Virtual:X, Dolby TrueHD, Dolby Surround, Dolby Digital Plus, Dolby Atmos Height Virtualization, Dolby Atmos.
HDMI inputs/outputs: 6/2.
Supports: HDMI ARC, HDMI eARC, HDMI CEC, HDCP2.3, HDR10, HDR10+, Dolby Vision.
Video functions: 4K/120Hz, 8K/60Hz, upscaling to 8K.
Bluetooth/Wi-Fi: yes/yes.
Streaming services: AirPlay2, Deezer, Tidal, Pandora, SiriusXM, Napster, SoundCloud, Amazon Music, Amazon Music HD, Mood mix.