In this Denon AVR-X4700H review, I'll showcase the AV receiver that debuted in 2020. Positioned between the more budget-friendly AVR-X3700H and the high-end AVR-X6700H, this model has replaced the X4500H and has several enhancements, such as increased power output, an expanded number of sound channels, and an advanced video processor, capable of upscaling to 8K resolution and supporting HDR10+ for the latest movie and gaming content. Additionally, the device promises upgraded sound quality. Therefore, it's a worthy product to examine more closely, starting with its design.
Build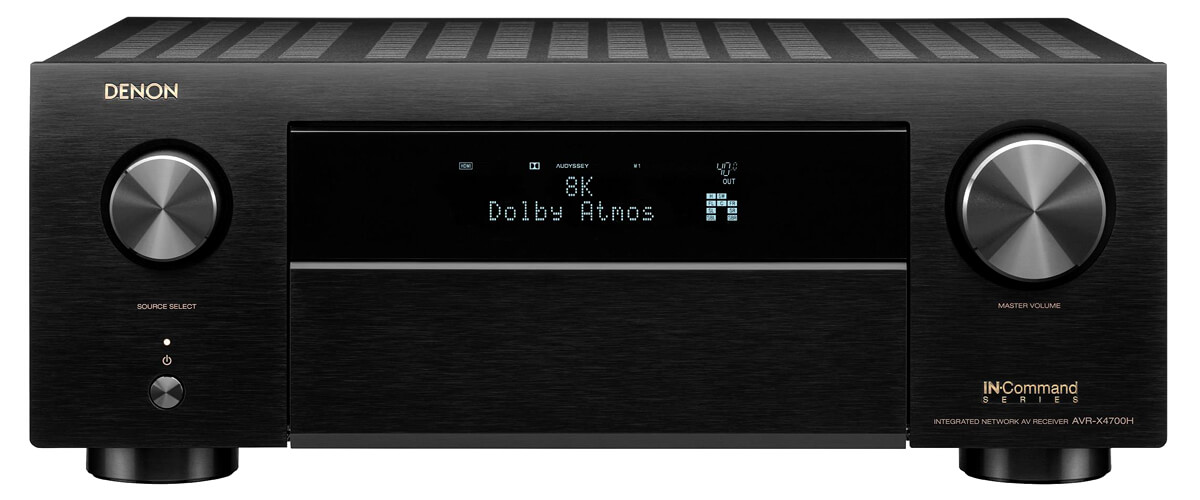 The appearance of the AVR-X4700H is reminiscent of the classic style of the company's middle and some premium models. The front panel looks stylish and solid. It has a visible minimum of controls. Most of those, excluding two big input selection and volume control knobs, are concealed behind a flap that folds down. The power button isn't big, it seems to be hiding on the front panel, and when viewed from the front, it looks like a small volume control. I like it probably because I have always been committed to minimalist designs. The flip-down panel itself looks like a continuation of a large information screen placed in the middle. The device's metallic front panel, damping feet, and attractive matte give the impression of robust build quality.
Features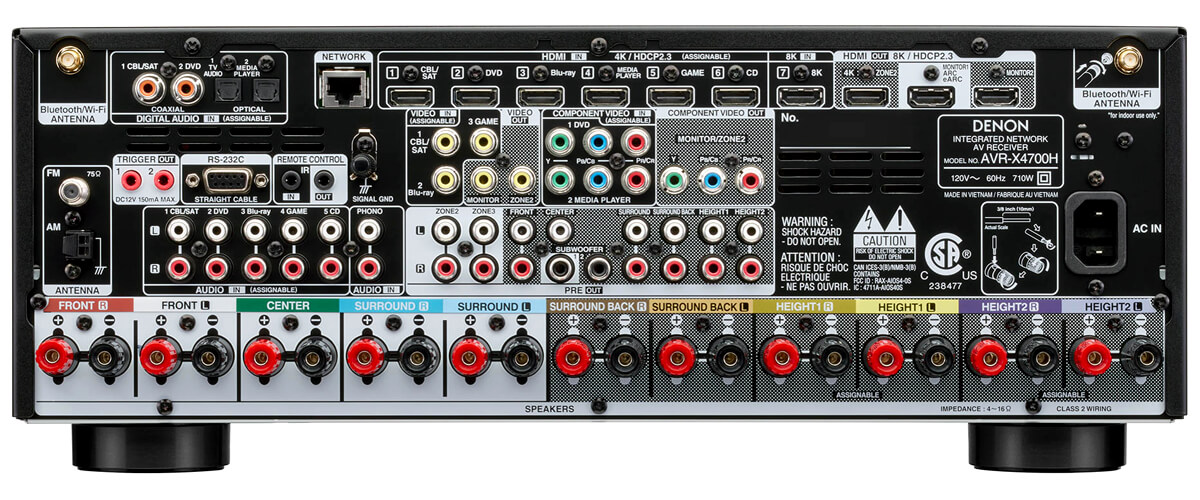 Denon AVR-X4700H has 9 built-in amplifier channels that can deliver 165 or 125 watts, depending on the impedance. It also has an 11.2-channel processor and can work with two independent subwoofers, making it a versatile model.
On the back of the unit, you'll find six HDMI 2.0 inputs and one HDMI 2.1 input. There are also three HDMI outputs: one is HDMI 2.1 with eARC, and the other two are HDMI 2.0: for the second display and Zone 2. The X4700 can transmit 4K/60, HDCP 2.3, 3D, CEC, HDR10/10+, HLG, and Dolby Vision. There is also support for QMS, QFT, VRR, and ALLM. In addition, Denon offers an extensive set of analog and digital connections.
This Denon receiver can also be used as part of a multi-room Denon HEOS system. This allows users to listen to music anywhere in their home, using HEOS wireless speakers or other devices that support this technology. The system can be controlled using the free HEOS app, available for iOS and Android.
The X4700H supports various surround sound formats, including Dolby Atmos, DTS:X, Auro-3D, and IMAX Enhanced. It can be used in various sound configurations, depending on the format, and also has virtual height channel mode for Dolby Atmos, DTS Neural:X, and DTS Virtual:X. In addition, the device has DDSC HD Digital and AL32 processors, Clock Jitter Reducer, and a Compressed Audio Restorer to enhance the sound quality of lossy formats.
The Audyssey MultEQ XT32 calibration technology analyzes each speaker's sound and optimizes the overall sound quality depending on the listening conditions. With the Audyssey MultEQ Editor app, experienced users can further customize their systems by adjusting mid-range sound, overall equalization, and MultEQ filter frequency range.
Sound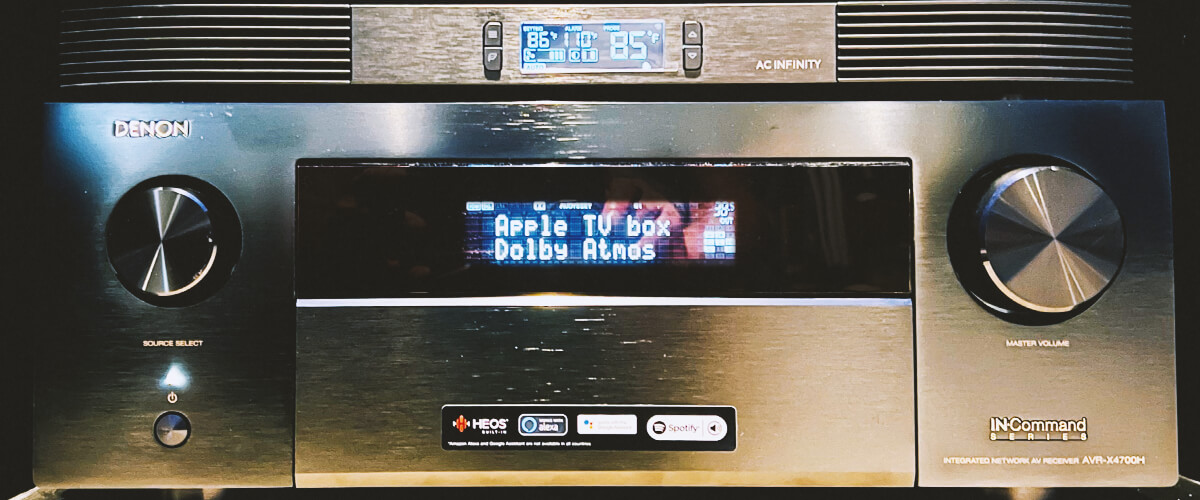 Even though the AVR-X4700H specifications are not particularly outstanding, the device copes quite well even with 150-watt speakers. When using all nine channels in a 5.2.4 or 7.2.2 configuration, the device reproduces both dynamic soundtracks and calm compositions quite well. Regardless of the level of instrumentation saturation in the compositions, the effect of presence at a live concert is not lost, thanks to the Audyssey automatic calibration system.
The same was true when playing 5.1-channel music compositions. The music is reproduced with exceptional clarity, and the instruments are positioned around you in a 360-degree sound field. The bass of percussion instruments sounds clear and distinct, which gives depth to slow compositions and more drive to techno tracks.
And finally, two important observations. The receiver, without any complications, configured the work with the 5.1.2 speakers already in "default" mode. I just set the general configuration without going into other settings, and clean, balanced, not overloaded, and not at all weakened sound from the front pair was obtained immediately after turning it on. The second observation is that any configuration with a subwoofer is surprisingly easy to set up and produces excellent results. This suggests that in the low-frequency region, the receiver's path is not muddy and not capricious – it allows you to find a good match between the acoustics and the bass machine.
Key specs
Channels: 9.2.
Power output: 125W/8 Ohm, 165W/6 Ohm.
Surround sound: DTS HD Master, DTS:X, DTS Neural:X, Dolby TrueHD, Dolby Surround, Dolby Atmos Height Virtualization, Dolby Atmos, Auro-3D.
HDMI inputs/outputs: 8/3.
Supports: HDMI ARC, HDMI eARC, HDMI CEC, HDCP2.3, HDR10, HDR10+.
Video functions: 4K/120Hz, 8K/60Hz, upscaling to 8K.
Bluetooth/Wi-Fi: yes/yes.
Streaming services: AirPlay2, Deezer, Tidal, Pandora, SiriusXM, Napster, SoundCloud, Amazon Music, Amazon Music HD, Mood mix.