Let's delve into the Denon AVR-X6700H review since it is one of Denon's top premium models in 2020, sitting between the AVR-X4800H and the X8500HA. The device features a full-fledged 11-channel amplifier, 13.2-channel audio processing with DTS:X Pro, and an improved 8K HDMI video section. Combined with a relatively affordable price, these features, compared to its bigger brother from the eighth series, are positioned by the manufacturer as the goal of releasing this model. So let's see if it is suitable for your preferences.
Build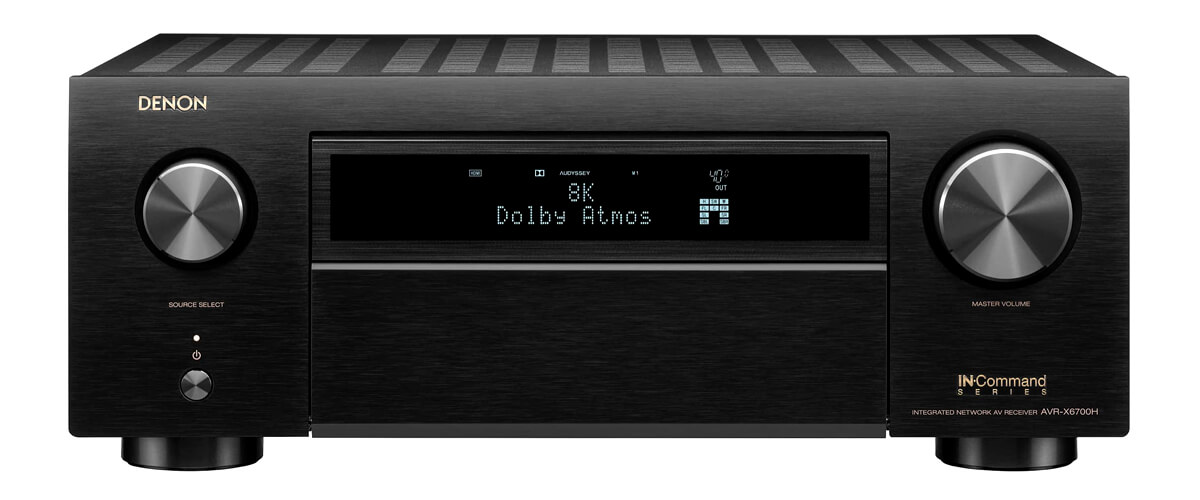 For those familiar with Denon's receiver lineup, the front panel design of this device doesn't offer anything new. Well, it's still visually appealing. And why remake something that is already close enough to minimalist perfection? This device's front panel features big source and volume knobs, an information screen that takes almost a quarter of space, and a power button with a status LED a little higher above. The rest of the control and navigation buttons, including USB, HDMI, and headphone connectors, are, as always, hidden behind a flip-down cover. The device weighs 32 pounds and has dimensions of 17.1 x 15.3 x 9.3 inches, making it a bit heavy but compact enough to fit in any part of the interior.
Features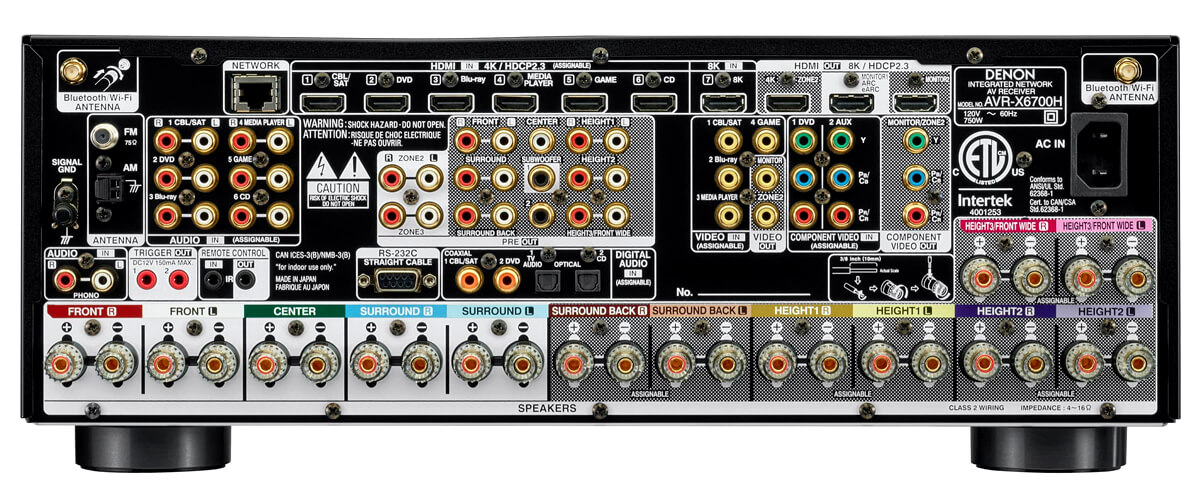 Looking at AVR-X6700H specifications, I can surely tell that this is where the most interesting part begins. With an 11-channel amplifier that delivers 140 W and 175 W output at 8 ohms and 6 ohms, respectively, each channel can be independently powered to minimize distortion and maximize clarity. It also offers up to 13.2 processing channels, allowing for a fully customizable audio system. Audyssey MultEQ XT32 room calibration technology optimizes audio quality based on specific listening environments, and the D.D.S.C. HD Digital processing technology ensures high-resolution audio with exceptional clarity and detail. In addition, the Pure Direct mode bypasses unnecessary circuits to deliver the purest possible audio signal.
This receiver also offers a comprehensive suite of audio formats, including Dolby Atmos, DTS:X, Auro-3, IMAX Enhanced, and DTS:X Pro. With its advanced audio processing capabilities, it delivers surround sound that immerses you in your favorite movies and games.
With eight HDMI inputs, including one on the front panel, and three HDMI outputs (two main and one – zone), it supports HDCP 2.3 and passthrough 3D, 4K, and 8K signals. It can also convert analog video signals to HDMI and scale them up to 8K resolution.
The AVR-X6700H makes streaming and playing audio from multiple sources effortless. The built-in media server supports a variety of formats, such as DSD, FLAC HD, WAV, and ALAC, and provides streaming services, including Spotify, Pandora, SiriusXM satellite radio, and internet radio via TuneIn. The device can be controlled via the Denon 2016 AVR Remote app on a smartphone or via Ethernet ports, Wi-Fi, and Bluetooth, which makes connectivity simple and versatile. The receiver supports three multi-room zones and is easily managed with IP Control, RS232 Control, Web Control, and App Control.
Sound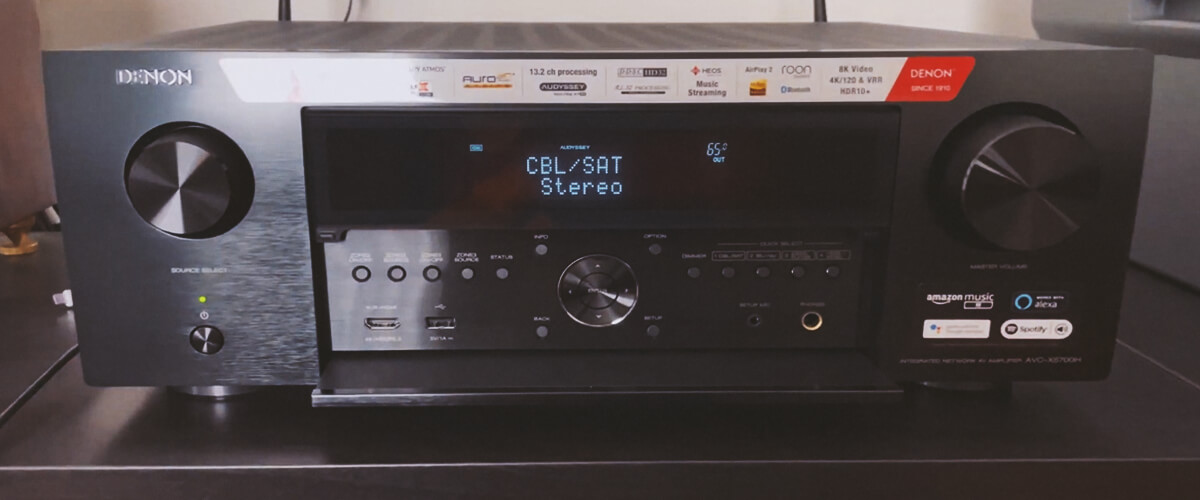 Right from the first note, the Denon receiver impressed me with its remarkable scale and convincing performance. When a thumping track is played at a volume higher than average, and you listen to it for a few minutes, you can't help but feel like hitting the repeat button. The emotional experience and impressions you get from listening to compositions by Hans Zimmer or modern orchestras playing Beethoven's music are akin to those you'd only get after attending a live concert.
The balance of the sound is biased towards the bass, more so than in previous generations, and some listeners may prefer to lower it slightly. However, this is subjective and a matter of personal preference. Personally, I'm not a fan of overpowering bass, but reducing it to a minimum on this device would be a mistake. The sound is well-controlled and mature, and the added volume of low frequencies ensures a complete and realistic reproduction of voices. And yes, it can easily wake up your neighbors across the street when necessary.
Key specs
Channels: 11.2.
Power output: 140W/8 Ohm, 175W/6 Ohm.
Surround sound: DTS HD Master, DTS:X, DTS Neural:X, DTS Virtual:X, Dolby TrueHD, Dolby Surround, Dolby Atmos Height Virtualization, Dolby Atmos, Auro-3D.
HDMI inputs/outputs: 8/3.
Supports: HDMI ARC, HDMI eARC, HDMI CEC, HDCP2.3, HDR10, HDR10+.
Video functions: 4K/120Hz, 8K/60Hz, upscaling to 8K.
Bluetooth/Wi-Fi: yes/yes.
Streaming services: AirPlay2, Deezer, Tidal, Pandora, SiriusXM, Napster, SoundCloud, Amazon Music, Amazon Music HD, Mood mix.