The Marantz Cinema 60 is a good mid-range receiver that offers an impressive range of features and capabilities. It's a significant upgrade for techno enthusiasts who want to change their perspectives on home entertainment without going bankrupt. From this Marantz Cinema 60 review, you will know if this model suits you or if you should pay attention to other devices.
I would like to note that CINEMA series products can really boast the superior ability to immerse the listener into the three-dimensional sound space due to the support of modern audio formats with presence effect (such as Dolby Atmos and DTS:X), 8K-video support, room acoustic correction, and other features that are designed to improve sound and picture quality.
I'll keep up with the tradition and start with the design; then, we'll look at its most important functions and dwell on the sound. So let's not waste time – let's start!
Build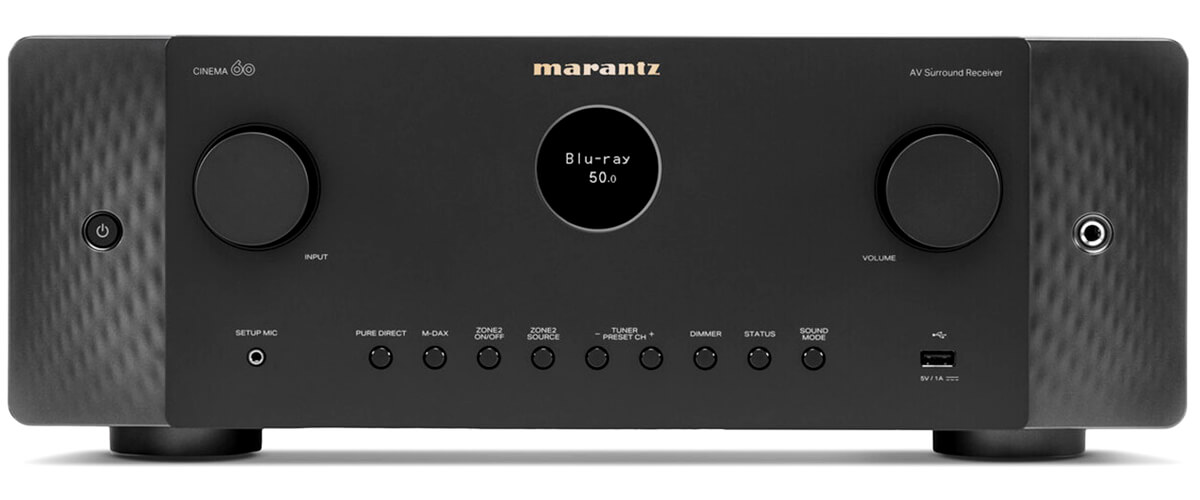 The design was the first thing that caught my attention after I opened the box with Cinema 60. My first thought was that it's carved from one firm piece of metal – you can't see the stitches that unite one part with another. It looks luxurious but not pompous and can perfectly blend into every design.
However, remember that the device is not light – 31.1 lbs proves we can find many technological wonders to transform your room into a home cinema. With 17.3×7.3×16.2 inches in dimension, you need to think beforehand about where to place the device.
There is a manual for newbies, but the system's intuitive menu makes it easy to access all of the receiver's settings with a few clicks of the remote. And you can control the device with your voice by connecting to Siri or Alexa.
Features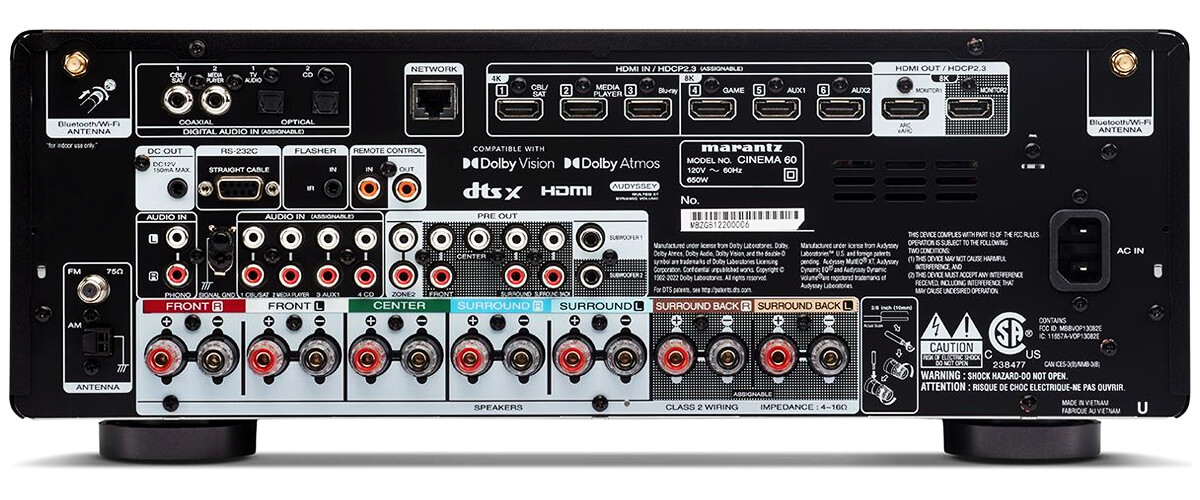 Time to talk about Cinema 60 specifications, and I'll start with channel and power. This 7.2 channel receiver has standard power for its class – 100W (8 Ohm, 20Hz – 20kHz, 0.08% 2ch Drive) or 140W (6 Ohm, 1kHz, 0.7% 2ch Drive). So in this aspect, it is virtually no different from its competitors.
The connectivity options of the Cinema 60 are quite extensive. It has 6 HDMI inputs supporting 8K/60Hz, 4K/120Hz, upscaling 1080P/4K to 8K resolution, and 2 HDMI outputs (HDCP2.3, ARC, eARC). The model works with modern video formats HDR, HLG, Dolby Vision, HDR10+, and Dynamic HDR. In addition, decoding of DTS HD Master, DTS:X, Dolby TrueHD, and Dolby Atmos audio formats and their configurations is available.
It also has 4 digital inputs (2 optical and 2 coaxial), a Phono (MM) input, 2 subwoofer outputs (those are what make it a 7.2-channel receiver), and 1 front-panel USB. In addition, there are Multi-Room (2 zones) and HEOS Multi-Room Integrated, AM/FM tuner, and Wi-Fi with Bluetooth. And, of course, Cinema 60 works with streaming services (AirPlay Audio Streaming, AirPlay 2, Spotify, Pandora, and others). As you may have noticed, this receiver allows you to connect many third-party devices and make your home multimedia system the most versatile.
As far as surround sound support is concerned, this model is consistently good. The Marantz Cinema 60 can handle Dolby TrueHD, Dolby Atmos, Dolby Atmos Height Virtualization, Dolby Atmos Music, and Dolby Surround. Next, I'll tell you what this Marantz receiver sounds like.
Sound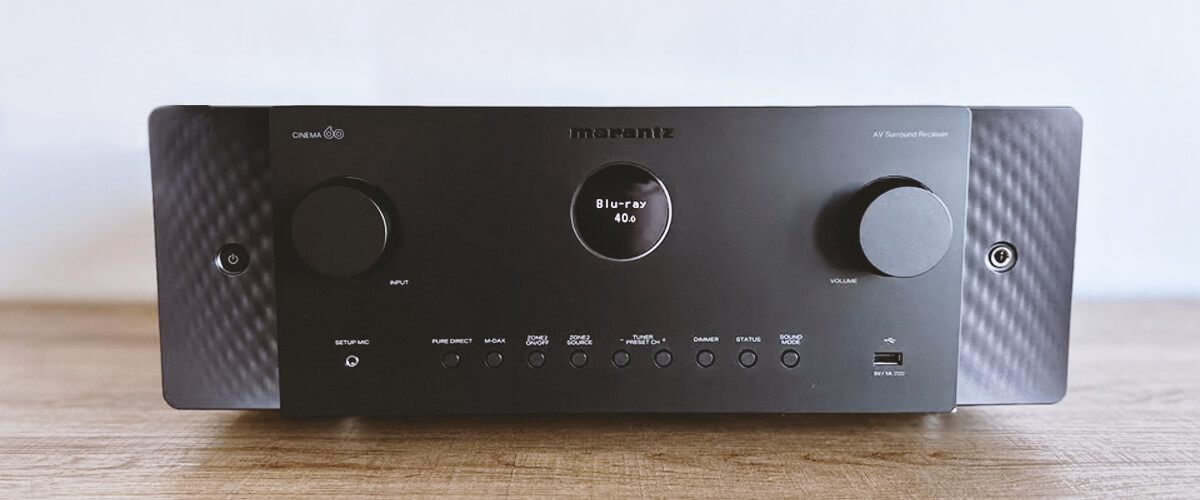 As I soared through the skies with Top Gun: Maverick blasting in my headphones, the receiver truly impressed me. Its deep bass boomed in my ears, the tops were crystal clear even at high volumes, and the surround sound was incredibly realistic.
During gaming, it felt even better – in Gears 5, I was fascinated to hear the environment. Every enemy, NPC, and gun had its specific noise, and I want to praise the sound designers for their good job.
Then I decided to switch things up and connect to Spotify, expecting a drop in quality without a wired connection. Instead, to my delight, the music played seamlessly and sounded just as high-quality as before.
Key specs
Channels: 7.2.
Power output: 100W/8 Ohm, 140W/6 Ohm.
Surround sound: DTS HD Master, DTS:X, DTS Neural:X, DTS Virtual:X, Dolby TrueHD, Dolby Surround, Dolby Atmos Music, Dolby Atmos Height Virtualization, Dolby Atmos.
HDMI inputs/outputs: 6/2.
Supports: HDMI ARC, HDMI eARC, HDMI CEC, HLG, HDCP2.3, HDR10, HDR10+, Dolby Vision, Dynamic HDR.
Video functions: 4K/120Hz, 8K/60Hz, upscaling to 8K.
Bluetooth/Wi-Fi: yes/yes.
Streaming services: AirPlay2, Deezer, Tidal, Pandora, SiriusXM, Napster, SoundCloud, Amazon Music, Amazon Music HD, Mood mix.