I want to start my Marantz SR7015 review by saying that this is an 8K AV receiver released in 2020 as a successor to the SR7013. It is positioned as a mid-level model in the SR lineup and features advanced audio and video processing technologies, high-quality amplification, and extensive connectivity options.
Priced towards the upper end of the range, it targets serious home theater enthusiasts and audio aficionados seeking quality and performance. Let's explore if this is true.
Build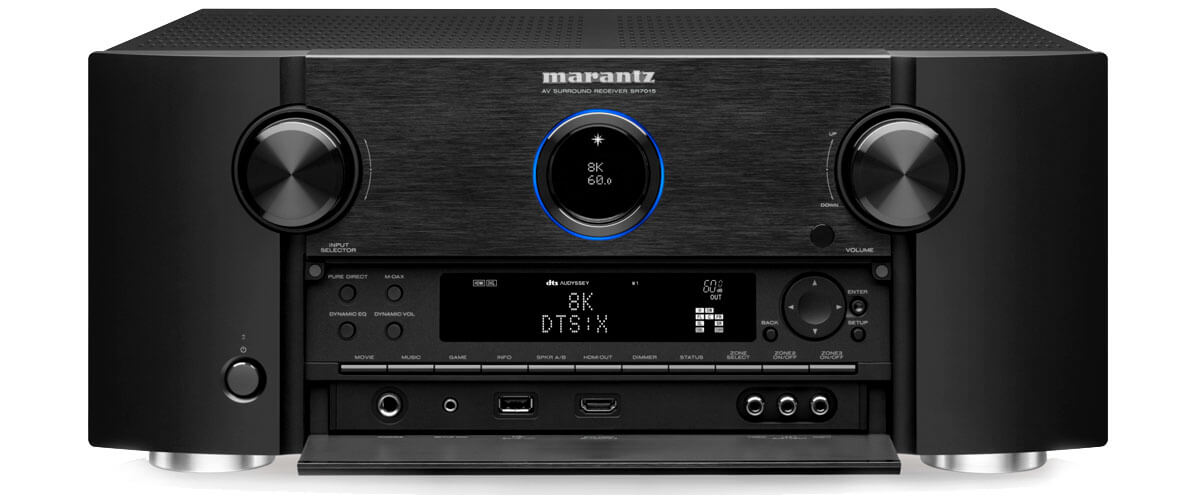 This device has a modern design, with a compact size of 17.3 x 16.2 x 7.3 inches (WxDxH) and weighing 31.3 pounds. The Marantz SR7015 combines its large cabinet's signature look and feel, and the clever implementation of the front panel adds to its harmony. The front panel has a display and easy-to-use buttons. Such a small round display is intentional because apart from the menu, which SR7015 can display on the TV screen, there is another large and much more informative display behind the hinged cover on the front panel. There is also access to some functional buttons and "hot" connectors that can come in handy at any unexpected moment: USB port, HDMI, headphone jack, and microphone jack for the audio autocalibration system, and three RCAs for analog audio/video signals.
Hiding all these elements and the main display behind the hinged lid is an excellent solution because, firstly, in its original state, the receiver does not look like a spaceship remote control, and secondly, the large informative display can distract from the screen when watching a movie in a dark room. Therefore, I give the engineers and designers a big plus for this design move.
Features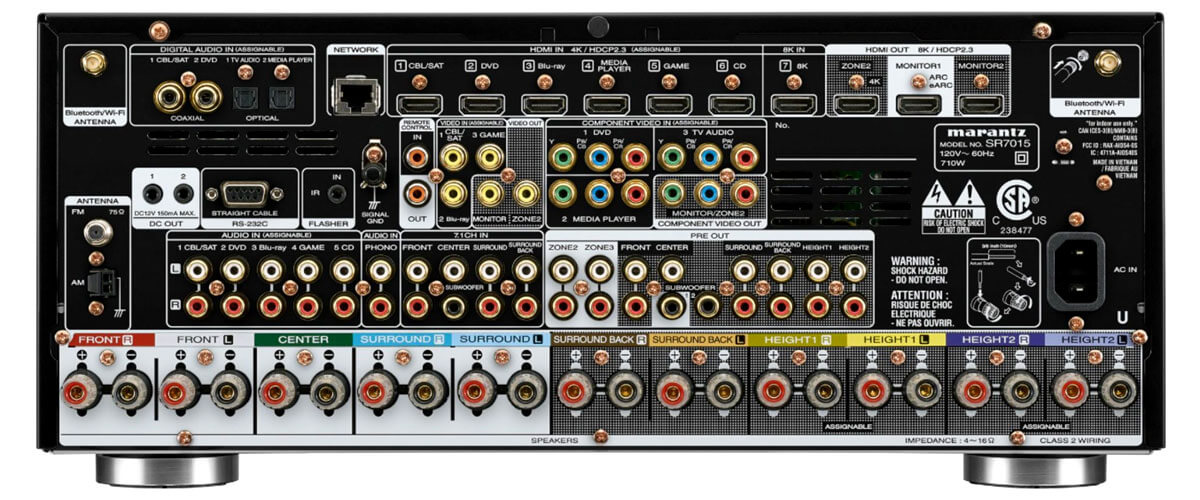 First of all, I want to say that the SR7015 features a high-current amplifier design that can power even the most demanding speakers, maintaining low distortion and high fidelity thanks to its 11.2 channel processor and 9 channels of power amplification with a power output of 125W per channel at 8 Ohms. Additionally, the device has a 32-bit AKM AK4458VN DAC that supports high-resolution audio formats up to 192kHz/24bit and DSD 2.8 MHz/5.6MHz with a 0.05% THD frequency response.
The device supports bi-amping and multi-room zones, eight HDMI inputs, and three HDMI outputs that support version 2.1 with HDCP 2.3. The receiver also features eARC and CEC (Consumer Electronics Control) for easy control of connected devices. Wi-Fi and Bluetooth are built-in, and the model supports streaming services like Apple Music, Spotify, and Tidal. Additionally, it features a phono stage for vinyl lovers to connect a turntable.
The receiver offers extensive video features for video enthusiasts, including support for Dolby Atmos, DTS:X, and other immersive audio formats. In addition, it can handle 4K/120Hz and 8K/60Hz video content as well as HDR10, Dolby Vision, and Hybrid Log-Gamma with conversion/scaling. The unit can upscale lower-resolution content to 4K/8K if desired. I played around with upscaling and want to say that the 8K upscaling is truly stunning, and it even improved the picture quality of my older DVDs.
The Marantz SR7015 correctly builds the sound picture in the room. However, if you are not satisfied with the final result, the Audyssey MultEQ XT32 automatic sound calibration system comes to the rescue. And now, I'll get to the most important aspect.
Sound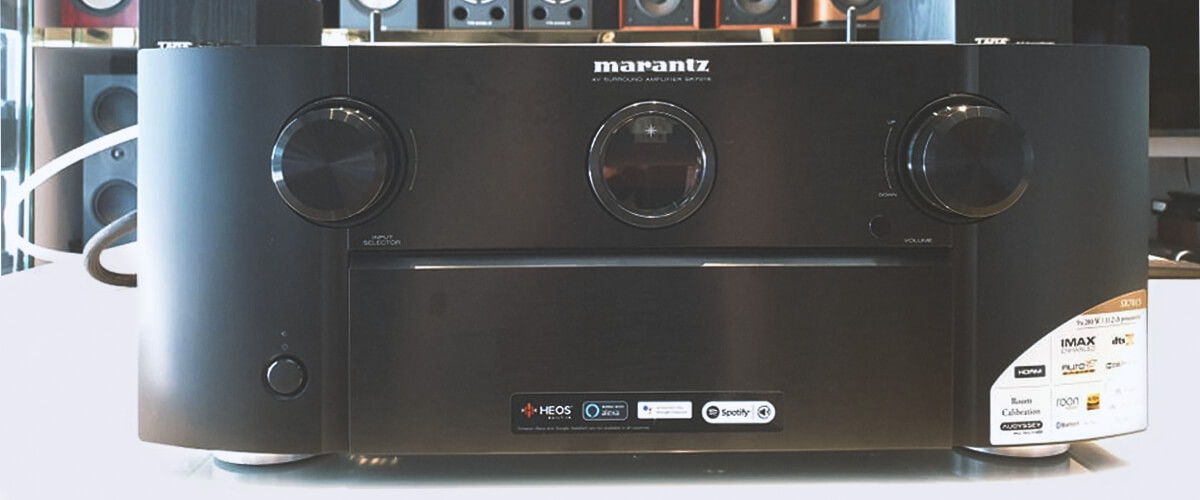 When it comes to sound performance, my opinion, and that of many other experts, is that the SR7015 delivers excellent sound performance, with a powerful and dynamic sound that is well-balanced and natural. In music mode, the receiver is capable of reproducing a detailed and nuanced sound that is faithful to the original recording, with a wide soundstage and good separation between instruments. In movie mode, advanced processing and support for technologies like Dolby Atmos and DTS:X are used to the fullest and deliver a highly immersive and realistic sound experience, with accurate and well-defined sound effects that add to the overall movie experience.
When I listened to it, I would say that the default sound settings make the sound a bit harsh and lacking in warmth, but this is just my opinion, and the possibilities of sound settings make it possible to please even such a picky listener as I am.
Key specs
Channels: 9.2.
Power output: 125W/8 Ohm, 165W/6 Ohm.
Surround sound: DTS HD Master, DTS:X, DTS Neural:X, DTS Virtual:X, Dolby TrueHD, Dolby Surround, Dolby Digital Plus, Dolby Atmos Height Virtualization, Dolby Atmos, Multichannel Stereo, IMAX Enhanced, Auro-3D.
HDMI inputs/outputs: 8/3.
Supports: HDMI ARC, HDMI eARC, HDMI CEC, HDCP2.3, HDR10, HDR10+, Dynamic HDR, Dolby Vision.
Video functions: 4K/120Hz, 8K/60Hz, upscaling to 8K.
Bluetooth/Wi-Fi: yes/yes.
Streaming services: AirPlay2, Deezer, Tidal, Pandora, SiriusXM, Napster, SoundCloud, Amazon Music, Amazon Music HD, Mood mix.