I want to share with you my impressions of testing a very interesting model – the Yamaha RX-A2A. This is the junior member of the audiophile Aventage series with updated hardware and basic features of the RX line. My Yamaha RX-A2A review will allow you to become more familiar with this unit and decide whether it is worth buying.
This model was introduced by Yamaha Corporation in 2020 and boasts exciting surround sound, support for CINEMA DSP 3D technology, and some other nice features. So let's waste no time and see what this receiver looks like.
Build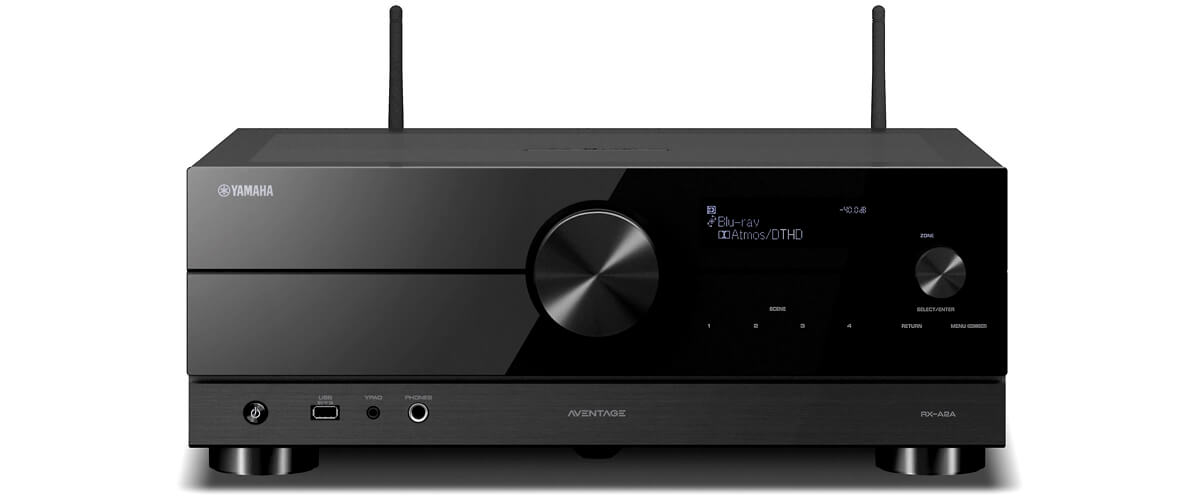 It feels like Yamaha has come a long way in terms of design – this time, instead of a more rounded look, we got straight lines and sharp corners. The almost completely glossy front side of the receiver looks modern.
The electronics are complemented by the Special ART internal vibration suppression technology, for which a fifth special support is installed in the center of the bottom panel of the case. The top panel and sides provide ventilation, with the top panel having a distinctly plastic appearance.
Its dimensions are (W x H x D): 17-1/8″ x 6-3/4″ x 14-5/8″ (with the antenna up, its height increases to 9-5/8″). Weight is 22.5 lbs. By the way, it is the lightest of the whole RX series.
Features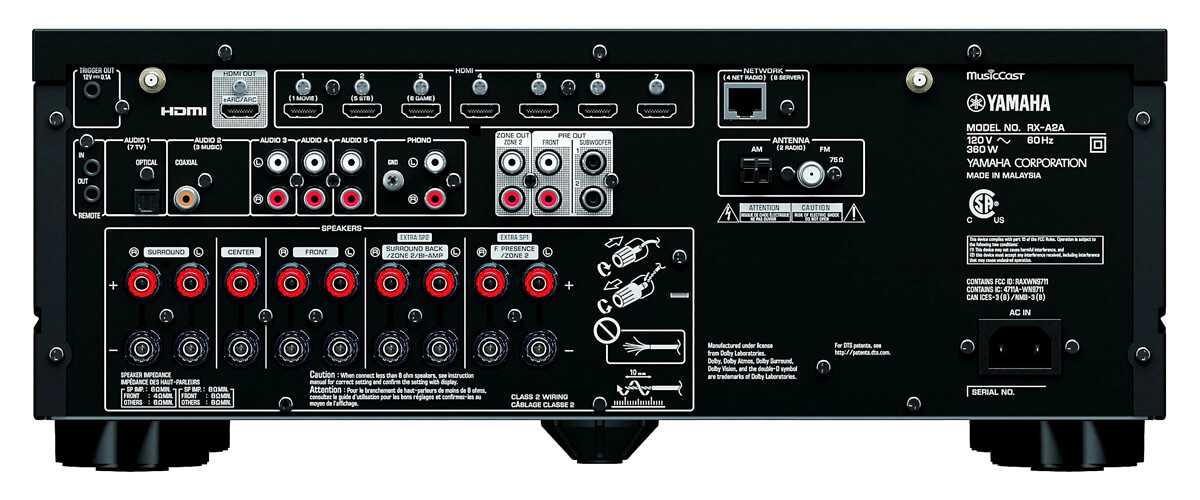 There is no point in enumerating all the features of this model, so I would like to focus on the most interesting and significant features of this unit. First of all, it is a 7.2-channel receiver with 100 watts per channel (8 ohms, 0.06% THD).
The Yamaha RX-A2A has seven HDMI inputs and one output that supports a 4K Ultra HD signal with all Dolby Vision and HLG add-ons and an 8K signal on three of the seven inputs. In addition, this model is also equipped with analog and digital inputs, which will allow you to create an AV system with a variety of signal sources on its basis. By the way, to support active powered HDMI cables, the HDMI power supply is increased to 300 mA.
The Yamaha RX-A2A features bi-amping, which improves the sound quality of the front channels – an important advantage for home theater. The Zone B output provides 2-channel sound in the other room. That leaves 7 output channels for the main zone. This means you can listen to stereo sound in the second room. In this case, both zones will play audio content from the same source (simultaneous use of two signal sources is not possible).
As for sound, in addition to Dolby Atmos and DTS:X support, there is Dolby Atmos Height Virtualization, as well as Cinema DSP. A proprietary YPAO auto-calibration circuit is used to adjust the multichannel sound to the listening room and acoustics. To connect all the speakers, the unit has secure screw terminals conveniently located in the middle of the back panel.
The RX-A2A, of course, got the full suite of MusicCast and app control features, including Wi-Fi, AirPlay 2, Spotify Connect, built-in music streaming services, multi-room audio, and support for voice control via Alexa, Google, and Siri. In addition, MusicCast Surround allows you to pair additional wireless MusicCast speakers and use them as surround sound in a 5.1.2-channel configuration.
Sound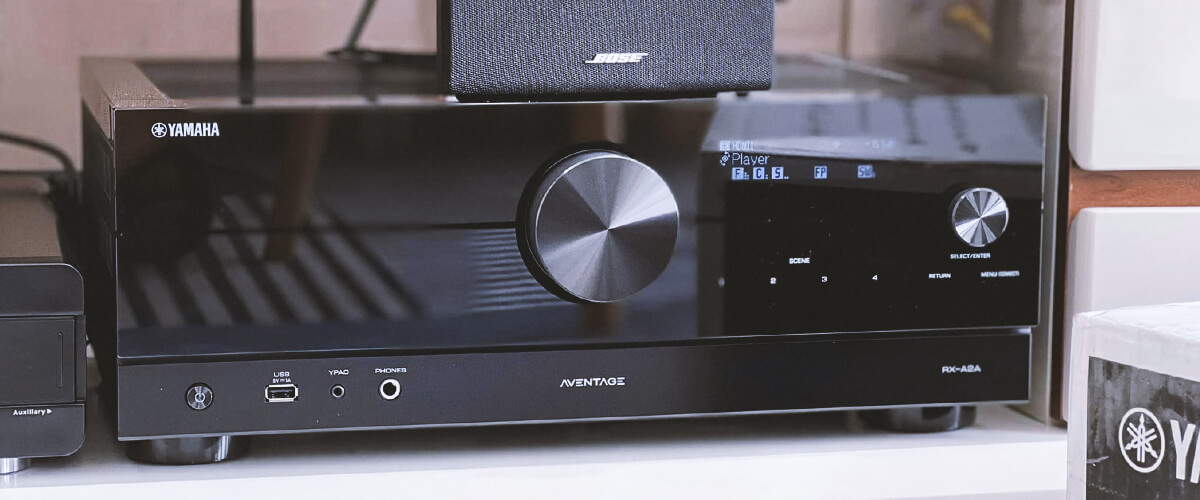 Moving on to the audio side of things, when I saw dynamic movies like "John Wick" or the TV series "The Witcher," soundtracks were immersive, and the RX-A2A receiver reproduced even the tiniest sounds with amazing accuracy in the action-packed scenes. I should also note that I liked the car and chase scenes. The skids and squealing brakes were full of nice hissing and squealing sounds, and the smaller features were quite neatly detailed. During crashes and various collisions, the low-pitched sound sometimes sounded a bit dull, but the overall action had the right dynamics. I loved it!
Key specs
Channels: 7.2.
Power output: 100W/8 Ohm.
Surround sound: DTS HD Master, DTS:X, DTS Neural:X, DTS Virtual:X, Dolby TrueHD, Dolby Surround, Dolby Digital Plus, Dolby Atmos Height Virtualization, Dolby Atmos, Cinema DSP.
HDMI inputs/outputs: 7/1.
Supports: HDMI ARC, HDMI eARC, HDMI CEC, HDCP2.3, HDR10, HDR10+, Dolby Vision.
Video functions: 4K/120Hz, 8K/60Hz, upscaling to 4K.
Bluetooth/Wi-Fi: yes/yes.
Streaming services: AirPlay2, Deezer, Tidal, Pandora, SiriusXM, Napster, SoundCloud, Amazon Music, Amazon Music HD, Mood mix.