In this Yamaha RX-A6A review, I will tell you about a very interesting model, which is well-known to receiver fans and, in my opinion, is one of the most successful Yamaha releases in the mid-price segment. I assure you that the RX-A6A will remain in demand and relevant even after 10 years.
I'm not a big fan of Yamaha, but the RX-A6A is a genuine sports car compared to many other analogs on today's market. It doesn't mean that others are terrible, no. It's just the RX-A6A offers you a lot of cool stuff, and you, in one moment, transform into a little kid and start discovering so many things that your "new toy" can do.
Build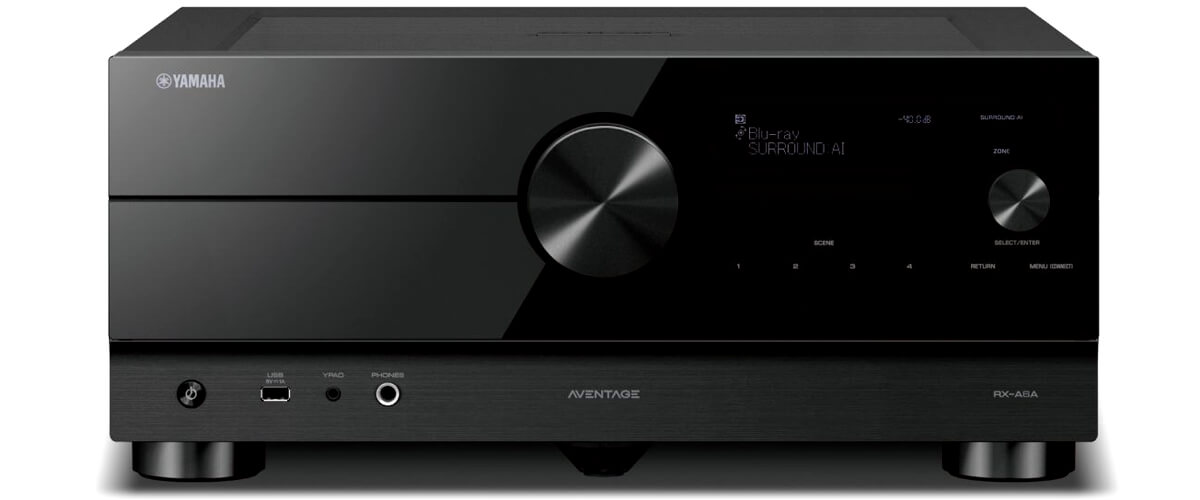 The design is solid and comfortable, as you can expect from Yamaha. It's a standard Aventage design we've seen in RX-A4A or RX-A2A.
If you are familiar with Yamaha Aventage products, you'll have no problems with the RX-A6A. The only thing in the model that differs is the dimensions. It's a pretty big receiver – 17-⅛ x 7-½ x 17-⅜ inches without an antenna and 41.2 lbs of weight, making it a massive system that you must find a place in the room beforehand.
On the front panel, you'll find scene buttons that you can adjust for every species of the system, so you can easily switch from movies to music or radio. And, of course, you can then control it with a remote or mobile app for every smartphone.
Features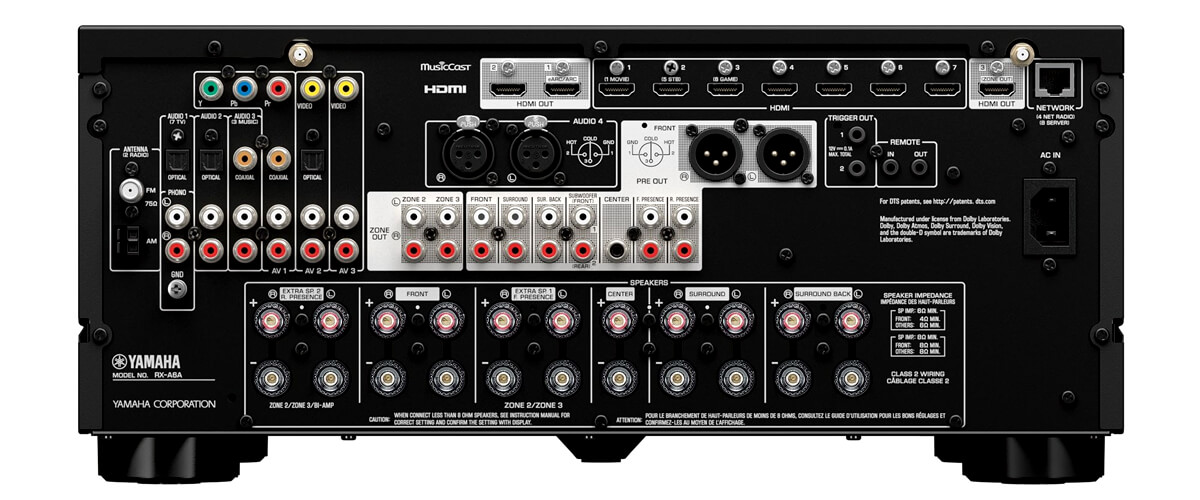 RX-A6A is a 9.2-channel AV receiver with Rated Output Power (20Hz-20kHz, 2-channel driven) 150 W (8 ohms, 0.06% THD) that can transform into a 5.1.4 configuration and can be modernized to 11.2-channel to plug 7.2.4 or 5.2.6 systems./p>
If we are talking about the video specifications of RX-A6A, you'll find everything you need here: 4K/60/120 Hz and 8K/60 Hz. It has 7 HDMI inputs (HDMI 2.1) and 3 HDMI outputs (HDCP 2.3) and supports Dolby Vision, HDR 10+, and ALLM & VRR for media and gaming. A few more words about the ports, in RX-A6A, you'll find Phono Input, XLR Terminal, as well as analog, optical, composite, and other outputs. There are more than enough connection possibilities.
Yamaha RX-A6A supports most modern surround sound formats, including Dolby Atmos, DTS:X, and AURO-3D. However, I think the most significant feature differentiating Yamaha receivers from competitors is the Surround: AI technology that analyzes movie scenes and adjusts them right for your surroundings. As a result, I felt like I watched the scene the same way the director planned. I'd also like to mention YPAO, a sound control system that helps you optimize your room settings.
Everything else is pretty standard – support of popular music networks, including Spotify and AirPlay 2, inserted MusicCast multi-room audio, Wi-Fi, Bluetooth, and the ability to control the system with voice assistance.
Sound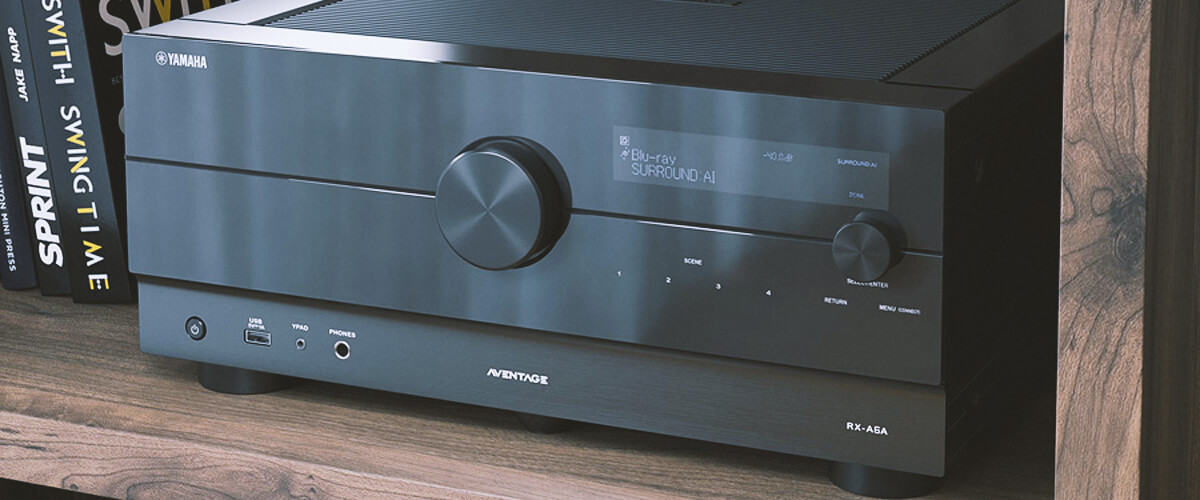 I started the receiver's test with A Quiet Place – a movie where silence is one of the main heroes. And you know what? I was satisfied with the feeling of my unusual surroundings. No, you can't hear massive blasts, shots, or screams most of the time, but you feel the forest, the farm, the waterfall, and the river. Usually, we perceive silence as a void, not paying attention to it because it doesn't require our attention. However, here the surrounding talks to you through this movie, and at some point, I felt like a prey who tried to hear where the monster was and did not make any noise. In this case, AI puts this movie on a new level of comprehension.
Key specs
Channels: 9.2.
Power output: 150W/8 Ohm.
Surround sound: DTS HD Master, DTS:X, Dolby TrueHD, Dolby Surround, Dolby Digital Plus, Dolby Atmos Height Virtualization, Dolby Atmos, Auro-3D.
HDMI inputs/outputs: 7/3.
Supports: HDMI ARC, HDMI eARC, HDMI CEC, HDCP2.3, HDR10, HDR10+, Dolby Vision.
Video functions: 4K/120Hz, 8K/60Hz, upscaling to 8K.
Bluetooth/Wi-Fi: yes/yes.
Streaming services: AirPlay2, Deezer, Tidal, Pandora, SiriusXM, Napster, SoundCloud, Amazon Music, Amazon Music HD, Mood mix.