If you are really a sound fan, purchasing a receiver would be a fantastic decision for you. Today I decided to help you with it and prepared the Yamaha RX-V385 review. This model belongs to the budget RX-V line. In addition to the reasonable price and basic features of the RX-V385, this Yamaha offers playback from a USB drive and remote control. Let's take a closer look at its parameters, then move on to the technical aspects and sound.
Build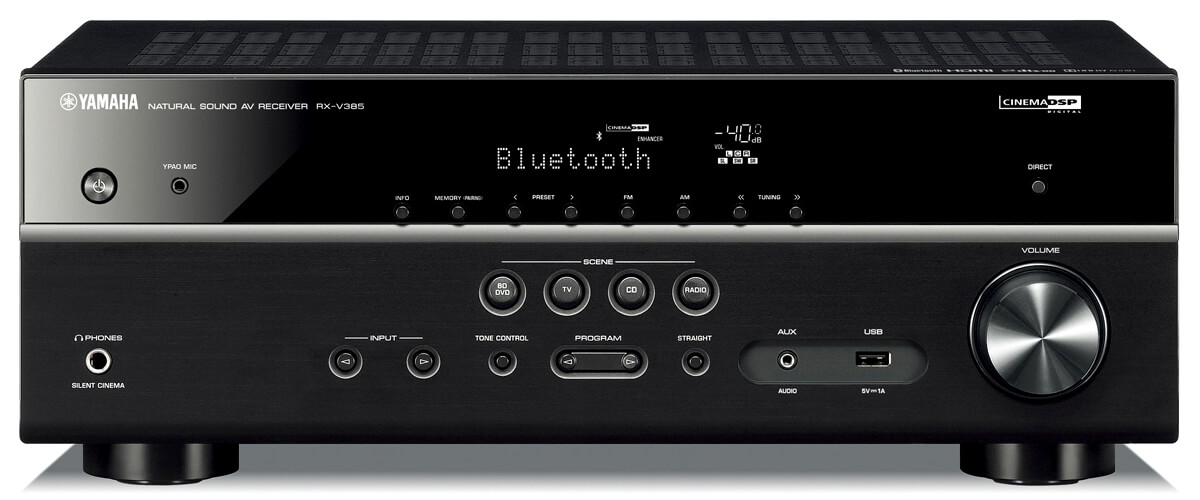 The Yamaha RX-V385 has a total weight of 37.4 pounds and dimensions of 12.4 x 17.13 x 6.34 inches. Therefore, I do not think that you will have problems with the place to set it. The model has a classical design and stylish deep black color.
The material of the lower front panel is plastic. The scene buttons are set on the front panel, and detecting them is easy. It's convenient. However, the screen, in my opinion, should be optimized a bit. I would enlarge it because sometimes it is difficult to distinguish the text.
Features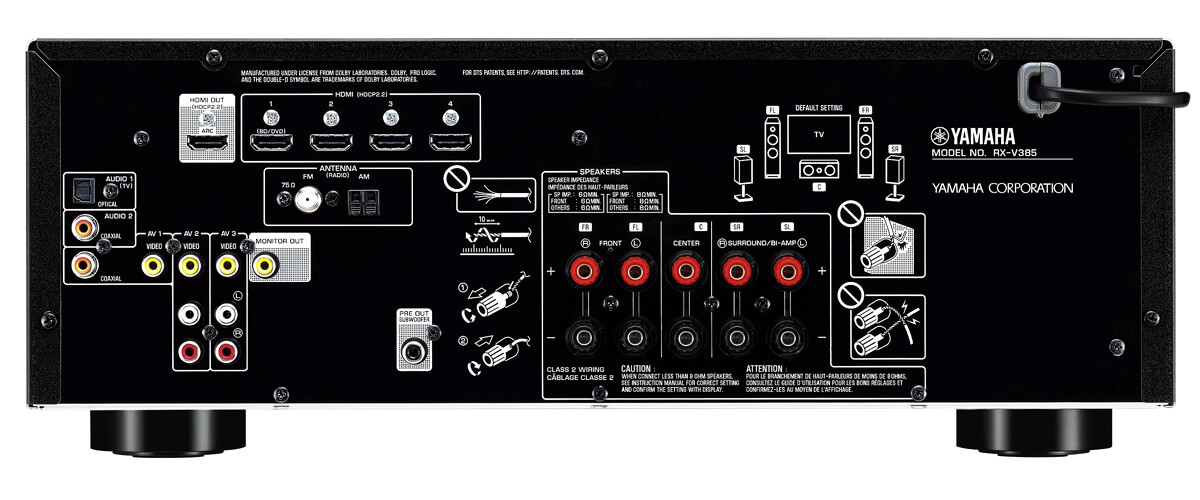 Yamaha RX-V385 is a classic 5.1 channel receiver with 100 W power per channel (6 Ohm, 1 kHz, THD 0,9%). There is an option to put speakers with 2 Ohm impedance on the front channels, but the other channels support 6 Ohm and higher load. In addition, there is a function of bi-amping – Bi-amp Connection, thanks to which the receiver controls the frequency ranges of the speakers and independent amplifiers. Also, unlike the previous model, instead of spring clips, there are screw terminals for all five channels.
This model has 4 HDMI (2.1/eARC) inputs and one output. Version 2.1 supports 4K/60p 4:4:4 video and dynamic range – HDR10, Dolby Vision and HLG, colors – BT.2020. Unfortunately, among the wireless connections here, there's only Bluetooth. There is no built-in Wi-Fi, which is normal for the budget segment.
According to the RX-V385 specifications, the supported USB formats are MP3 / WMA / MPEG-4 AAC / WAV: up to 48 kHz / 16-bit. FLAC is not supported in any form. But from my experience, I want to say that listening to music through the USB port of the receiver is not a very interesting thing to do with its stripped-down features and poor interface. I would also add that the RX series is designed more for movies, music concerts, and video clips than for listening to high-quality audio file formats.
The receiver supports all modern video formats: 4K, HDR10, Dolby Vision, HLG, HDCP 2.2, and BT.2020 color space. I have not had a single failure or glitch during the operation with the image output (including high resolution) or multi-channel audio. The main thing in your multimedia system is to use quality HDMI cables.
The remote is very handy, and I like it better than previous generations. It easily controls my media player via HDMI CEC. However, it lacks backlighting, but that is my subjective opinion. The important buttons are large, and the rest are conveniently grouped. The brightness of the display of the receiver is adjustable. An ECO mode allows you to reduce power consumption, and you can also set the receiver to operate in standby mode.
Sound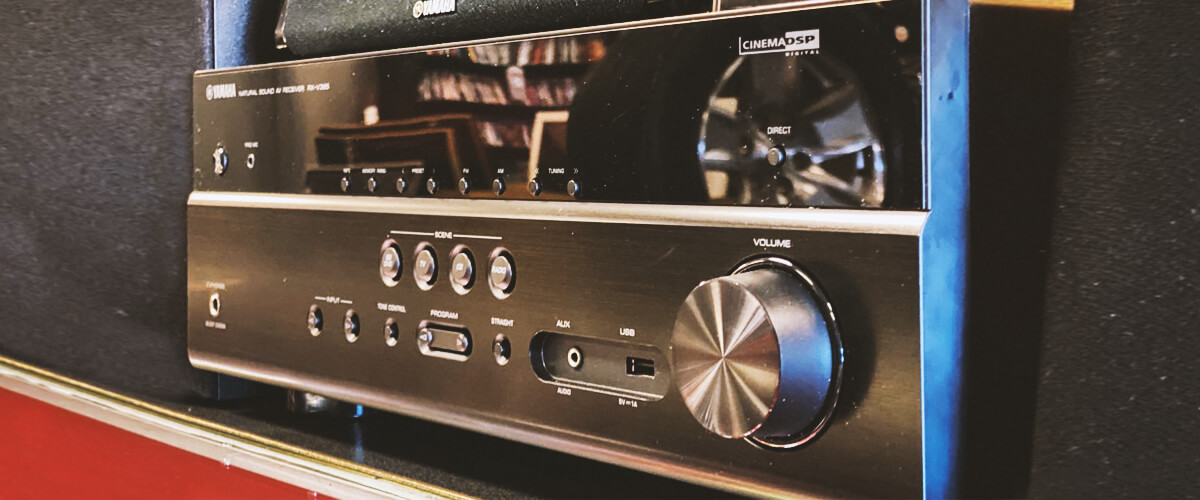 Traditionally the sound of Yamaha receivers is detailed, ambitious, and clear. For an entry-level receiver, the RX-V385 showed a powerful enough sound to pleasantly surprise me. Doctor Strange in the Multiverse of Madness allowed this model to demonstrate its dynamic range. The dialogs were crisp and accurate. The amp handled the large-scale final battle with ease. I simply had nothing to complain about. The test went great. But I'm not sure if the RX-V385 can prove itself in larger rooms. When I cranked the volume up to the maximum, it was difficult for it to hold the optimum sound balance.
By the way, I didn't use a YPAO microphone; I adjusted everything to my room by myself. But for the first time, if you don't know anything about AV receivers, you can adjust the sound with the included microphone. Then you can easily calibrate the values manually.
Key specs
Channels: 5.1.
Power output: 70W/8 Ohm, 130W/6 Ohm.
Surround sound: DTS HD Master, Dolby TrueHD, Dolby Digital Plus, Cinema DSP.
HDMI inputs/outputs: 4/1.
Suppots: HDMI ARC, HDMI eARC, HDMI CEC, HDMI Upscaling.
Video functions: 4K/60Hz, upscaling to 4K.
Bluetooth/Wi-Fi: yes/yes.
Streaming services: AirPlay2, Deezer, Tidal, Pandora, SiriusXM, Napster, SoundCloud, Amazon Music, Amazon Music HD, Mood mix.