For all good sound fans, I decided to prepare the Yamaha RX-V4A review. This model belongs to the middle segment price RX-V line and is popular among many users.
In addition to the basic functions, this model supports CINEMA DSP 3D and Music Enhancer and is equipped with MusicCast and a voice control system. You have to admit that it already sounds quite interesting. Let's take a closer look at its design, then move on to the technical aspects and sound.
Build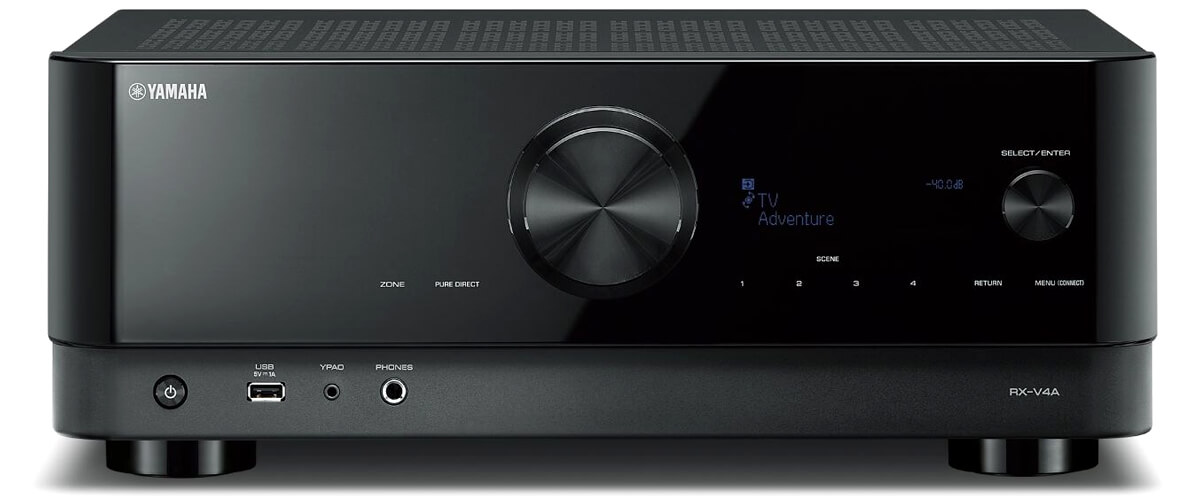 The Yamaha RX-V4A has a total weight of 19.4 pounds and dimensions of 20H x 18W x 11D inches. Thus, this "baby"' will fit your living room perfectly. The model has a classical receiver design and stylish deep black color.
The material of the receiver housing is metal. There are two menus: functions and settings. Unfortunately, the poor design of the on-screen menu can obscure the setup process. White type on a black screen is not easy to distinguish, and you can easily confuse what is what and choose the wrong option. But overall, everything is pretty standard, comfortable, and ergonomic.
Features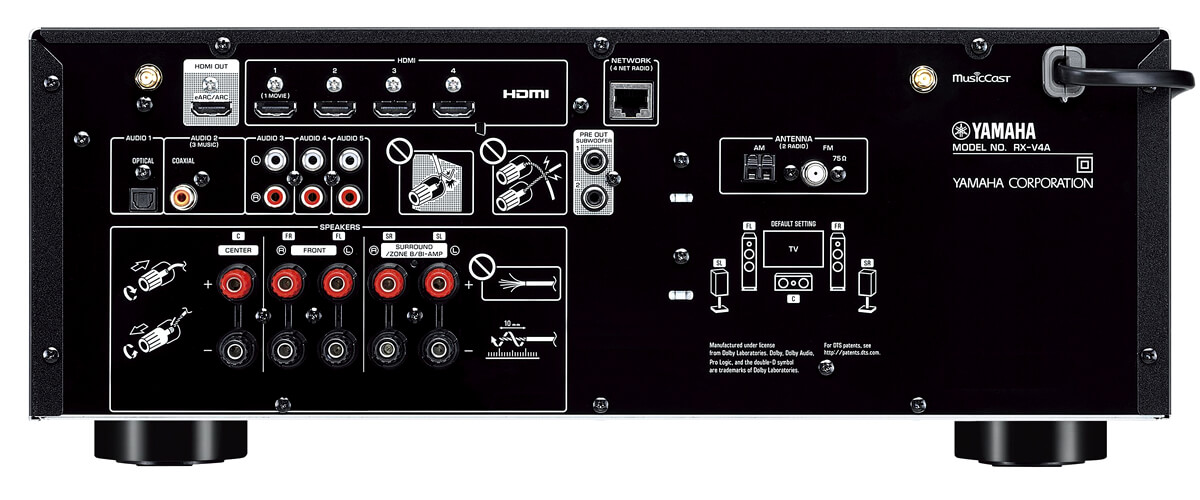 Yamaha RX-V4A is a modern 5.2-channel receiver with an output power of 115 W per channel (8 Ohms, 0.9% RHD). You can connect 2 to 5 speakers and up to 2 subwoofers. The rated power is 10 Hz – 10 kHz on 1 channel. Maximum effective output power is 1 kHz on 1 subwoofer. This model uses high-speed sweep amplification technology from more top-of-the-line Yamaha units for better dynamics. Its converter uses a Burr-Brown PCM5101A chip, operating at 384 kHz at 32 bits.
In addition, you can use a configuration with two amplifiers (Bi-amping). With this type of connection, the receiver adjusts the frequency ranges of the speakers and independent amplifiers. Finally, I'll note that the screw terminals for all five channels are included, which is better than the previous model's spring clips.
There are 4 HDMI inputs and 1 output (eARC). RX-V4A supports most audio file formats: MP3, WMA, WAV, ALAC, FLAC, etc. Also, using the USB port allows you to enjoy your music remotely. Among RX-V4A specifications, you will find all the features for convenient music streaming. MusicCast supports a wide variety of platforms, including Spotify, Tidal, Amazon Music, and Deezer. Moreover, both Wi-Fi and Bluetooth are accessible, and it's a big plus for promoting the possibilities of using this receiver.
You won't find a phono stage in the RX-V4A, although the FM/DAB tuner can make up for this shortcoming. I should point out that Yamaha has put its main emphasis on HDMI, as all connectors are compatible with 8K and 4K at 120 Hz, as well as Dolby Vision and HDR10+. That is a very nice point because some competitors settle for a single 8K input, even on very expensive devices.
Unfortunately, Yamaha RX-V4A doesn't support Dolby Atmos or DTS: X. I believe most home theater fans would consider it a drawback. But there is Virtual CINEMA DSP, Dolby TrueHD, and Dolby Digital Plus.
The remote decoder is compact and fits well in your hand. The backlit buttons are absent, so you need to have a lantern nearby. The speaker setup is not complex. Place the microphone at ear level on the middle seat and press the "Start" button.
Sound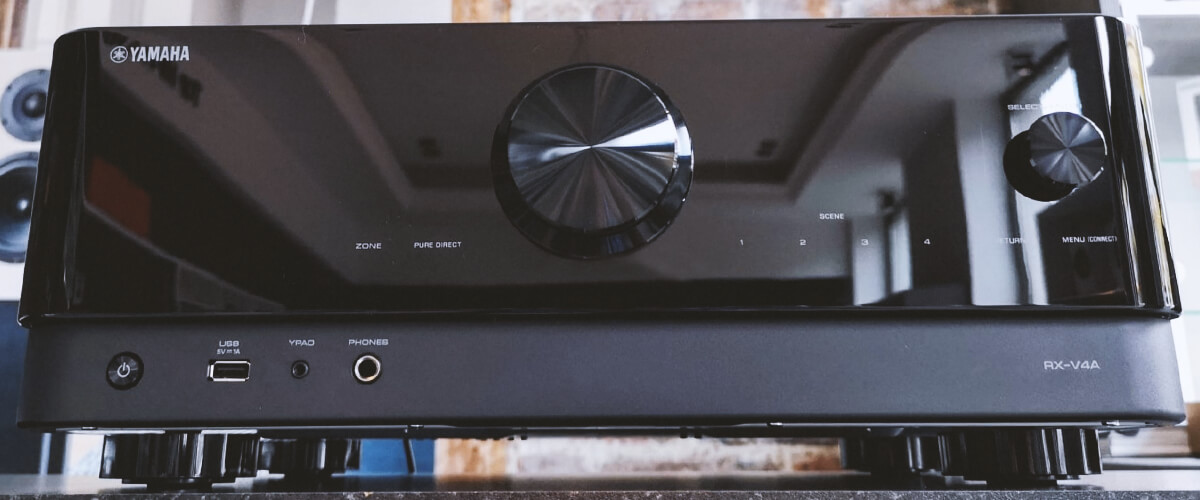 Let's first go through the YPAO sound calibration procedure. This is done in one iteration with one measurement position in mind. Yamaha got the distances right and set the levels correctly. Unlike many analogs, it has a good center channel setting, which is often a few decibels more.
Next, I tested the sound in the movies. I always choose something exciting and with a lot of battle scenes. Usually, in such movies, the receiver can show all its capabilities (if they allow it, of course). Watching Spartacus: Blood and Sand is a pleasure. Battles are effective and dynamic, and the music is magnificent. No sound stirring. The power is just enough for an average-sized room. I loved it. Not a dream come true for sure, but definitely good!
Key specs
Channels: 5.2.
Power output: 80W/8 Ohm.
Surround sound: DTS HD Master, Dolby TrueHD, Dolby Digital Plus, Cinema DSP.
HDMI inputs/outputs: 4/1.
Supports: HDMI ARC, HDMI eARC, HDMI CEC, HDCP2.3, HDR10, HDR10+, Dolby Vision.
Video functions: 4K/120Hz, 8K/60Hz, upscaling to 4K.
Bluetooth/Wi-Fi: yes/yes.
Streaming services: AirPlay2, Deezer, Tidal, Pandora, SiriusXM, Napster, SoundCloud, Amazon Music, Amazon Music HD, Mood mix.